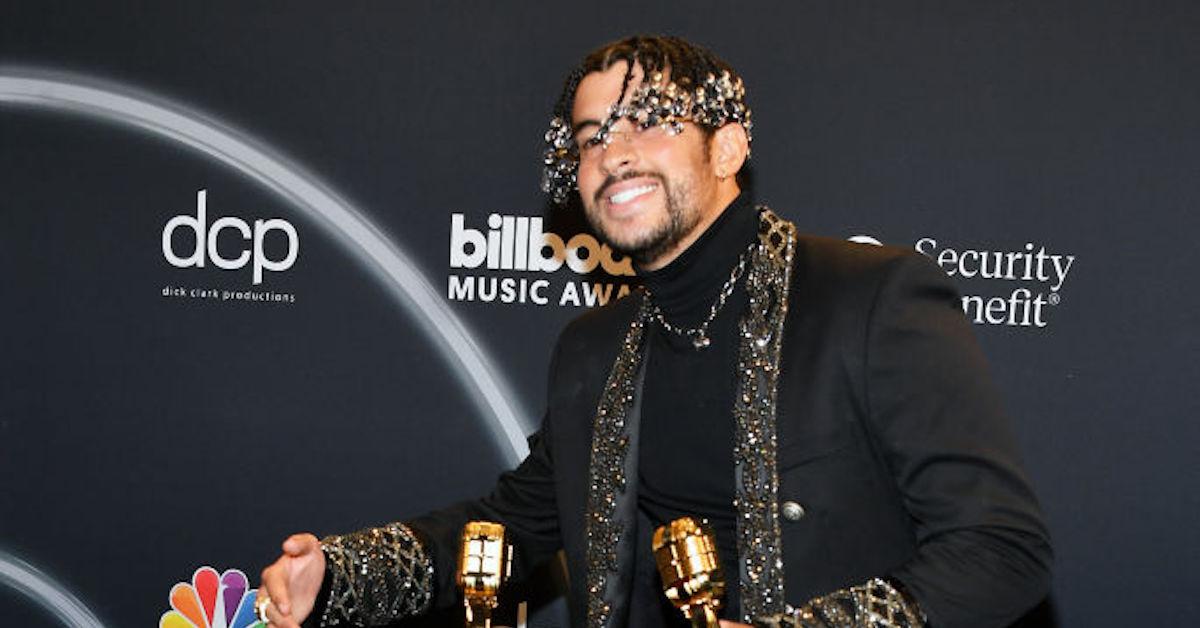 Bad Bunny Teases New Song With Cryptic Message "DÁKITI"
Puerto Rican sensation Bad Bunny (real name: Benito Martínez Ocasio) just dropped a mysterious message on his Instagram page. "DÁKITI," he wrote in the caption of a new post showing off a new Bugatti.
So, what does "Dákiti" mean? Keep reading for what we know.
Article continues below advertisement
What does Dákiti mean? Bad Bunny dropped the message on Instagram.
If there's anyone who knows how to build hype around new drops, it's Bad Bunny. Whether it's for his Crocs promotion, Adidas stint, a (fake) new album under the name of "Bad Bunsy," or making everyone wonder what kind of collaboration he's cooking up with Flaming Hot Cheetos, the trapero has his enormous fan base hanging on his every move and word.
Article continues below advertisement
So it's no wonder that the minute the YHLQMDLG artist posted on his stories that he was collaborating with Jhay Cortez on a song titled "Dákiti," fans scrambled to learn more.
"DÁKITI, should we drop it now??" Bad Bunny wrote in Spanish in his caption. Before long, other Latin artists like Nicky Jam, Noriel, and Nio Garcia were commenting on his post and stoking the fires of anticipation.
"Dákiti" appears to be the name of the track that Bad Bunny and Jhay Cortez promised to launch on Oct. 29 at midnight, and his fans cannot wait, having flooded his Twitter comments with memes and gifs about how San Benito is coming through once again to save 2020.
Article continues below advertisement
"People from other countries trying to invent a meaning to the word Dakiti," one person posted on Twitter in Spanish along with funny photos of people straining to think.
"Dakiti means empowerment, fighter, boss b--ch," someone wrote in the replies, attributing the definition to Karol G. Another responded, "Dakiti is a sensation of euphoria that you feel when you are having a really nice time on the go."
Article continues below advertisement
From a quick Google search, it also seems like Dákiti is both the name of a beach and once-popular bar in Old San Juan, Puerto Rico, and it might not be a stretch to think that an old haunt or favorite spot is what the two Puerto Rican natives are paying homage to in their highly anticipated new track.
It's also no wonder that Bad Bunny is treating himself with a luxurious new car and hairdo following his extremely successful past year, which will culminate in the American Music Awards' Composer of the Year award he is set to receive in the end of November.
Most recently, he gave a legendary performance alongside Ivy Queen and Nesi at the Latin Billboard Music Awards.
After becoming reportedly engaged to longtime girlfriend Gabriela Berlingeri during the Covid pandemic, Bad Bunny is said to have quietly tied the knot a few weeks later according to a leaked video we discovered at the end of September.
Famously quiet about their private lives, Bad Bunny and Gabriela prefer to keep their social media pages professional, but you can count us among the eager fans who are waiting for the adorable couple to post any indication of their status.