Bad Bunny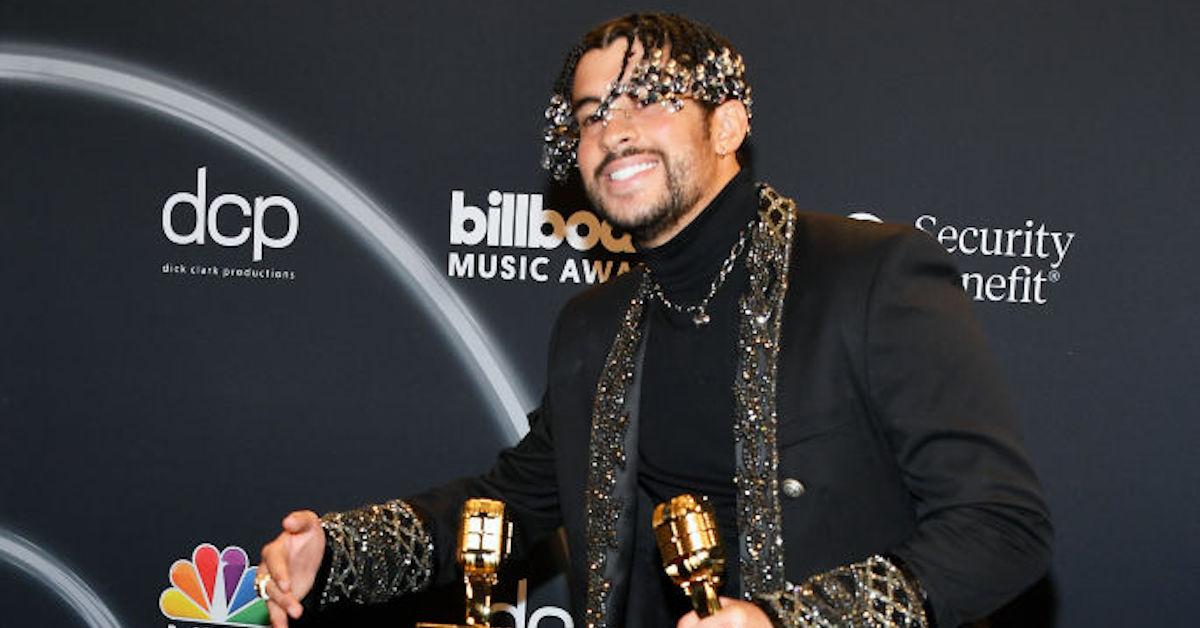 Puerto Rican reggaetonero Bad Bunny (real name: Benito Antonio Martínez Ocasio) has climbed to the top of the global pop charts since the release of his 2016 breakthrough single "Soy Peor," and is today one of the most beloved Spanish-language musicians in the world.
Born in 1994 and raised in Vega Baja, about 45 minutes away from San Juan, the Latin singer whose sound mixes trap, reggaeton, bachata, soul, and pop, gained popularity on SoundCloud and rose to stardom following collaborations with Cardi B and Drake.
In early 2020, he cemented his spot in the Latin urban canon by appearing alongside Shakira and Jennifer Lopez in the Super Bowl LIV halftime show, and went on to break barriers as the first Latin urban music artist on the cover of Rolling Stone, as well as the first man aside from Hugh Hefner to appear on the cover of Playboy.
Bad Bunny albums
To date, Bad Bunny has released four studio albums.
Bad Bunny net worth
According to the site Celebrity Net Worth, Bad Bunny has an estimated net worth of $16 million as of 2020, the same year he became the most streamed artist in the world.
Is Bad Bunny retiring?
When Bad Bunny released YHLQMDLG, fans began to speculate that he would retire given the contents of the last track in his album, titled "<3." In the lyrics to "<3," Bad Bunny tells fans he plans to retire after one more album. "In nine months I'll be back and I'll drop another / So I can retire easy like Miguel Cotto," he sings in Spanish.
He made good on his promise and released El Último Tour del Mundo exactly nine months later, almost to the day. But he's also said that the Covid-19 pandemic has made him realize he's not ready to give up music, so we can hold out hope for more music from the Puerto Rican artist.
Who is Bad Bunny's girlfriend? Is he married?
Bad Bunny has been in a relationship with model and jewelry designer Gabriela Berlingeri since 2017, and the two went Instagram-official in the early days of the quarantine when he shared a video of himself and Gabriela kissing behind the scenes of the music video for "Yo Perreo Sola."
The adorable couple have matching Puerto Rico-inspired tattoos of a palm tree with a sun behind it and geographical coordinates written below. Bad Bunny's is on his thigh, while Gabriela dons hers behind her right arm.
A leaked video from Sept. 22, 2020 shows Bad Bunny and Gabriela getting quietly married in a small church ceremony. While the two have never publicly confirmed their engagement, an August video that Gabriela posted to her Instagram page showed a shiny diamond ring that prompted fans to speculate the two had become affianced.
While Gabriela and Bad Bunny do not have any children yet, the "Callaita" rapper has been very vocal about his love of kids and plans to raise his future family in his native Puerto Rico.
Latest Bad Bunny News and Updates