Congratulations Are in Order for Bad Bunny and Gabriela!
Gabriela Berlingeri's latest Instagram video has fans convinced she and Bad Bunny are engaged. Here's what we know about the possible wedding bells.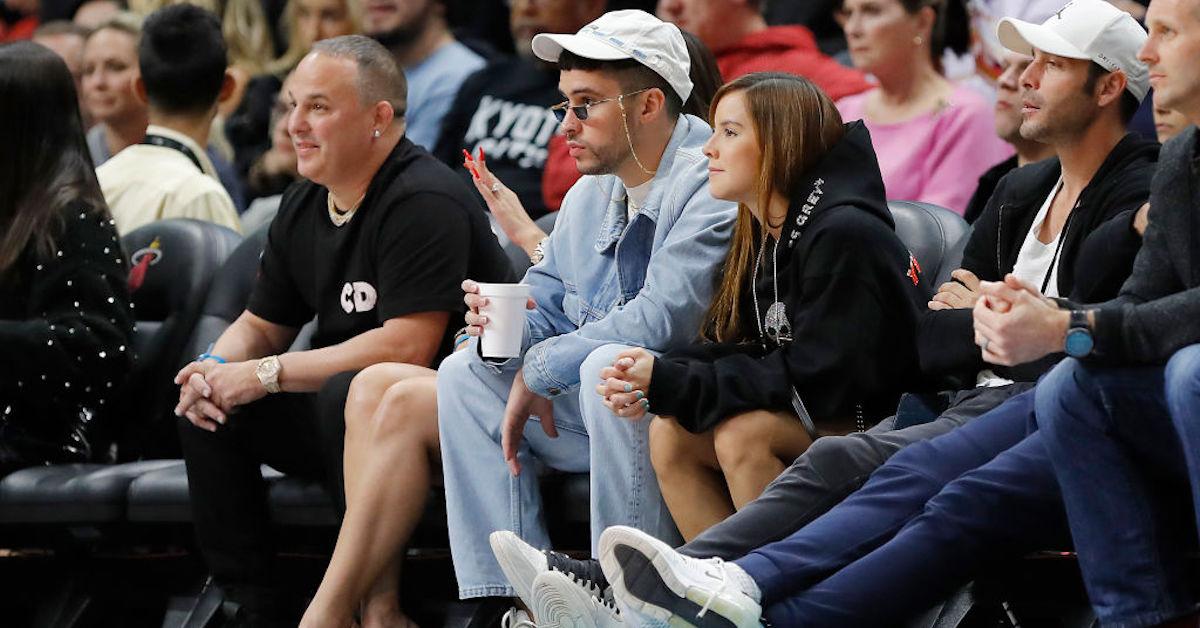 Is Bad Bunny engaged? Fans of the "Safaera" artist learned Bad Bunny (real name: Benito Martinez) was taken after he was publicly spotted with his longtime girlfriend, model Gabriela Berlingeri in March.
But now that she's posted a new Instagram video where she's wearing a big piece of jewelry on her left ring finger, "Callaíta" fans are convinced that the couple is engaged and that wedding bells are in the imminent future.
Article continues below advertisement
Is Bad Bunny engaged?
Fans became convinced that Gabriela's latest Instagram video, in which she's singing and dancing along to a song in a car drinking some sort of delicious-looking frozen beverage, was her way of announcing her engagement.
After all, she's only got 47 posts in total on her page, and this comes as her 10th 'gram of 2020, so it's safe to say that Gabriela is quite discerning when it comes to what she wants shared with the internet.
Article continues below advertisement
Most of the comments on her post have been filled with people either gushing over their love for the couple, or their love for her ring.
It's well known that Gabriela and Bad Bunny have been spending a lot of time together since the coronavirus pandemic struck. The two often post photos and videos with each other from their Puerto Rico house.
Back in March, shortly after being publicly photographed with Gabriela in Los Angeles on "Day 5 of the Quarantine," per his caption, Benito posted a video compilation where he could be seen playing the ukulele, wiping down surfaces, making out with, and playing Jenga with Gabriela.
Article continues below advertisement
Around the release of his acclaimed video, "Yo Perreo Sola," where the singer did some creative gender-bending, the trappero also took to his social media to share a behind-the-scenes video of himself, fully dressed in drag, making out with Gabriela.
Article continues below advertisement
Benito and Gabriela have been inseparable since quarantine.
In addition to spending all their quarantine together and keeping each other company, the adorable couple has also collaborated creatively. In May, Gabriela shot the editorial photos for the singer's Rolling Stone cover, and in July, she also stepped up to help with his images when he got the digital Playboy cover in July.
Neither Gabriela nor Benito has confirmed the engagement on their channels, and for his part, the singer hasn't even posted on his Instagram account since mid-May, when he wrote "bye, me fui," which translates to "bye, I left," as a caption to a photo of himself with an adorable and tiny dog.
Article continues below advertisement
It's unclear when the "No Me Conoce" artist will make his online return, but it's quite fathomable that they would have taken the next step after spending so much time together and in light of the fact that they're now formally a couple to the rest of the world.
What we're really hoping for, if we're being honest, is to get a better look at Gabriela's ring, though! But if you watch the video closely, you'll see that Benito, who is more than likely filming, keeps zooming in on Gabriela's left hand and ring — almost like he's trying to get audiences to notice!
Congratulations to the adorable couple!