Dane Cook and Kelsi Taylor Are Engaged After 5 Years Together
The internet already has a lot to say about Dane Cook's relationship with Kelsi Taylor. Interestingly enough, he is currently 50 while she's 23, meaning that they have a 27-year age gap between them. Dane has established himself as a comedian and actor with decades of projects under his belt so far. But these days, his career isn't the thing fans are talking about.
Article continues below advertisement
Instead, people are curious to know more details about his romantic connection with his girlfriend. Here's a timeline of Dane's relationship with Kelsi.
How Did Dane Cook and Kelsi Taylor meet in 2017?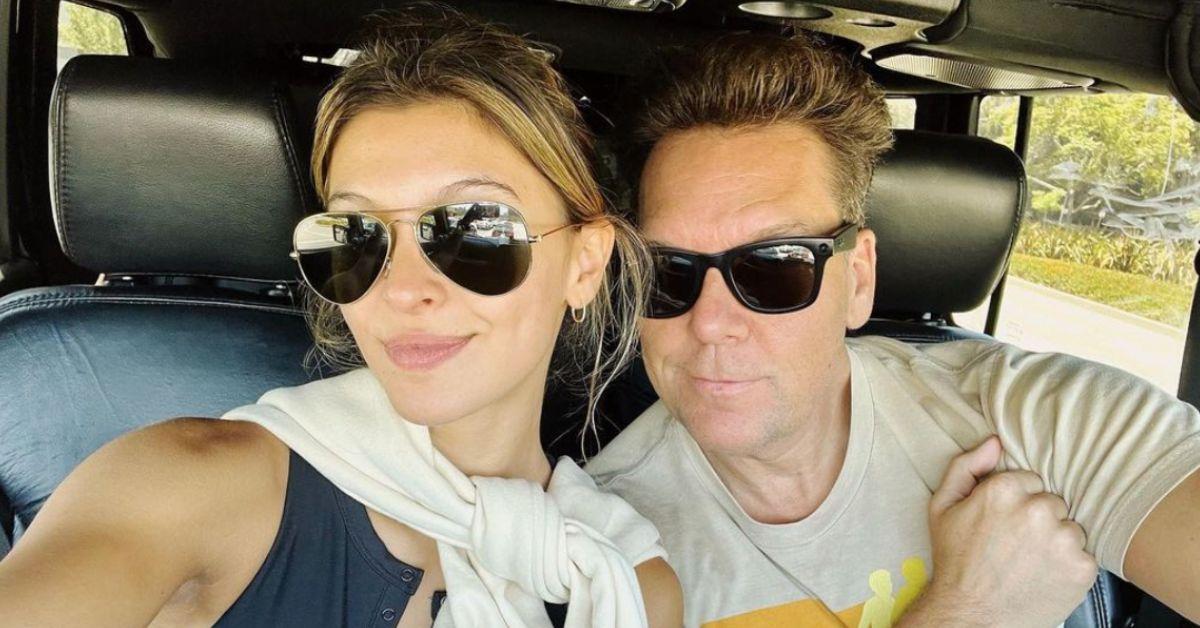 How exactly did these two cross paths? In the middle of an Instagram Live Q&A in August 2019, Dane talked about meeting Kelsi for the first time. He said, "We met at a game night I host at my place. We were friends for a while and soon after fell in like with each [other] and then upgraded to love."
Article continues below advertisement
In 2017, Dane and Kelsi went Instagram official. He posted a picture of her in April of that year with a caption saying, "My girl @itskelsitaylor is one of my favorite people on the planet. She's a talented singer, but more importantly, she's a genuine person. Check out her music and get to know her. She's gonna go far!"
Article continues below advertisement
2018
In January 2018, Dane posted Kelsi on Instagram again adding #relationshipgoals to the caption. In February 2018, he further discussed the relationship on Jimmy Kimmel Live!, acknowledging the fact that the audience didn't seem to approve of the age gap –– but Dane didn't seem too bothered.
Article continues below advertisement
2019
In January of 2019, a source spoke with Us Weekly about Dane's relationship with Kelsi. They said, "Dane is so in love with Kelsi. He treats her as though she's his wife even though he said he'll never get married… This is definitely the most serious relationship he's had so far." Not too long after this statement was released, Dane and Kelsi were photographed cuddling up in Hawaii together.
Article continues below advertisement
In March 2019, Kelsi posted about Dane on Instagram for his birthday. She wrote, "Happy birthday, lover. Your bright, happy face, brain that never stops working, never-ending energy, jokes that bring out my annoying laugh…"
Article continues below advertisement
2020
Dane candidly opened up about his relationship with Kelsi in November 2020. He did an episode of the On the List With Brett Gursky Podcast and had a lot to say. Dane spoke about Kelsi saying, "I'm one of the lucky people that's not trying to date in quarantine. Right?"
Article continues below advertisement
He continued, "I've been fortunate because I'm in a really healthy relationship with somebody, both physically healthy and the relationship itself. We both really maintained a great kind of mutual understanding that we both want to do our own independent things…"
Article continues below advertisement
2021
Kelsi and Dane's relationship remained pretty low-key throughout 2021. During the holiday season, Kelsi posted a pic of the couple on IG saying, "I love you @DaneCook. We're heading into our fifth Thanksgiving together and ooooooh I'm grateful. Also putting up the Christmas tree tonight –– who else is team tree before Thanksgiving?"
The comments on her post were limited, likely to avoid backlash from judgemental people.
Article continues below advertisement
2022
In August 2022, Dane and Kelsi announced that they had gotten engaged. Kelsi posted on Instagram, "The secret's out! @DaneCook and I are engaged. A couple [of] weeks ago, Dane got on one knee and asked me to be his wife and I couldn't have asked for a more perfect moment. I love this man and love spending my life with him. I can't wait for what's to come."
Article continues below advertisement
Dane and Kelsi started dating when she was 18 and he was 45. Although he made claims about never wanting to get married in the past, it's obvious that he has now changed his mind.