Dave Chappelle's New Comedy Special Rips Laura Ingraham, Candace Owens
Dave Chappelle discusses George Floyd, Candace Owens, Laura Ingraham, and even Ja Rule in his new free Netflix comedy special. Details!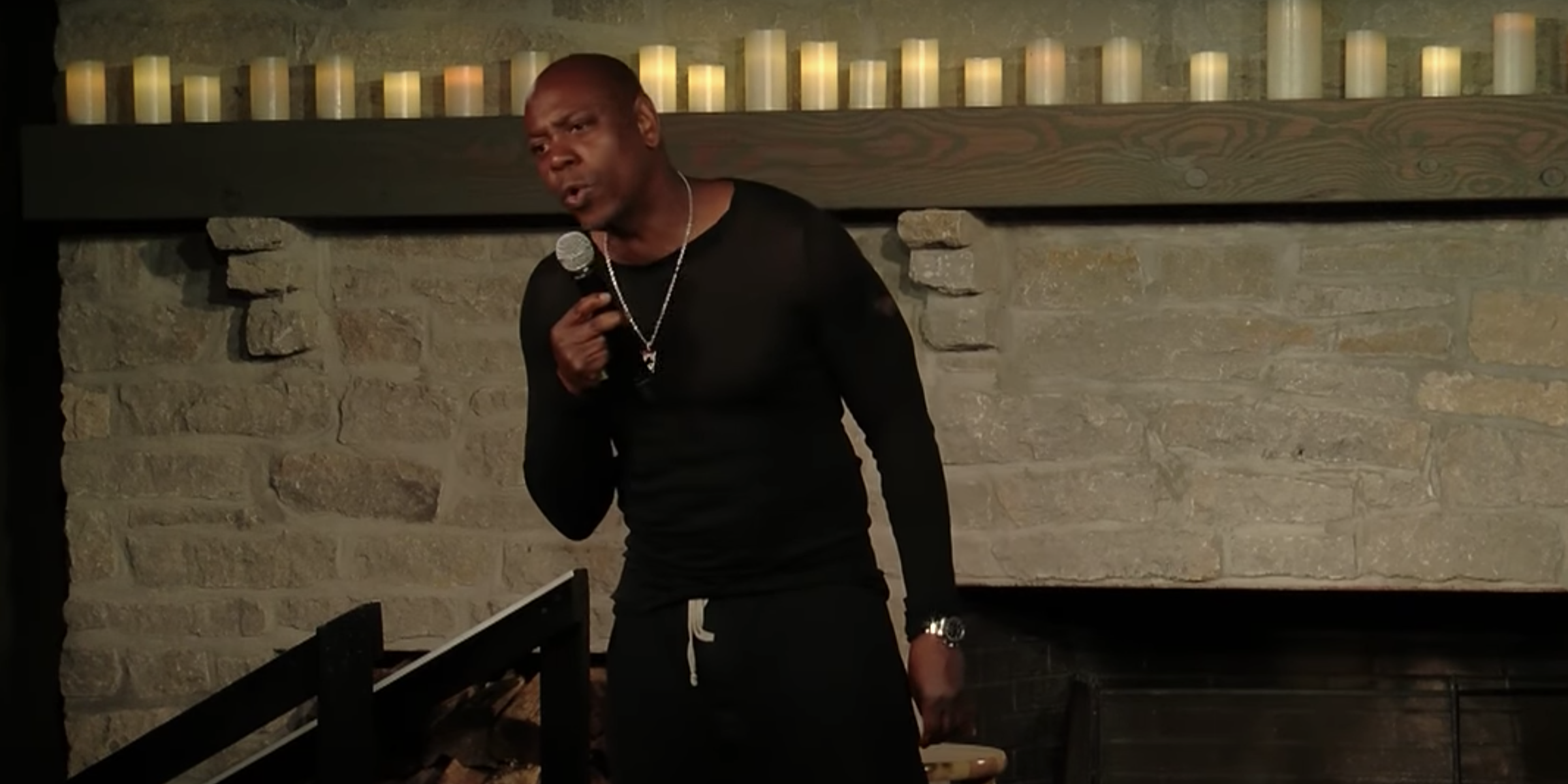 Dave Chappelle and Netflix dropped a comedy bomb with the surprise release of 8:46 on June 11. Interestingly enough, one doesn't need a subscription to the service to watch it and no, I'm not just talking about the fact that you're still piggybacking off of your ex's account: you can watch it for free on Netflix's YouTube comedy channel.
The special touches on George Floyd, Candace Owens, Laura Ingraham, Kobe Bryant, and even Ja Rule.
Article continues below advertisement
Why did Dave title the special '8:46'?
The amount of time has a dual significance: it was the precise duration that police officer Derek Chauvin had George Floyd pinned to the ground with his knee on his neck. The act ultimately caused him to asphyxiate and die. Dave also revealed that 8:46 was the time of day that his mother delivered him: "I was born at 8:46 in the morning and they killed [Floyd] in 8 minute and 46 seconds."
Article continues below advertisement
Like most of Dave's work especially in recent years, 8:46 is packed with absolutely scathing social commentaries. While he admitted, "It's hard to figure out what to say about George Floyd, so I'm not going to say it yet," he did provide a link to the Equal Justice Initiative in the video description. The nonprofit organization aims to end race-based mass incarcerations and was founded by Bryan Stevenson, who is the subject of the recent Michael B. Jordan flick, Just Mercy.
What did Dave have to say about Candace Owens in the new special?
Candace, a Black woman, is a conservative commentator and political activist who recently made headlines for making comments on George Floyd's character as a person that many called "heartless."
Though Candace said Floyd's murder was reprehensible and that no one should be subjugated to the humiliating and fatal way officer Derek Chauvin pinned him down, that he is not a "hero."
Article continues below advertisement
"I don't care WHAT George Floyd did. The officer should have never treated him like that and killed him! But we still must ask: Is he a hero....The fact that he has been held up as a martyr sickens me," she said.
Candace also drew backlash for helping to raise funds for Alabama restaurant owner Michael Dykes, who went viral after several text messages pertaining to Floyd's murder: "Mr. Floyd was a thug, didn't deserve to die but honoring a thug is irresponsible."
Article continues below advertisement
Candace managed to raise $205,000 for Michael Dykes on GoFundMe, but the site quickly shut the campaign down due to a "repeated pattern of inflammatory statements that spread hate, discrimination, intolerance, and falsehoods against the black community at a time of profound national crisis."
Dave has some choice words for Candace in his special but, as always, was attempting to make a larger point:
"I seen Candace Owens try to convince white America, 'Don't worry about it. He's a criminal anyway.'"
Dave continued, "I don't give a f**k what this n**** did. I don't care what this n**** did. I don't care if he personally kicked Candace Owens in her stanky p****. I don't know if it stanks, but I imagine it does. If I ever find out, I'll let you know for sure. I'll tell like Azealia Banks. I'll tell."
The last reference is a head nod to Banks' accusation that she had an affair with Dave and was going to out him to his wife, Elaine.
Article continues below advertisement
Dave also discussed former LAPD officer Chris Dorner in the special.
The United States Navy Reserve Officer received an honorable discharge from the military and soon joined the Los Angeles Police Department after his time in the navy. For years, he tried reporting the excessive abuses carried out by his fellow officers, but was repeatedly ignored.
He ultimately got "fed up" when he witnessed another cop handcuff a mentally ill man and repeatedly kick him in the head and chest.
Article continues below advertisement
Chris was ultimately fired and his reputation as a police officer was tarnished. Years went by, and folks had no idea that the man was plotting some type of retribution against the LAPD. On February 3, 2013, he went on a shooting spree in Orange and Riverside Counties in California. He killed four people and wounded three others, targeting police officers and their families.
On February 12, Dorner died in a gunfight with Sheriff's deputies at a secluded cabin in the San Bernardino Mountains.
Article continues below advertisement
Dave highlights Dorner's spree as an oft-overlooked chapter in the fight for criminal justice reform. Some are accusing Dave of "justifying" cop murders by mentioning Chris Dorner's name, while others argue, if you watch the clip, it's clearly not what he's saying.
Article continues below advertisement
The special was shot on June 6 in Yellow Springs, Ohio, where COVID-19 social distancing protocols were being adhered to. Crowd members were spaced appropriately and everyone had their temperatures checked before walking into the door. Face masks were handed out to guests in attendance as well.