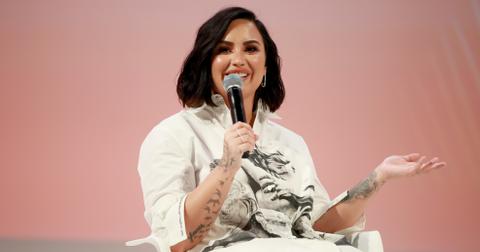 How Demi Lovato's Tattoos Express her Strength and Struggles
By Jacqueline Gualtieri

Updated
Demi Lovato is no stranger to a tattoo gun. The songstress has over 20 known tattoos to date, the most recent one having been added shortly before the new year. Let's take a look at her most prominent ones and their inspirational meanings.
Divine Feminine
At the end of December 2019, Demi added an upper back tattoo to her collection. Captioning it "Divine Feminine", her tattoo artist, Alessandro Capozzi, said the woman being lifted up by the bird was meant to represent a "rebirth of the spirit".
"Survivor"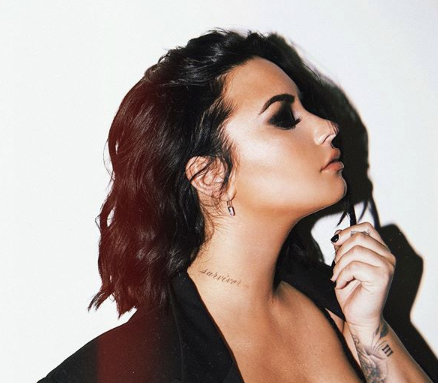 Demi had this tattooed on her neck in script, as a reminder of where she came from and what she's been through.
"T"
Model Thomas Trussell was a close friend of Demi's and he passed away in October 2019 from a drug overdose. She got a "T" tattooed on her forearm in his honor shortly after his death.
Mimaw's photograph
For her grandmother, Demi had her Mimaw's photo from when she was 26 tattooed onto her forearm. She added to her collection when she was 26.
"Me" (and a smiley face)
Demi had the word "me" tattooed on the inside of her ring finger as a reminder to put herself first. And, yes, that is a tattoo of a smiley face on her pinkie. No hidden meaning though. She just wanted to tattoo her pinkie. Similarly, she also has a feather behind her ear that she says also has no meaning.
Roses on her finger and on her forearm
Demi actually has multiple rose tattoos. The first is the larger rose that's on her forearm. That was a coverup for a kiss tattoo that she used to have. The kiss was based on her friend Ivey Ensley's lips, but Demi was never happy with how it came out. But the rose on her finger has a bit of a deeper meaning. She got it in honor of six months of sobriety.
"You make me beautiful" dreamcatcher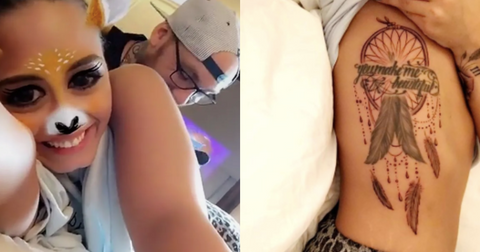 Demi originally got "you make me beautiful" tattooed on her ribcage in honor of her favorite Bethany Dillon song, "Beautiful," which she considers to be a song that inspires her to love, both others and herself, and to have faith. Over time, she's changed the piece from the original lyrics alone to include a full dreamcatcher around it.
Lion covering her hand
The singer's "Lionheart" might contain some clues about this particular tattoo. The song is about find strength in yourself and the love that surrounds you. It seems likely that the artwork reflects the meaning of the song.
"Stay Strong"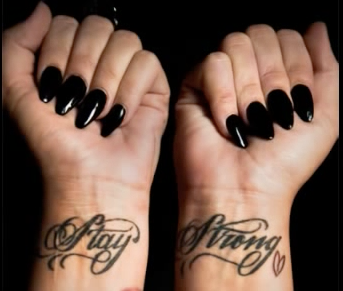 Demi's wrists read "stay" and "strong". They were among her first tattoos and they were added to cover up self-harm scars, as well as be a reminder to her to remain strong in the face of any obstacle.
Flock of birds and "faith"
When Demi originally got the birds, it was added to an existing tattoo of "faith" and it was meant to symbolize freedom. However, it took on a new meaning when Demi entered Narcotics and Alcoholics Anonymous. The flock included 12 birds, like the 12 steps of NA and AA.
Roman numerals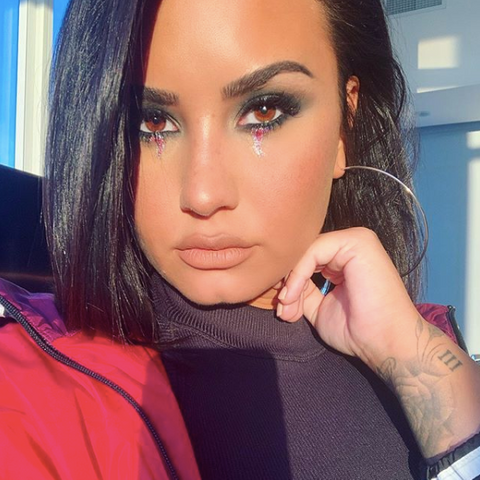 Demi has two different roman numeral tattoos. She has "III" near her wrist. It was in honor of her father after he passed away. Three was his favorite number. She also has the birthdays of her mom, her two sisters, her step dad and her biological dad in roman numerals on her ribs.
"Free", "Peace" and "Rock N Roll"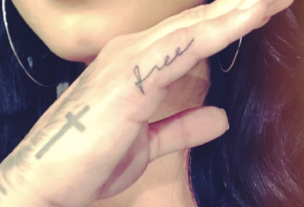 Demi has "free", "peace" and "rock n roll" tattooed on her fingers. She got "free" when she was on tour in 2018 and a lot of her team members got it as well. It was a bonding experience for them to commemorate the tour. She got "peace" and "rock n roll" added later, but she actually thinks she will get the "rock n roll" one removed one day.
"Now I'm a warrior"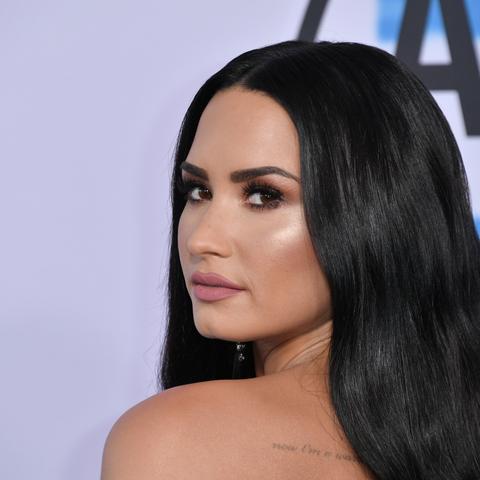 This phrase is actually from one of Demi's own songs. It symbolizes her ability to grow from her struggles and turn a negative into a positive.
Cross on her hand and "Let Go" and "Let God" on her feet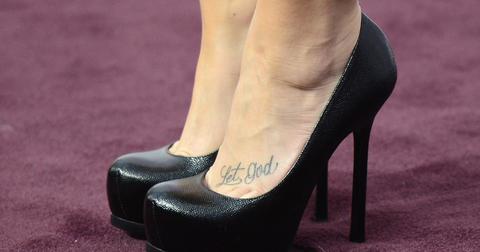 The devout Christian has a cross on her hand to remind her of her faith, as well as these two phrases on her feet.
Africa's outline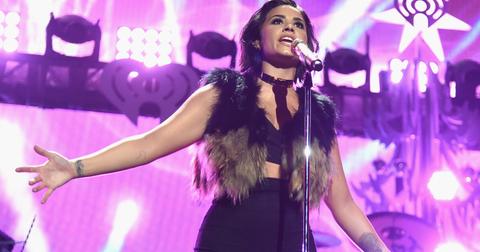 Demi has a small map of Africa on the inside of her elbow. It's very hard to see, but it's in honor of spending her 21st birthday doing charity work in Kenya.
"Buddy was here"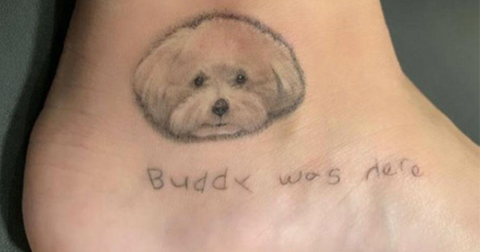 The 27-year-old had an image of her dog and the words, "Buddy was here", tattooed underneath it in memory of her dog who passed away.