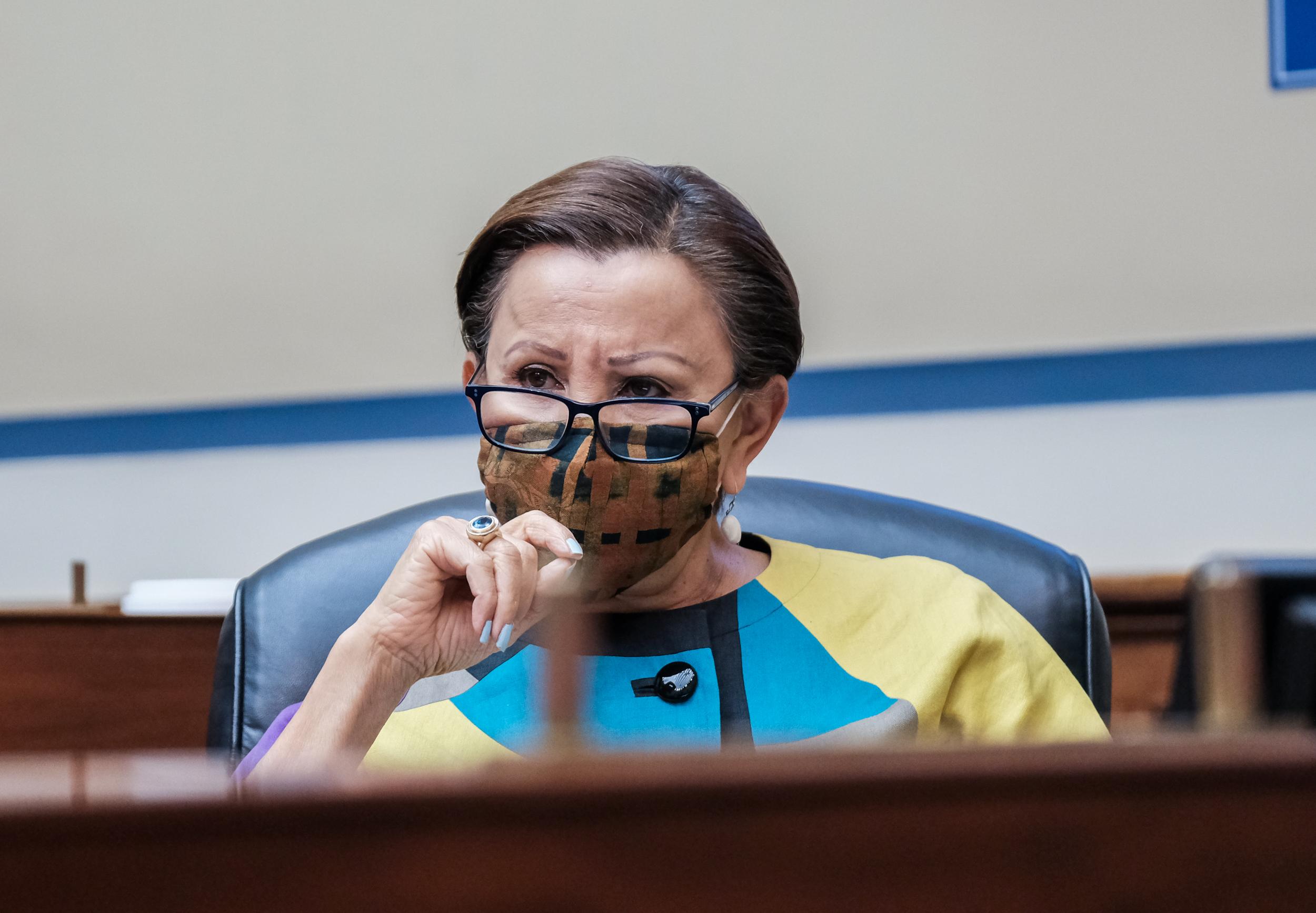 Here Are the Current Sitting Democrats Who Have Been Diagnosed With COVID-19
The news that President Donald Trump and his wife, Melania, have COVID-19 has dominated headlines, especially considering that just hours before his diagnosis, he claimed "the end of the pandemic is in sight."
President Trump's diagnosis has led to many mixed responses from both sides of the party lines. While many are just wishing the president and his wife have a speedy recovery, others have taken it as an opportunity to spread more dangerous conspiracies about the virus.
Article continues below advertisement
Former congressional candidate and current political correspondent DeAnna Lorraine tweeted out on Oct. 2 something she found "odd."
"Does anyone else find it odd that no prominent Democrats have had the virus but the list of Republicans goes on and on?" she tweeted.
It's unclear what her tweet was meant to insinuate, but government transparency website GovTrack.Us has tracked exactly which lawmakers have tested positive for the virus. In total, five Democrats and 11 Republicans currently elected to Congress have tested positive for the virus. We'll let you decide which of these lawmakers are "prominent," but here are the sitting Democrats who have been diagnosed with COVID-19.
Rep. Joe Cunningham
Shortly after much of the country went into lockdown, Rep. Joe Cunningham revealed he would be going into quarantine after coming in contact with another legislator who had tested positive. In a thread of videos on Twitter, he revealed to his followers that he had tested positive.
He said that while he only had mild symptoms, he got the positive test result the day before he was planning to go back to Congress. Instead, he remained self-quarantined until April 1.
Article continues below advertisement
Rep. Ben McAdams
On March 18, Rep. Ben McAdams revealed he had tested positive after experiencing mild cold-like symptoms.
"My symptoms got worse and I developed a fever, a dry cough and labored breathing and I remained self-quarantined," he wrote in a statement. "... my doctor instructed me to get tested for COVID-19 and following his referral, I went to the local testing clinic for the test. Today I learned that I tested positive."
Rep. McAdams remained self-quarantined until March 30 when he was "virus free."
Article continues below advertisement
Rep. Nydia Velázquez
Rep. Nydia Velázquez admitted in her statement on March 30 that she was never officially tested for COVID-19, but after experiencing fever, chills, and a loss of smell and taste, the doctor she consulted by phone said it was very likely she had contracted the virus, and thus she self-quarantined until April 13.
Article continues below advertisement
Rep. Raúl Grijalva
Rep. Raúl Grijalva was exposed to the virus by Rep. Louie Gohmert, who tested positive on July 29. Following his diagnosis, he remained self-quarantined until Aug. 18.
While Rep. Grijalva never addressed his diagnosis with a statement on Twitter, he offered his best wishes to POTUS and FLOTUS following their diagnosis.
"I know from experience that COVID-19 is a serious issue, and I wish the President & First Lady a full recovery," he tweeted.
Article continues below advertisement
Rep. Jahana Hayes
Rep. Jahana Hayes' diagnosis is one of the more recent ones, with her testing positive on Sept. 20. Rep. Hayes is still in self-quarantine and is expected to remain there until at least Oct. 4.
Ten days into her diagnosis, Rep. Hayes tweeted a note about her symptoms, noting she was still struggling with a shortness of breath.
"After a twenty min phone conversation I feel like I ran a sprint," she wrote. "I spend the next hour deep breathing and trying to slow my heart rate down."
Article continues below advertisement
The best way to prevent contracting or spreading coronavirus is with thorough hand washing and social distancing. If you feel you may be experiencing symptoms of coronavirus, which include persistent cough (usually dry), fever, shortness of breath, and fatigue, please call your doctor before going to get tested. For comprehensive resources and updates, visit the CDC website. If you are experiencing anxiety about the virus, seek out mental health support from your provider or visit NAMI.org.