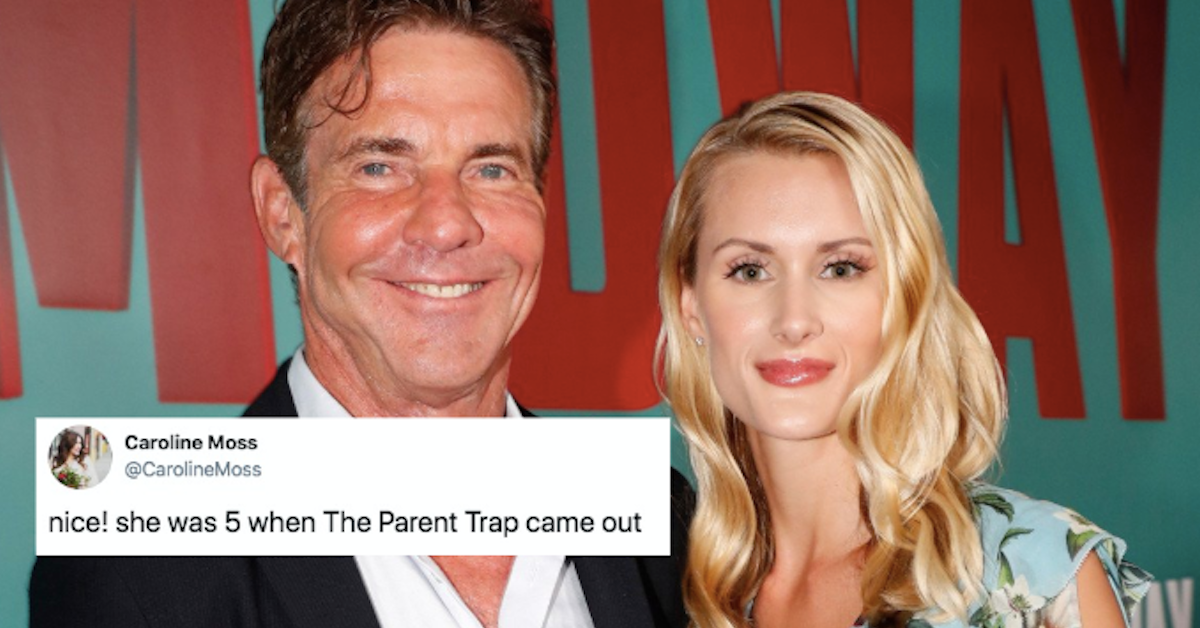 Dennis Quaid Is Marrying a 26-Year-Old and the 'Parent Trap' Jokes Keep Coming
Life imitates art, I suppose. Actor Dennis Quaid, most well-known (by millennials anyway) as Lindsay Lohan's father in the perfect 1998 The Parent Trap remake, confirmed that he recently proposed to his 26-year-old girlfriend, University of Texas Ph.D. student Laura Savoie, in Hawaii.
Article continues below advertisement
This will be Dennis Quaid's fourth marriage. He was married to P.J. Soles from 1978 to 1983, a marriage that happened entirely before Laura Savoie was born. He was then married to Meg Ryan from 1991 to 2001, then to Kimberly Buffington after that, and that 16-year marriage ended in 2018. He wasted no time starting something serious with Laura, and even though it is a consensual relationship between two adults, people couldn't help but be a little skeeved out by grandpa Quaid marrying someone nearly 40 years his junior. The jokes flowed immediately.
Article continues below advertisement
It's not uncommon in Hollywood for old men to marry women who are much younger than them, but it can be very hard to wrap your head around. You know who's older than his current wife-to-be? Lindsay Lohan, who played his daughter in one of the most perfect films of the 20th century.
Article continues below advertisement
As TV writer Jess Dweck put it, "the wrong brother is called Randy Quaid." You know... because Dennis seems... anyway. On top of the fact that Laura is a full 39 years younger than Dennis, it didn't escape people's attention that this real-life engagement shares some scary parallels to one of the greatest achievements in cinema, Nancy Meyers' 1998 version of The Parent Trap.
Article continues below advertisement
I don't often quote myself, but in this case, my hastily constructed tweet on the matter kind of sums it up nicely: "Meredith Blake was also 26 and that was 21 years ago AND fiction and it was already gross!"
That's right. In The Parent Trap, Dennis Quaid's character, Nick, gets engaged to conniving, power-hungry Meredith Blake, who, in the movie, is 26 years old. That was 1998, meaning now 65-year-old Dennis Quaid was then 44, and in the movie, his engagement to someone half his age was played off as a bizarre mid-life crisis mistake. Add 21 years and real life to that exact scenario, and how do you expect people to react?
Article continues below advertisement
I think writer and actor Emmy Potter pretty much hit the nail on the head with this thread of reaction GIFs and pictures. Look, Dennis Quaid and Laura Savoie can do whatever they want. But people are also allowed to react however they want, and most people have chosen to do so by making Parent Trap jokes. Who can blame them?
Article continues below advertisement
Truly, it is difficult for me to pass up any opportunity whatsoever to bring up that flawless film, so this was just another excuse to talk about it. And I'm not the only one who felt that way.
In fact, Meredith Blake herself thought it would be appropriate to take the bait, which, I admit, Dennis Quaid made all-too-easy for us to snatch up. Actress Elaine Hendrix's tweet on the matter is absolutely priceless.
Article continues below advertisement
If there is a Twitter Hall of Fame, this needs to be placed in there. Just some well-intended advice for Dennis Quaid's newest 26-year-old wife-to-be from the OG. The emoji really sends it home for me, too.
You could say that, by confirming this news, Dennis Quaid walked into a parent trap of his own making. I just hope both he and Laura have a sense of humor about it. And more than anything, I hope that somewhere, Chessy is laughing and shaking her head at the whole thing.