Who Is Adam Monahan, the Host of the 'Detours' Podcast?
Fans of 'Antiques Roadshow' will love 'Detours,' a six-part podcast about what happens to appraisal items when the cameras stop rolling. Meet the host!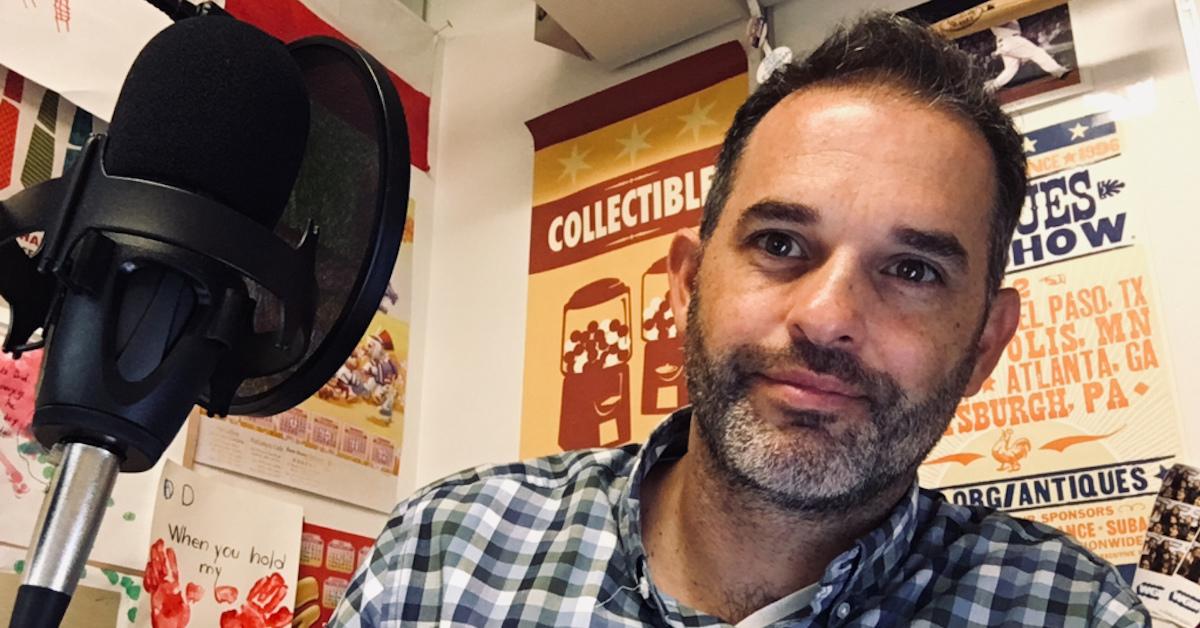 Have you ever watched Antiques Roadshow and wondered what happens to the collectibles after they're appraised? Have you found yourself Googling certain items as soon as the credits begin to roll to see if you can find out more about their history?
If you answered "yes" to either of the above questions, or you just simply can't get enough of the hit PBS series, then you are in luck. A six-part, biweekly, behind-the-scenes podcast about the show launched on Sept. 14, 2020.
Article continues below advertisement
Hosted by Adam Monahan, Detours will give fans an inside look into the creation of the show, and it will also give listeners more information about some of the most intriguing antiques featured on the series.
Who is Adam Monahan, the host of Detours? Keep reading to find out how he's associated with Antiques Roadshow and to learn more about which stories will be featured on the podcast.
Article continues below advertisement
Who is Adam Monahan from 'Detours'?
The Boston resident has been a producer for the history-centric series for more than 15 years. He first joined WGBH, which produces Antiques Roadshow, as a production assistant in 2004. He was later promoted to an associate producer position in 2007, and he has been a producer since June of 2015.
Antiques Roadshow wasn't Adam's first foray into production. He was an assistant on the Clint Eastwood film Mystic River.
Adam attended Syracuse University, where he received his Bachelor of Science degree in Communication.
He resides in the Allston neighborhood of Boston with his wife and his two kids.
Article continues below advertisement
In a press release for Detours, Adam explained what listeners can expect to get out of the show.
"During my 15-plus years with the show, I'm continually fascinated by the information discovered as we check facts and follow up with guests. We're telling stories about what we've uncovered that are even surprising us," he shared. "And yes, you'll discover our secrets."
Article continues below advertisement
Each episode of the podcast will cover one specific item from the show, and Adam selected the ones that were especially difficult to fact-check.
The artifacts that are set to be featured on the podcast include the flag from J.F.K.'s Navy boat, the toy soldiers used in Babes in Toyland, a Mayan jade pendant, a stolen image of poet Edgar Allan Poe, the mistaken Korean silk screen, and the World War II era gold watch.
Adam will give listeners a refresher on when the artifacts appeared on the show and how he ultimately determined whether they were legitimate or not.
He will be joined by fellow Antiques Roadshow producer Marsha Bemko on Detours.
Who is Marsha Bemko?
While Adam is the main host on Detours, Marsha Bemko will also be providing insight and some of her firsthand experiences from Antiques Roadshow. She has been an executive producer on the PBS series since 2003, and she has worked with WGBH for 38 years. She attended Westfield State University and received her Bachelor of Arts degree in English / Communication.
New episodes of Detours drop every other Monday, beginning on Sept. 14. You can listen to the podcast here.