Sacha Baron Cohen Really Did Crash Mike Pence's CPAC Speech for 'Borat 2'
A new movie has everyone talking because it's hard to tell what's real and what's creative editing. Like, did Borat crash CPAC for real?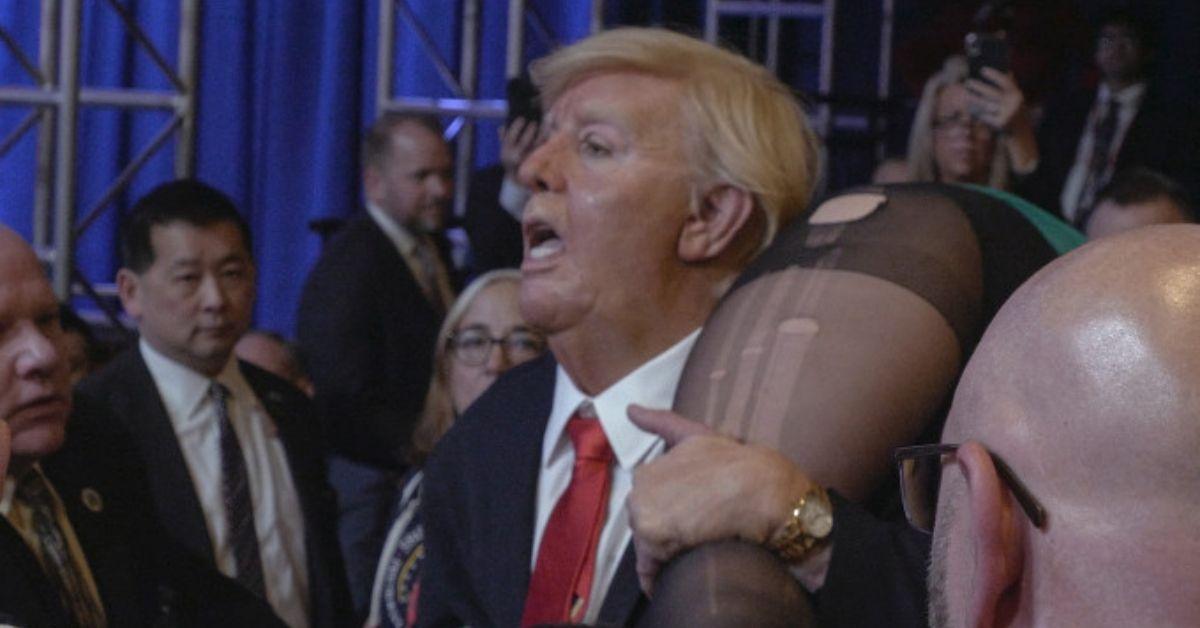 On Oct. 23, Amazon Prime released the sequel to the hilarious one-of-a-kind movie Borat. The first film was a spoof-documentary comedy starring a fictional character, Borat, who has a lot of personality and interviews real people who don't know he's in character.
Article continues below advertisement
The sequel, titled Borat Subsequent Moviefilm, takes on United States politics and as the trailer was released before the film's debut, we see a lot going on. One of the first scenes to be teased happened to be Donald Trump's lawyer, Rudy Giuliani, in a compromising position. However, that's not all that happened, and people are curious: Did Borat crash CPAC for real? Here's what we know.
Did Borat crash CPAC for the new movie?
Earlier in the year, there were reports that someone had crashed the Conservative Political Action Conference (CPAC) which took place on Feb. 27, 2020, held in National Harbor, Md. At that event, Vice President Mike Pence was speaking. Several tweets went out saying that one of the attendees had dressed up as President Donald Trump and started to make a scene.
Article continues below advertisement
"This Donald Trump impersonator was ejected from #CPAC2020 for heckling Vice President Pence," one person tweeted along with a photo showing the impersonator.
"A protester dressed like President Trump was just escorted out of Pence's speech at CPAC," someone else tweeted, again sharing a photo. "Not clear what he was saying."
Article continues below advertisement
Turns out, now that Borat Subsequent Moviefilm is available in its entirety, that impersonator who was "hecking" the vice president was Sacha Baron Cohen in character as Borat — and that scene made it into the movie.
Article continues below advertisement
Sacha confirmed this when he interviewed with the New York Times, saying he barely made it into the convention after he was briefly stopped by security. He told the publication that the metal detector went off, prompting security to look closer. He improvised in that moment and made up an excuse about a defibrillator.
"Then I ended up hiding in the bathroom, listening to conservative men go to the toilet for five hours until I broke into the room," he said. "We were surrounded by Secret Service and police and internal security."
Article continues below advertisement
The success of the movie depends on people not recognizing Sacha as Borat.
There was a lot of speculation before the second film of Borat, on if it would be able to be successful given how popular the first movie was. The first film received several film awards including a Critics Choice Movie Award for Best Comedy, Golden Globe Award for Best Actor – Motion Picture, and an MTV Movie Award for Best Performic Performance.
Article continues below advertisement
The first film also took home several film critic awards around the world and given how successful it was, there was concern that no one wouldn't immediately recognize Borat as a character. The movie's success is so based on the people he interviews or interacts with as being unaware that he's not a real person from Kazakhstan.
Given the fact that Sacha really did crash CPAC as Borat — and Rudy Giuliani seemed to be unaware that his interview was for a movie — we say Sacha did a good job with the sequel.
You can watch the sequel, Borat Subsequent Moviefilm, on Oct. 23, 2020, on Amazon Prime.