You'll Be Surprised by How Much Sacha Baron Cohen Gets Away With in 'Borat 2'
How much of 'Borat 2' is real? Sacha Baron Cohen is an expert at getting access to political bigwigs — then humiliating them.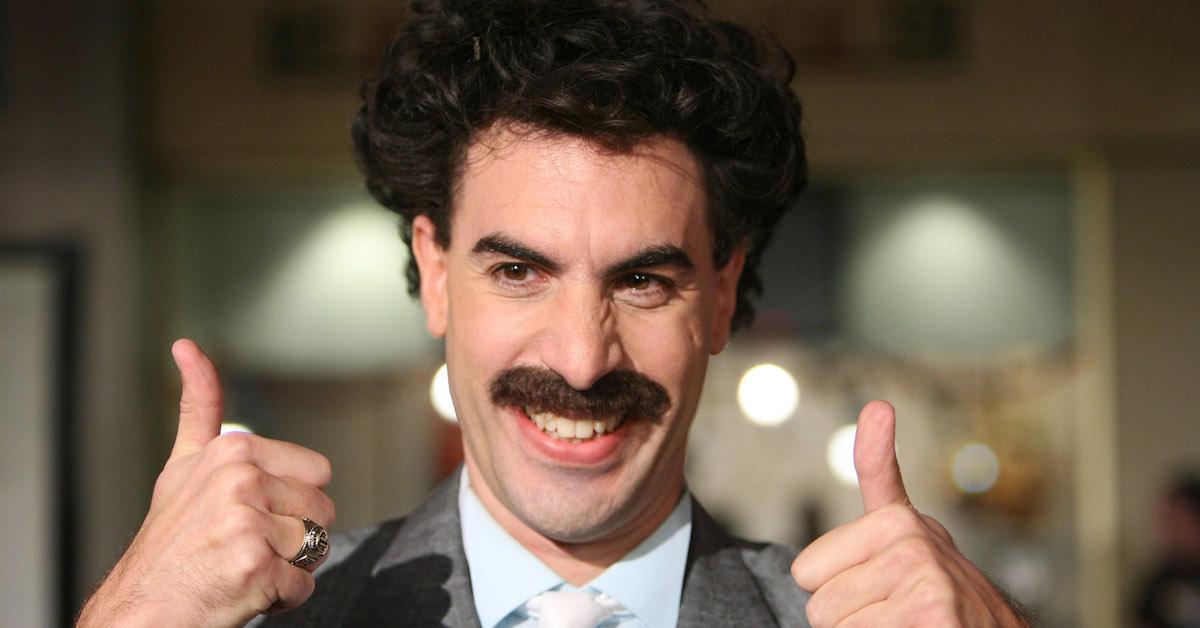 Sacha Baron Cohen has pulled off an impressive feat in 2020 by not only successfully filming part of a movie amid the coronavirus pandemic, but also doing it in secret.
The sequel to the actor's wildly popular 2006 hit Borat was released on Oct. 23, and like its predecessor features several outrageous stunts involving politicians as well as normal, everyday people. But how much of Borat 2 — also known as Borat Subsequent Moviefilm — is real and how much is staged? Here's what we've learned from those involved in the project.
Article continues below advertisement
How much of 'Borat 2' is real?
Based on interviews with individuals who appear in the film and news reports from the time of Cohen's pranks, the majority of Borat 2 is real, with most participants having been unaware that they were interacting with the famous 49-year-old and that their actions were being documented for a satirical movie.
However, there is one scene in the mockumentary that was faked from the start, though certain elements still caught those in attendance off guard. One of the film's first sequences takes place at a debutante ball in Macon, Ga., which was shot at the historic 19th century residence Hay House.
Article continues below advertisement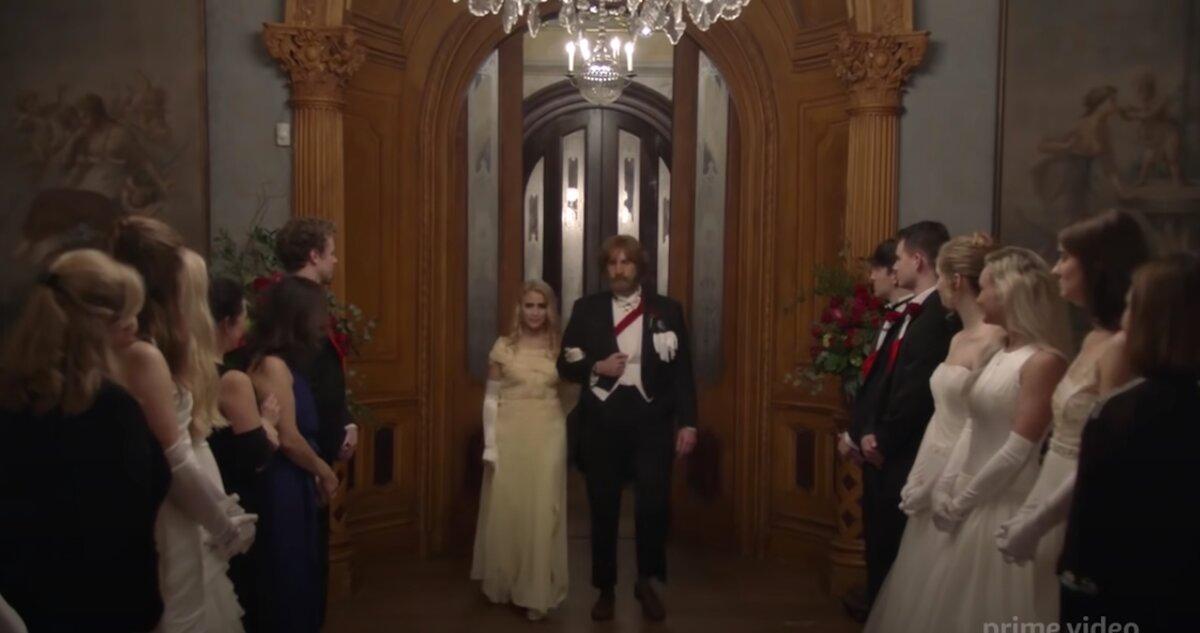 According to one Monroe County father who was at the event, both he and his 18-year-old daughter were paid $100 to "dress up, dance a little, and enjoy free cuisine and drinks."
The duo knew they were being filmed, but had no idea it was for a Borat movie — even after the night ended with Cohen (who was in disguise but not as Borat) performing a graphic synchronized dance alongside his on-screen daughter, Tutar (played by Maria Bakalova).
Article continues below advertisement
In an interview with a local TV station, Hay House's operations manager, Cliff Sims, claimed producers booked the venue under "false pretenses," allegedly telling him that they were filming a "coming of age" story.
"It was not discussed or approved by the Macon Film Commission," Sims stated. "What was discussed with the production company during the initial rental is not what happened or transpired on site."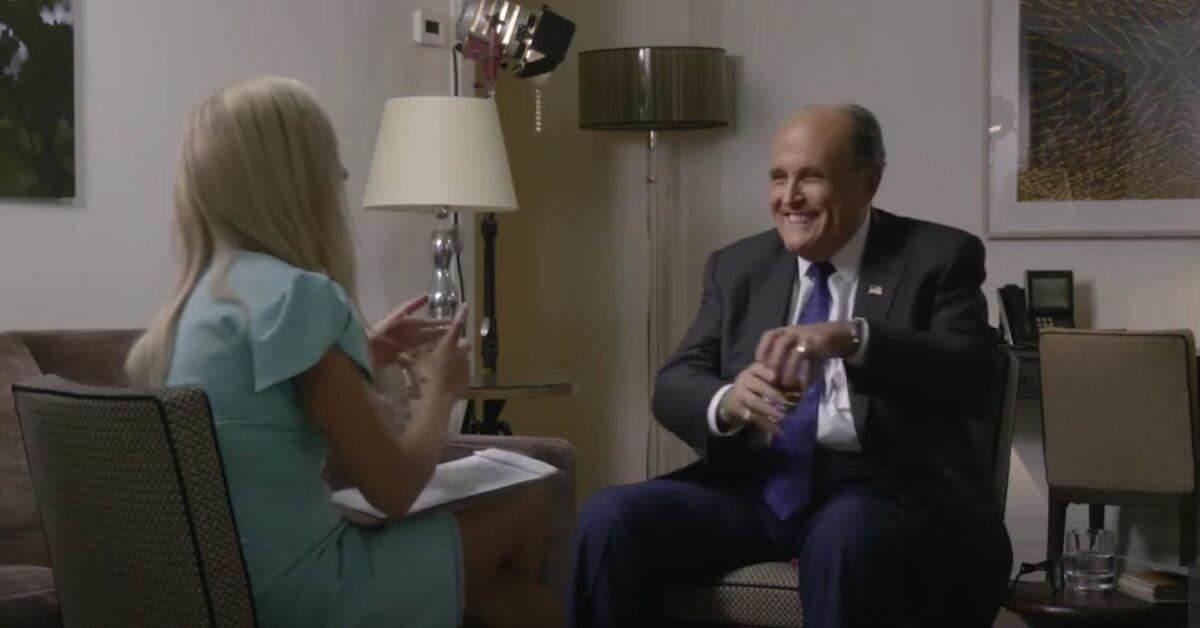 Article continues below advertisement
Rudy Giuliani won't admit Sacha Baron Cohen duped him.
One of the most talked about pranks in Borat 2 is Tutar's interview with the former New York City mayor, which ends with the pair going into a bedroom together. Tutar helps the politician take off his microphone, he asks for her contact information, they sit on the bed, and then he's seen sticking his hands down his pants before Cohen rushes in.
When footage of the cringe-worthy scene was released, Giuliani insisted he was tucking in his shirt, not fondling himself. "At no time before, during, or after the interview was I ever inappropriate," the 76-year-old wrote on Twitter. "If Sacha Baron Cohen implies otherwise he is a stone-cold liar."
Giuliani previously spilled the beans about his encounter with Cohen and Bakalova in a chat with the New York Post. "I only later realized it must have been Sacha Baron Cohen," he told the publication in July, shortly after their memorable interaction. "I thought about all the people he previously fooled and I felt good about myself because he didn't get me."
Sounds like he did. Borat Subsequent Moviefilm is now available to rent or stream on Amazon Prime.