Charli D'Amelio Is Very Much Alive, Despite a Creepy YouTube Death Hoax
Despite what a YouTube video would have you believe, Charli D'Amelio didn't die on Friday, March 12, nor did she get into a car crash — at least, not to our knowledge!
Article continues below advertisement
Did Charli D'Amelio die?
The video, uploaded on Feb. 22, 2021, claimed Charli would die on March 12. But the TikTok star was still alive and kicking as of Friday night, even uploading an Instagram Stories video to urge her fans to vote for her in the 2021 Kids' Choice Awards' Favorite Female Social Star category.
Article continues below advertisement
The YouTube account 2021 Vision seems to want to cash in on the viral fame of the 2020 Vision account, which has already distanced itself from its imitators. "This is my only channel. 2021 Vision, 2025 Vision, 2030 Vision — all are frauds," 2020 Vision's YouTube bio reads.
Article continues below advertisement
The 2020 Vision account appeared to predict Kobe Bryant's death in a video posted way back in 2017 — accurately saying the NBA great would die on Jan. 26, 2020. But people have pointed out how the YouTube user behind the account could have faked a years-old prediction: All they would need to do is upload a private video with a celebrity's name and every possible date in the year, and then trim the video to show only the correct date and make the video public in the event of that celebrity's death.
Article continues below advertisement
Did Charli D'Amelio get into a car crash?
In another video, 2021 Vision claimed Charli would die in a car crash, but that too seems to be a ploy for attention. And again, YouTube commenters are over it. "She's still alive," one wrote. "You're just doing this for clout."
Charli did travel in a car yesterday, but only to pick up a cup of her namesake drink at Dunkin', as her Instagram Stories show. In September 2020, Dunkin' honored the social media star by releasing the Charli Cold Foam, a Dunkin' Cold Brew with three pumps of caramel. And this February, the coffee shop chain released a "remix" version with sweet cold foam and cinnamon sugar.
Article continues below advertisement
Charli also took to her Instagram Stories on March 13 to specifically let her followers know that she was alive and well. "IM ALIVE," she captioned a photo of herself giving the camera a thumbs-up.
Article continues below advertisement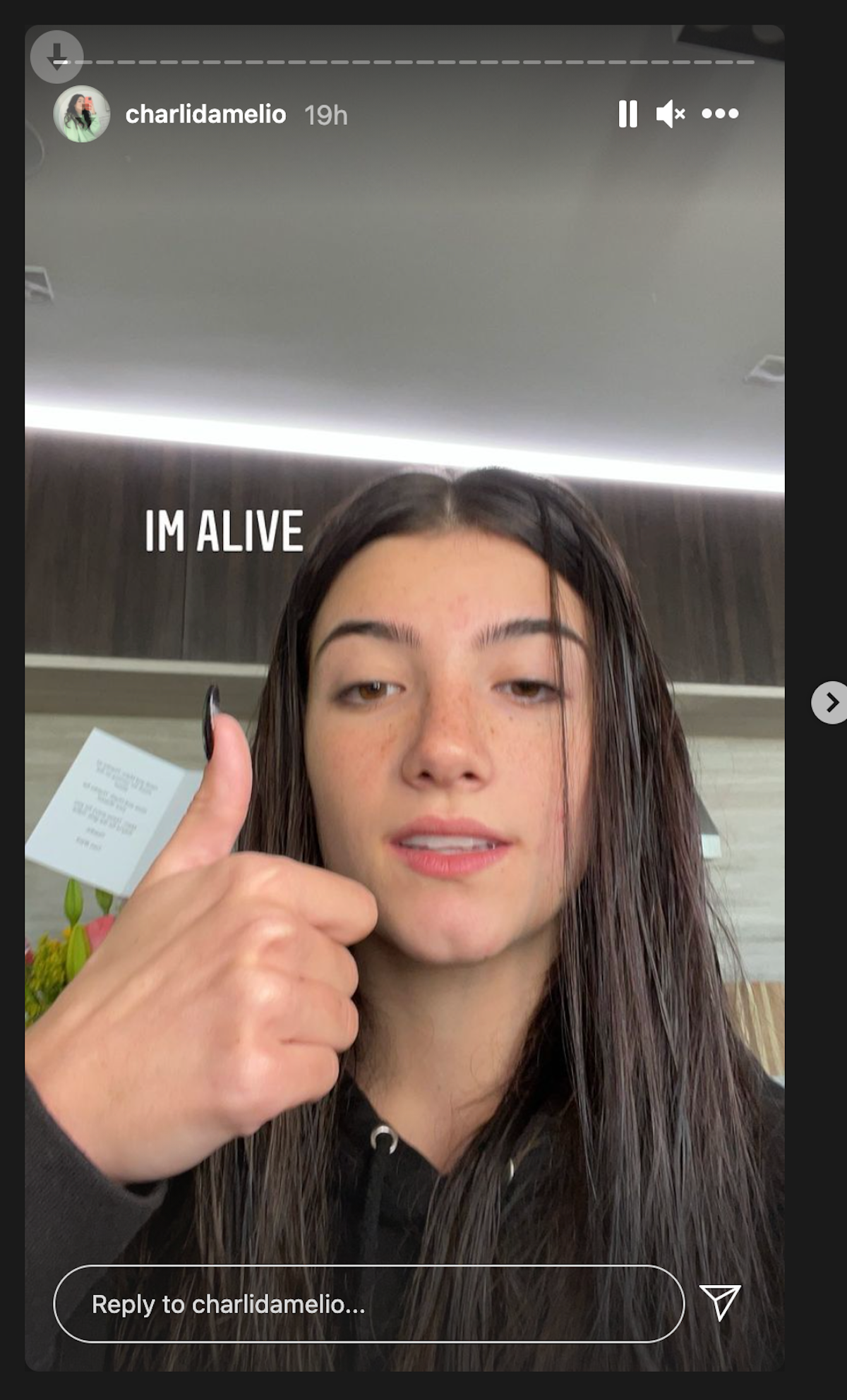 Did Charli D'Amelio delete a video because of the death hoax?
Now this rumor might have some validity! According to In the Know, Charli deleted a TikTok video of herself dancing on March 11 after other TikTok users inundated the clip with comments related to the death hoax.
And Twitter users have risen to her defense, as one user's screenshot shows. "Charli deleted her dancing video," one person wrote. "People are disgusting AF."
Another user tweeted: "I kinda like Charli but saying that she is going to die tomorrow and she is only 16 is not right. Like, get a f--king life. Leave that poor girl alone."
Commenters also talked about the death hoax on another of Charli's TikTok videos, though, as In the Know pointed out. "Today's the day," one person wrote on March 12. "I hope it's not true."
Looks like those hopes were fulfilled!