Did Mads Lewis Get a Nose Job? The TikTok Influencer Was Sporting a Nose Splint
Did Mads Lewis get a nose job? Photos and videos of the TikTok star with a nose splint and bandaging have followers wondering what happened.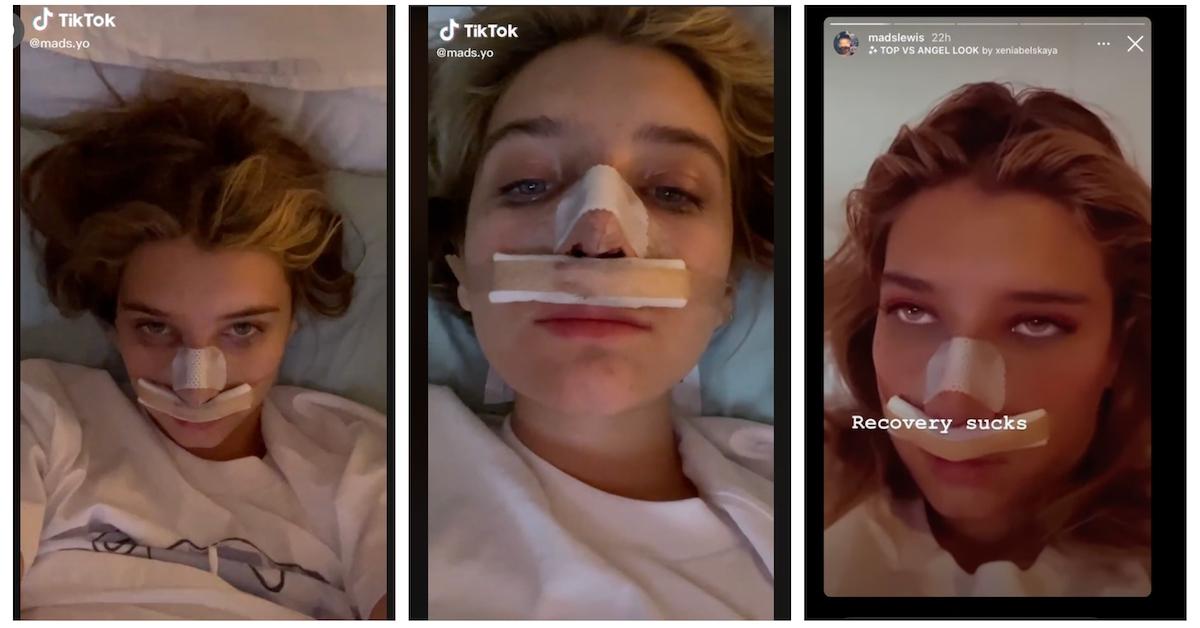 When it comes to being in the public eye, there's immense pressure to look a certain way — which is why so many celebs/influencers opt for various levels of cosmetic procedures in order to look like they're under a beauty filter 24/7. TikTok star Mads Lewis turned 18 in December 2020 — so she's old enough to get plastic surgery without anyone else's permission. But did she really get a nose job? Or did something else happen?
Let's take a closer look at why Mads is sporting a nose split.
Article continues below advertisement
Did Mads Lewis get a nose job?
Yes, it appears Mads got a nose job sometime in April 2021.
"We're in recovery right now for my nose job surgery that I got," she said to her 11.6 million TikTok followers during a live stream. "I know a lot of you are like, 'What!? Why did she get a nose job??' I got one because I didn't like my side profile ... and I was either going to change it now or later, so I did now."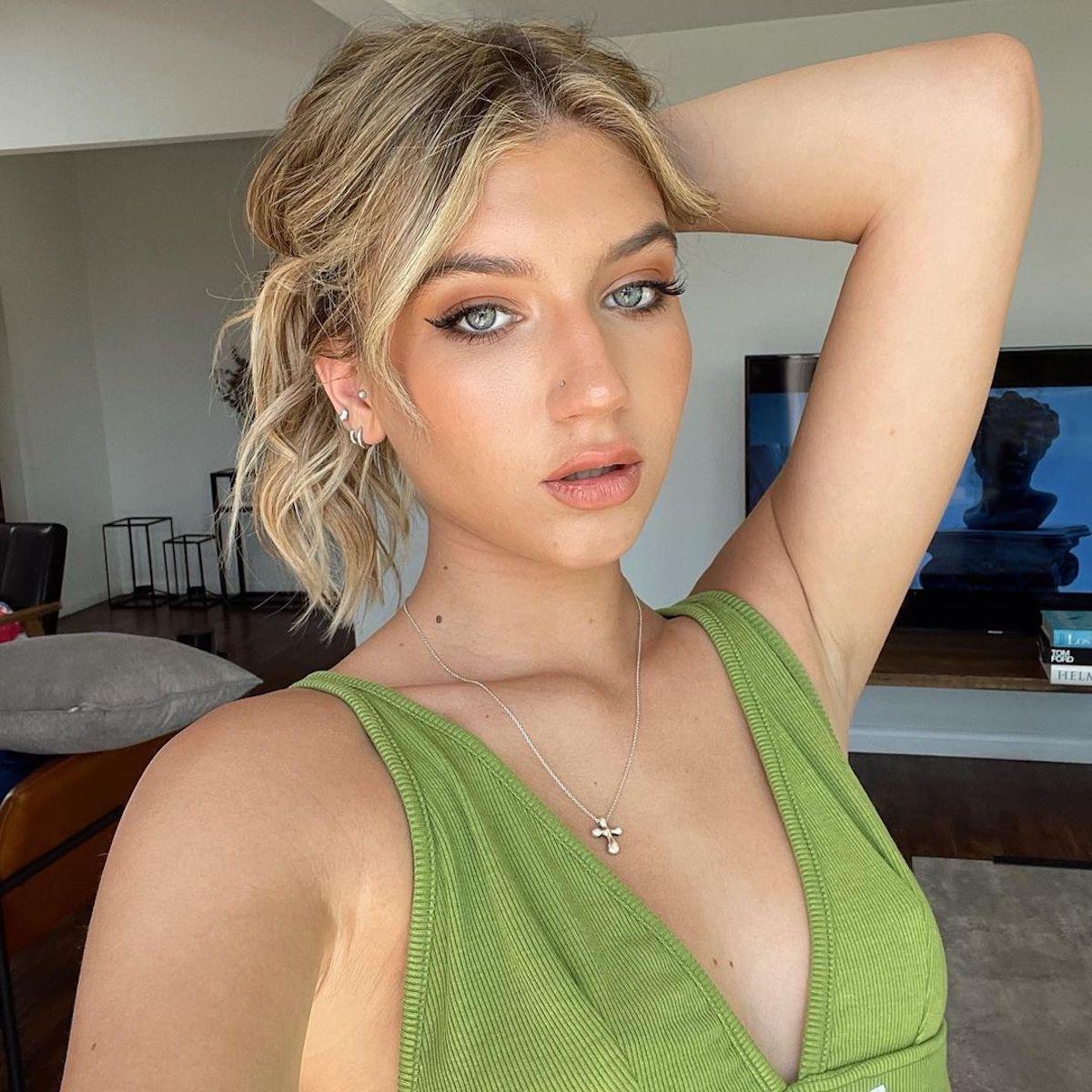 Article continues below advertisement
"I didn't have to get surgery on anything, I wanted to. So I did," she told her fans. "And I think my nose is really cute now that when I'm looking at it. Like without this on, you can really see it. It's swollen right now, so that's not actually how it looks. But it's really cute and it slopes a little bit. I love it. I think he did a great job."
Mads went on to offer an update on how she's been healing from her nose job.
"Everything I'm doing, it's getting easier every day. Anyways, I just wanted to come on here and say hi, I'm doing OK. Two more days and then this bad boy comes off, " she said, pointing to her nose splint. "But I can't wait to show you guys a before and after."
Article continues below advertisement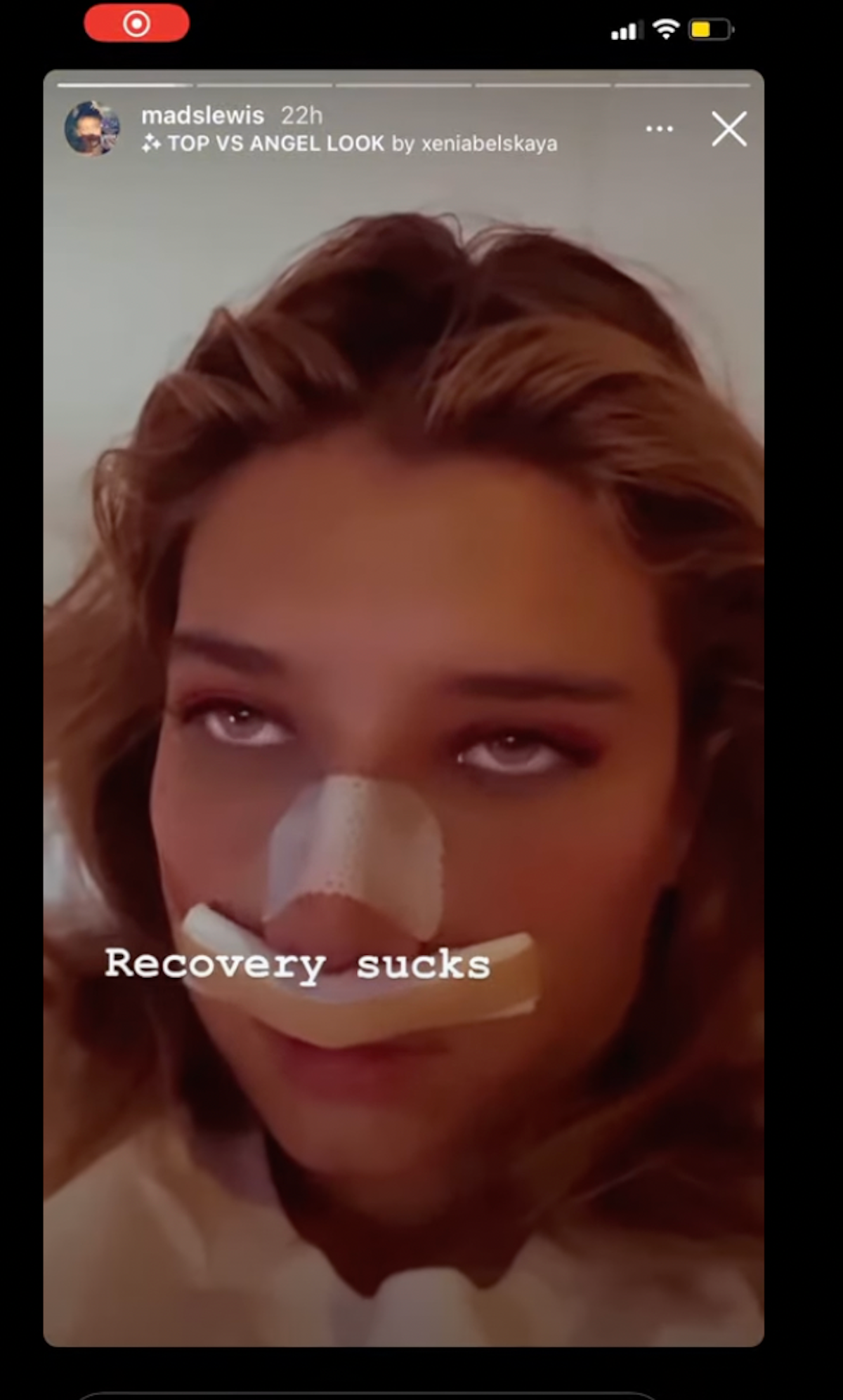 Article continues below advertisement
Mads also sneaked a photo of herself bandaged up following her nose job in a series of shots shared to Instagram. The post featured seven images of her wearing a green top, black pants, and high heels while posing on some stairs. However, those who scrolled all the way to the end (the eighth photo) saw one shot that was completely different.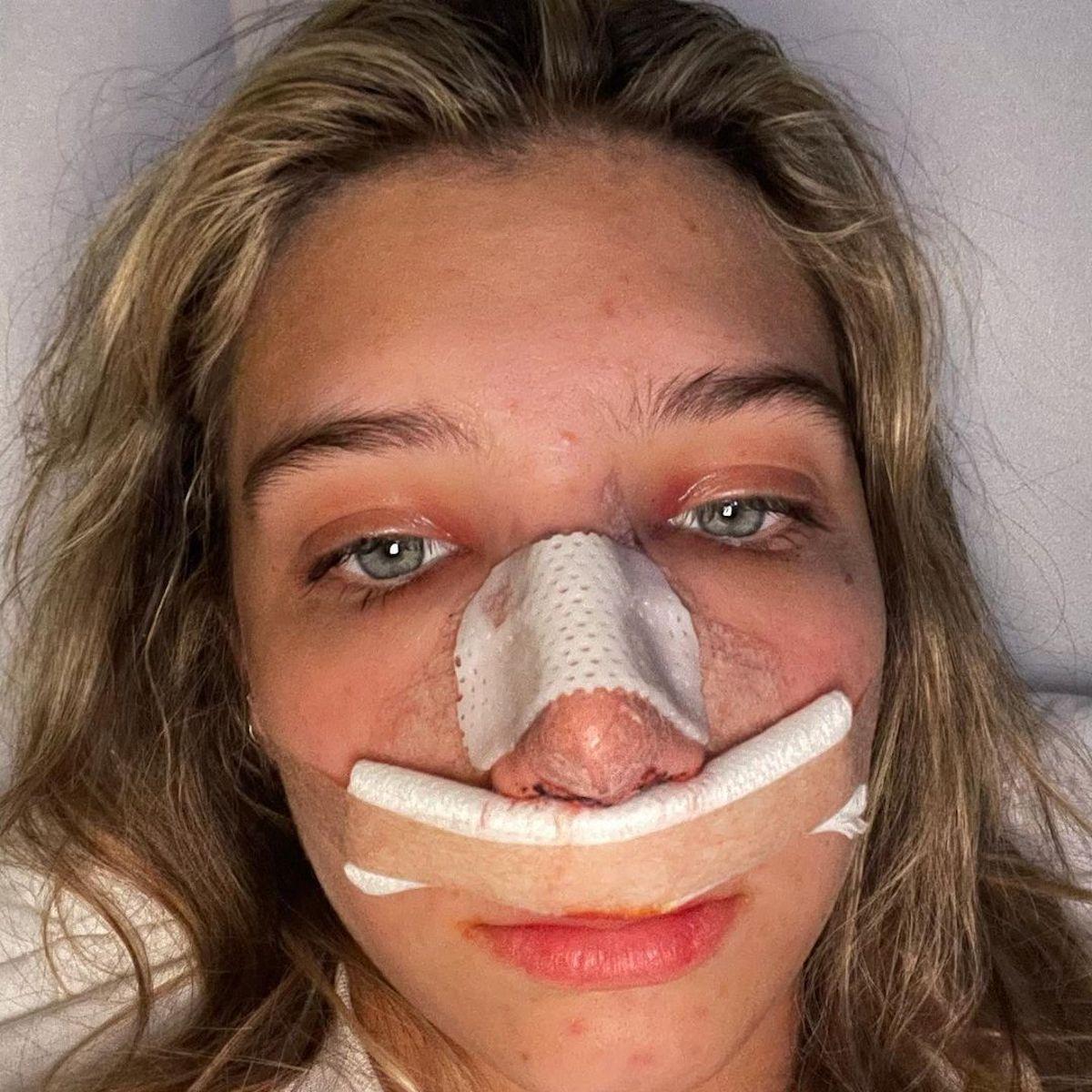 Article continues below advertisement
Mads Lewis has posted TikTok videos following her nose job, too.
In addition to sharing about her nose job on a TikTok live stream, Mads has shared a couple of other videos with her TikTok followers — which makes sense, considering that's where rose to influencer fame when the app was still called Musical.ly.
Article continues below advertisement
Although Mads hasn't yet offered a still photo of her nose after the elective surgery, she did post a short video clip of herself after taking off her nose splint. "I love it," she captioned the Instagram Story.
Article continues below advertisement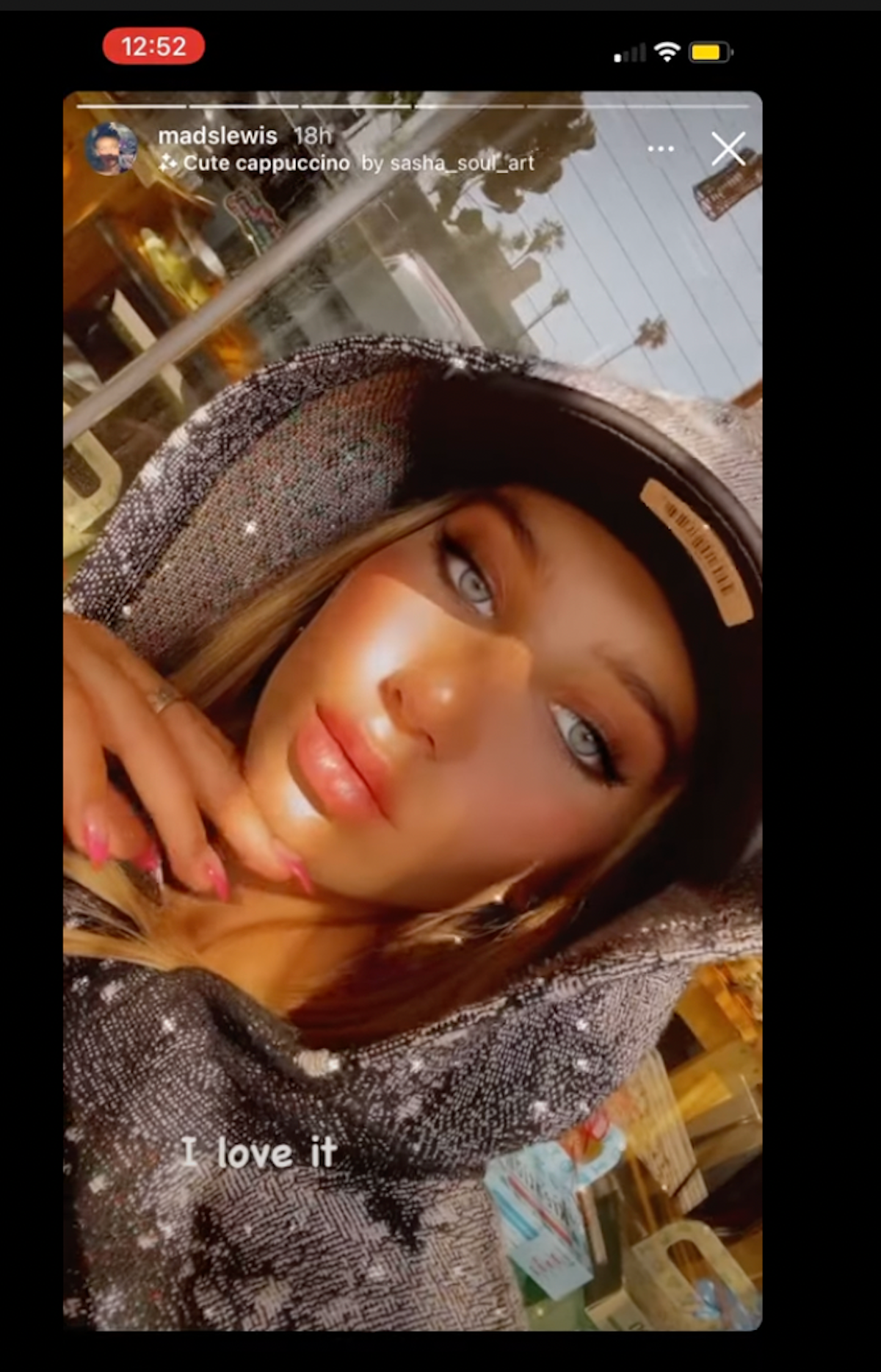 As some fans have pointed out, Mads' nose job comes on the heels of her breakup with on-again-off-again Jaden Hossler — and on heels of publicly accusing him of cheating on her with Nessa Barrett. It seems some are insinuating that Mads may have decided to go through with her nose job in order to have a "revenge glow-up" of sorts. (Hopefully, that's not the case.)
Whatever the reasoning behind Mads' getting a nose job, she is legally an adult and is perfectly capable of making this sort of decision on her own. Hopefully her recovery continues to go well!