This Tiktok Theory About Scar and Mufasa Might Ruin Your Childhood
A theory circulating among different TikTok videos claims that in 'The Lion King,' Scar actually ate Mufasa. But is that really what happened?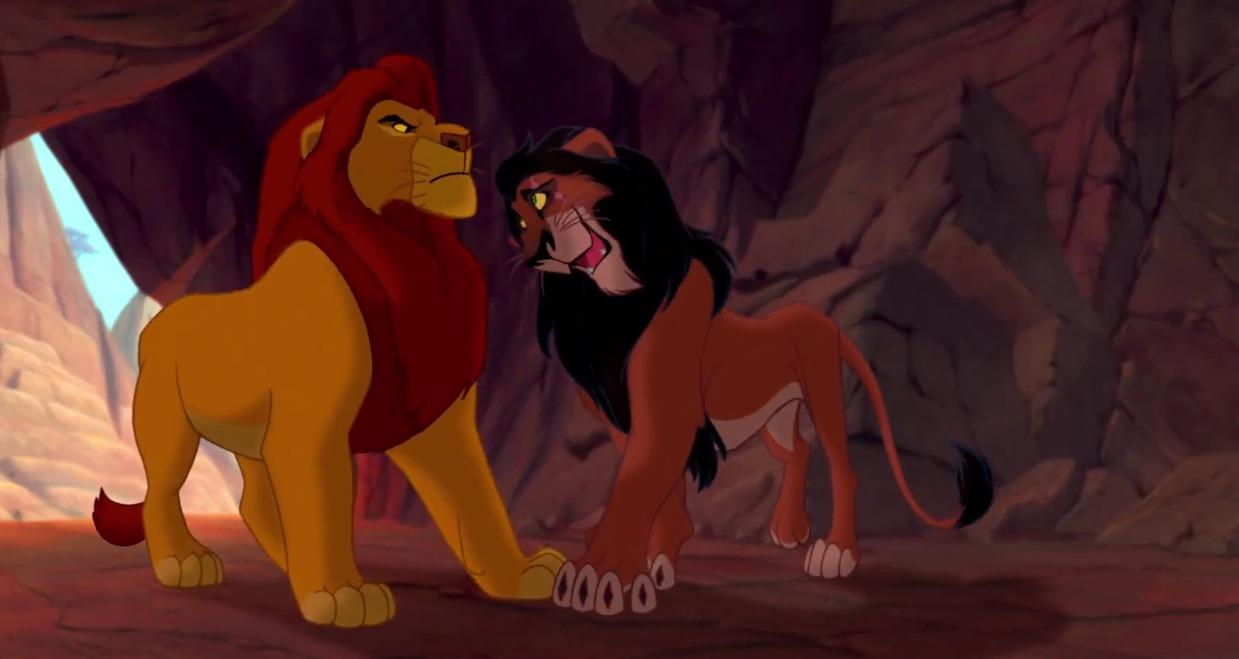 If you are one of the millions of kids who cried tears of sorrow over that scene in The Lion King, then you might have a hard time digesting the TikTok theory about Scar eating Mufasa.
That's right — as if the pivotal scene in the movie depicting Mufasa's death isn't traumatizing enough, there's a theory that claims Scar later ate Mufasa's corpse. If this is already opening old wounds for the kid in you, then you probably aren't alone.
Article continues below advertisement
Did Scar eat Mufasa in 'The Lion King'?
According to one user on TikTok, they believe Scar ate Mufasa after he was trampled by the stampede. In the TikTok video, the user questioned what happened to Mufasa's body after he was thrown from a ledge by Scar. He then showed his Google search that proved Scar's hyenas couldn't have eaten Mufasa because hyenas don't typically eat lions. The plot thickens.
Article continues below advertisement
The TikTok user then shared another Google search which explained that sometimes in the wild, lions eat other lions as a show of dominance. It makes sense, then, that Scar ate Mufasa after killing him, thereby proving himself and his strength to his minions.
There's also a scene in The Lion King in which Scar is lazing about in his lair among various bones and talking to a skull that looks an awful lot like a lion skull.
Article continues below advertisement
Does this mean that, unbeknownst to all of the kids watching the movie, Scar ate his brother after he died? It's a Disney movie, so you can take the theory with a grain of salt.
It's possible that Scar merely kept his brother's bones as a trophy of some kind, or that the bones belong to another lion Scar might have killed at some point. At the very least, we can all agree that Scar is a savage who definitely got what was coming to him at the end of the movie.
Article continues below advertisement
Mufasa's 'Lion King' death still haunts many of us.
Even if Scar didn't eat Mufasa, Mufasa's death is one of those movie moments that stick with you. And, as an adult, you might even be inclined to fast-forward through it if you just can't handle it. Which no one would really blame you for, since it is such an iconic but devastating scene.
There are other dark theories about kids' movies.
The TikTok theory about Scar eating Mufasa isn't the only dire theory surrounding a Disney movie. There's the theory that, because it was revealed in the 2008 movie Ariel's Beginning that Ariel's mom was killed by a pirate, it was actually Peter Pan's Captain Hook who did it. There are, after all, mermaids in Peter Pan.
Article continues below advertisement
Some people also believe that in Finding Nemo, Nemo never lived through the attack from the beginning of the movie, as his father had thought, and that Marlin spends the entire movie failing to let go of the loss of his son.
In fact, some point out that the word "nemo" means "nobody" in Latin. The popular theory claims that Marlin spends the movie dealing with the five stages of grief.
While it's totally possible that theories like Scar eating Mufasa and the other dark hidden meanings in Disney movies could be true and meant for inquiring (adult) minds only, maybe it's best to remember the films as they are. You know, full of hope and wonder. Because the alternative is just too much.