'American Idol's Dimitrius Graham Has Converted Us All to the #Meechigang
R&B singer Dimitrius Graham AKA Meech wants to be the new 'American Idol.' Follow him on Instagram and see how far he makes it. (SPOILERS!)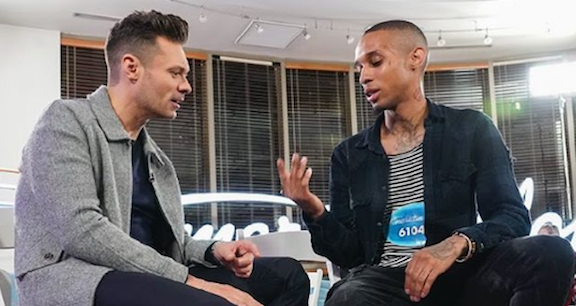 This season of American Idol is going so strong, we honestly do not know who to root for anymore. But if the nation decides to go with some smooth R&B vocals for their pick of the next American superstar, Dimitrius Graham, AKA Meech, will probably take home the prize.
Article continues below advertisement
The Baltimore native hasn't just been sitting around the house waiting for his big break. Dimitrius has been recording original songs and posting them on his Soundcloud page and YouTube accounts under the name of Meech. He's even got some beautifully produced music videos and a following of over 13K, so it seems like this heartthrob knows what he's doing when it comes to the music biz.
Article continues below advertisement
Dimitrius has already placed first at New York's prestigious Apollo Theater.
Dimitrius started posting videos of his performances online four years ago, but there are three videos of him placing first in the amateur night competition at New York's Apollo Theater in 2016 alone.
He wowed crowds with a cover of Sam Cooke's "A Change Is Gonna Come" and the audience was shouting their praises the second Dimitrius appeared on stage. "You should be famous already," wrote a dedicated fan on his YouTube page.
Article continues below advertisement
Over on Instagram, Dimitrius has made it clear he wants his fans to join the #meechigang and hashtag their content to voice their support — and Justin Timberlake himself seems to have joined the gang pretty early on. Plus, from the looks of Dimitrius' videos, he's got a really wide range and isn't solely covering Sam Cooke songs.
Article continues below advertisement
In addition to original songs (which we think are incredible, by the way), there are videos of him covering Smokie Norful, Gnarls Barkley, SZA, Sam Smith, Jessie J, and Meek Mill, to name a few.
Article continues below advertisement
Thanks to American Idol, things are looking up for Dimitrius.
According to his Instagram page, which we urge you to follow ahead of the rest of the season, Dimitrius fell through hard times a few years ago when his mother got sick. "We lost the house, the car," he wrote on his page. "You name it, we lost it. I was depressed, confused, didn't know what I wanted to do with my life. But in spite of how I felt and what my situation looked like, I never stopped trusting in God and today, the only thing I can say is TO GOD BE THE GLORY."
Early videos on his Instagram page show the young star performing at church with his gospel choir, so we imagine he got his singing start in church, before taking his sound to more mainstream music.
Article continues below advertisement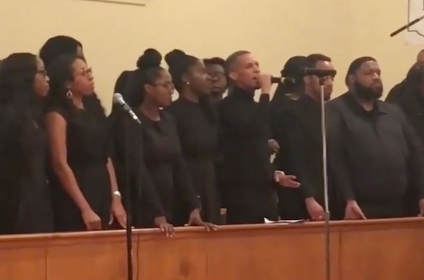 How far does Dimitrius make it on American Idol? (SPOILERS!)
If you fell in love with Dimitrius during his first audition, you don't have to worry because he doesn't seem to be going anywhere for a while. Insider spoilers say that after he wows the judges with his initial audition, he goes on to perform Adele's vocally challenging "Hello."
Then, he joins the ranks of the Top 10 male vocalists, and gets to celebrity-duet with Lukas Graham on his song "Love Someone." This allows Dimitrius to advance to the Top 14, at which point the American public will have to jump in to vote for their favorites.
Don't miss the chance to join the #meechigang and cheer Dimitrius on throughout the season.
New episodes of American Idol air Sundays at 8 p.m.