Did Disney Plus Suddenly Stop Working on Your Samsung TV? Don't Panic!
The Disney Plus app has suddenly stopped working on some Samsung TVs. Here's what we know about the issue, plus what to do while you wait for a fix.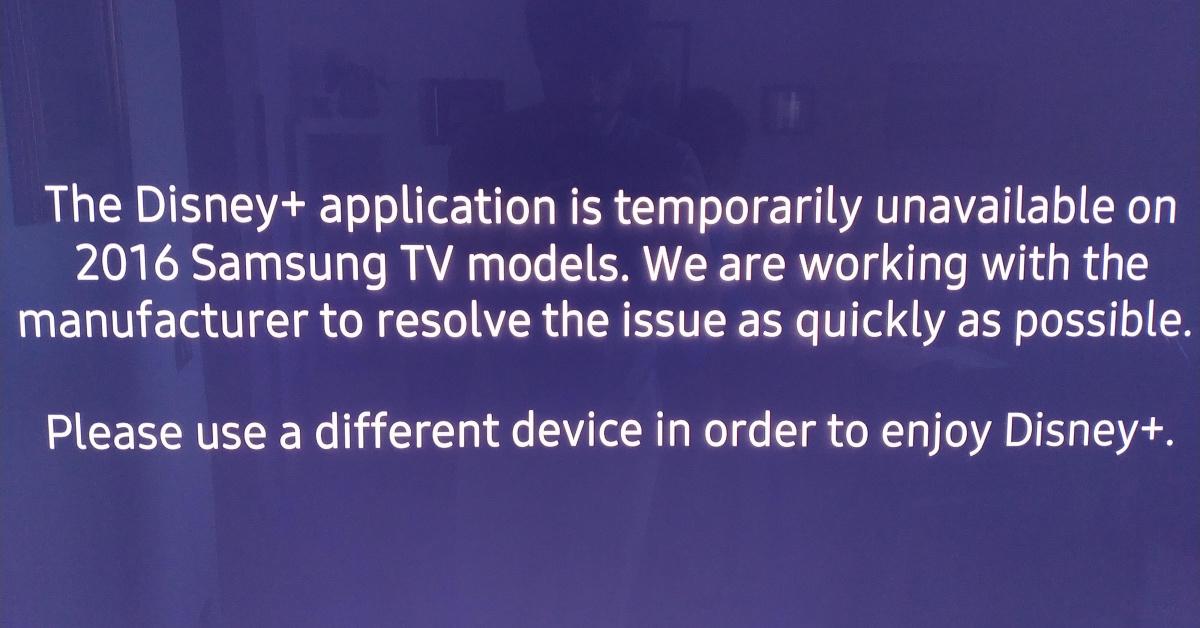 As much as we love having all of our favorite Disney classics available to stream on Disney Plus, there's no denying that the streaming service sometimes has some issues. For instance, one bizarre glitch resulted in tons of Disney Plus user profiles being switched from English to Spanish. That was certainly strange, but now, there's a new Disney Plus issue that's causing all kinds of grief.
Article continues below advertisement
If you happen to have a 2016 Samsung Smart TV, you may have noticed that Disney Plus has suddenly stopped working with your TV — even if you've used it without any issues before. Here's what's going on with the Disney Plus and Samsung TV issues.
Article continues below advertisement
Tons of users are experiencing Disney Plus and Samsung TV issues.
"I have a 2016 Samsung TV," Reddit user Zzgamer9000 recently posted in the r/DisneyPlus subreddit. "When I went to watch Disney+ it said that it's not compatible with my TV. This makes no sense because I literally watched Disney plus yesterday no problem! What is going on!" They're far from the only ones having issues with Disney Plus and their Samsung TVs. So what's going on?
The first thing to note is that while Disney Plus might be the only app no longer working on your Samsung TV, the issue actually originated with Samsung, not with the streaming service. Secondly, the issue seems to be with 2016 Samsung Smart TVs. Third (and perhaps most importantly), Samsung and Disney Plus are aware of the issue, and are supposedly working on a solution.
Article continues below advertisement
Obviously, it's not great for either party to not resolve the problem, so chances are your Samsung TV and your Disney Plus app will be best buds again soon. In the meantime, there are a couple of things you can try on your end to troubleshoot. First, we recommend the age-old IT solution: Turning it off and back on again. Restart your TV, restart the Disney Plus app, then try uninstalling and reinstalling your Disney Plus app.
Article continues below advertisement
Note: If you know you have a 2016 Samsung Smart TV, doing a power cycle won't work until Samsung has resolved the issue, but it never hurts to make sure all of your software is up-to-date. If you don't have a 2016 model, this is the first thing you should try.
Second, make sure that there are no Disney Plus outages in your area. You can do this easily by visiting downdetector.com. This advice is good for everyone who experiences Disney Plus issues, regardless of what model of TV you own.
As you wait for a fix from Samsung, keep an eye on the Samsung Support and Disney Plus Help Twitter accounts — they'll probably post an update when the issue is resolved. In the meantime, you should still be able to access Disney Plus from other devices, so now is a great time to charge up your tablet or laptop. Here's hoping everything is back to working order soon so you can get back to watching your favorite Disney content!