An Anamitronic Dragon Caught Fire at Disneyland and TikTok Documented the Whole Thing
This fake Disneyland dragon caught fire and TikTok caught the whole thing. Thankfully no one was hurt but it was certainly a wild ride.
Of all the things that could catch fire at Disneyland, it's appropriate that an animatronic dragon fell prey to a blaze at the popular theme park. Thankfully no one was injured, but the internet is always watching. Several moments of the fiery disaster were caught by attendees and immediately uploaded to TikTok. Here's what we know about the Disneyland dragon that caught fire.
Article continues below advertisement
This Disneyland dragon caught fire and it wasn't part of the show.
Sadly, TikTok lit up with videos of the Maleficent dragon accidentally catching on fire during an April 2023 Fantasmic show at Disneyland. Thanks to several TikToks, we were able to see what happened during the fateful performance. TikTok user @yourdisneyscoop was filming as the dragon came to life, with an actor dressed like Mickey Mouse standing next to it.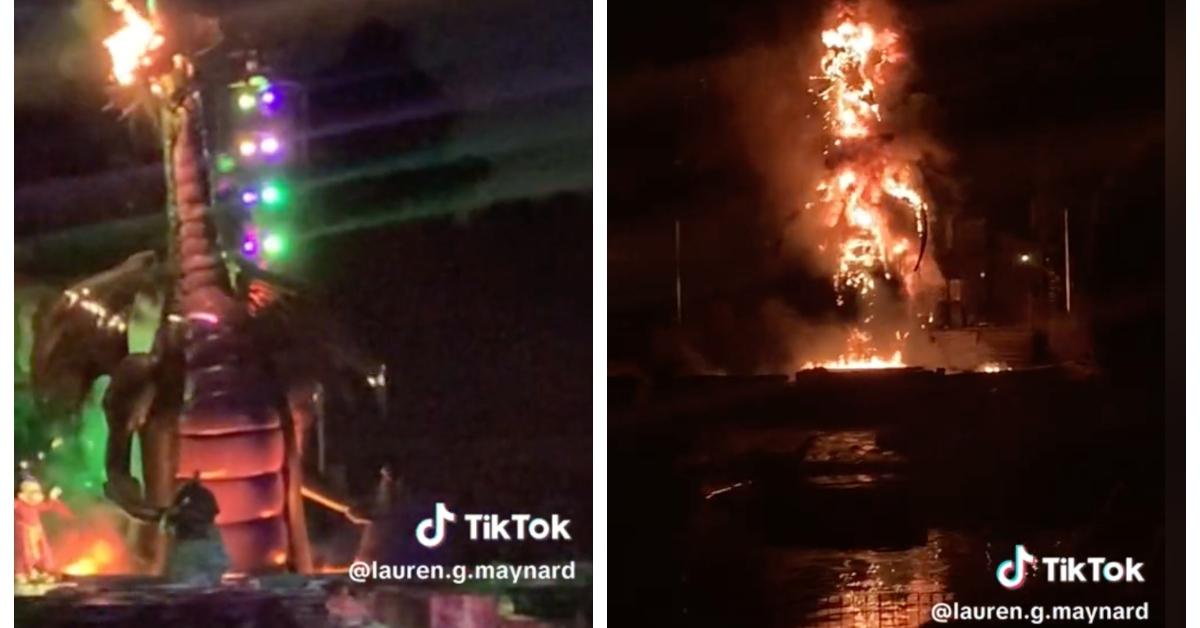 Article continues below advertisement
Obviously the dragon is meant to breathe fire outward, but this time, it remained in its head as flames shot out of the eyes and mouth. Soon its entire head was engulfed in flames as the actor playing Mickey, ever the committed employee, stood stoically by. At this point the music abruptly stopped, but the fire raged on. In @the.sea.cat's TikTok, onlookers can be heard saying, "Oh no, is it really on fire?" One man screamed, "Mickey killed the dragon!"
The dragon was no longer moving while flames dropped from its head to the ground below, some of which hit the dragon's body, causing the rest of it to start burning. It's actually a very sad thing to watch. A moment later, an announcement from the park blared out. "Your attention please," it began. "Due to unforeseen circumstances, this performance of Fantasmic cannot continue. We apologize for any inconvenience this may have caused, and hope you enjoy the rest of your day at Disneyland."
Article continues below advertisement
Firefighters arrived to contain the poor burning dragon who, at this point, was not long for this world. Disney super fan @ghimsee on TikTok is dating a Disneyland firefighter who was on-hand to help with the dragon dilemma. She posted their text exchanges on TikTok in which he wrote, "It was almost like fighting a real dragon, LOL."
Article continues below advertisement
Per WDW News Today, the cause of the fire is being investigated. "We are temporarily suspending fire effects similar to those used at Disneyland park's Fantasmic at select shows and entertainment experiences globally out of an abundance of caution following the Fantasmic prop fire at Disneyland park," said the park in a statement.
Article continues below advertisement
Has Maleficent the dragon caught fire before? It sure has.
In May of 2018, the head of the Maleficent dragon caught fire much to the horror of Walt Disney World guests. Fortunately this particular incident wasn't nearly as bad as the April 2023 mishap but it was still frightening all the same. According to ABC 7, "video taken by a park visitor showed flames and thick black smoke shooting from the dragon's head before a park employee attempted to douse the blaze with a fire extinguisher."
In this instance, the dragon was part of the Magic Kingdom's Festival of Fantasy parade and was being used as a float. In perhaps what is one of the saddest sentences ever written, "The dragon appeared to continue moving its head and neck even as it burned." It simply wanted to live!