Disneyland Fan Learns This Classic Ride Is the Scariest One to Get Stuck On
A Disneyland guest who got stuck on the 'Who Framed Roger Rabbit' ride was forced to look at creepy clowns for way longer than she wanted to.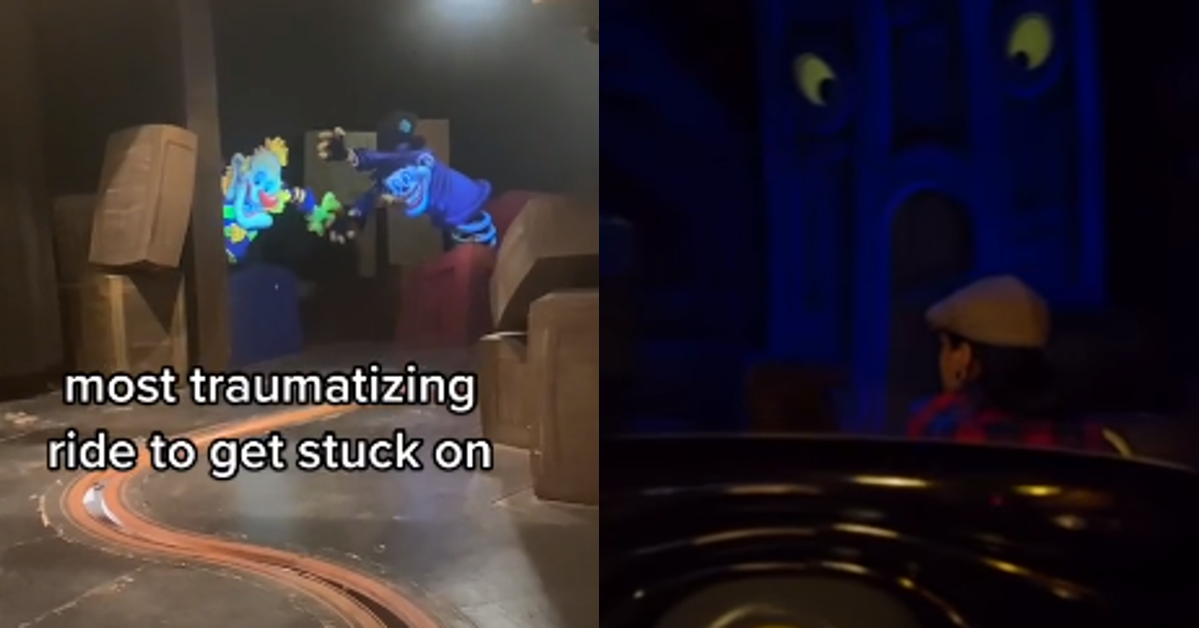 When you're hitting up a theme park, you want to have a good time. You're ready for fun. Even if that means paying $12 for a pretzel and getting a second mortgage on your home for speed passes and a souvenir t-shirt. You're not going to let anything get in the way of you having a good time. But sometimes, the amusement park bad times are out of your control.
Article continues below advertisement
Maybe you brought your kids to the park and they decided to puke the banana they just insisted they wanted before riding space mountain all over your nice new Crocs. Or maybe it's because you spotted your ex at the water park and they're rocking a much lower body fat percentage to muscle ratio than you are.
Or maybe you get stuck on a ride that kind of sucks all of the magic out of an attraction that you've been enchanted with ever since you were a kid.
That's what happened to TikTok-er @creatingafairytale while aboard the Who Framed Roger Rabbit themed ride, "Roger Rabbit's Car Toon Spin."
Article continues below advertisement
The 1988 flick is a cult classic that featured a slew of different cartoon characters from different major studios, like when Mickey Mouse and Bugs Bunny appeared on screen together for the first time in a feature. It inspired the attraction that's available at both Disneyland in California and the theme park in Tokyo as well.
Article continues below advertisement
And while many fans of the movie look upon it with fondness, apparently getting stuck on the ride doesn't really instill the same sense of pleasure/wonder as the film.
The TikTok-er who shared the viral clip showed just how "traumatizing" it can be to get stuck on the ride. Not only are all the lights turned on, ruining the mystery behind the ride, but her cart happened to break down right in front of a bunch of creepy clowns.
Article continues below advertisement

For those of us who suffer from coulrophobia, this is definitely a worst-case scenario. The only way things could possibly be more gnarly is if someone dressed up like Pennywise was constantly hovering around your cart and trying to lure you down into a sewer.
Article continues below advertisement
The ride originally opened about six years after the debut of the film and features Roger trying to rescue his wife Jessica from the Weasels that have kidnapped her.
@creatingafairytale's video went viral on the platform and it didn't take long for other TikTok-ers to comment on what would hypothetically be the most traumatizing ride to get stuck on.

Article continues below advertisement
Some thought that "Pinocchio's Daring Journey" was quite possibly the craziest ride to be stuck on, as many folks think it's scary even when it's just operating as normal. Personally, I think a good candidate for that distinction would be Mr. Toad's Wild Ride when the drunk amphibian is driving through hell.

Article continues below advertisement
It seemed like a lot of commenters quipped that "It's a Small World" would probably be the worst ride to get stuck on due to the all of the creepy dolls. Some TikTok-ers even claimed that they were stuck on the ride and to hear the theme song drag on over and over again was a maddening experience.

If you were forced to be stuck on one Disney ride, which one would it be?