Woman Gets Hilarious Revenge on Landlord Who Showed Off Apartment Without Asking
A TikTok user found a clever way to get back at her landlord who showed her apartment to tenants without asking for permission.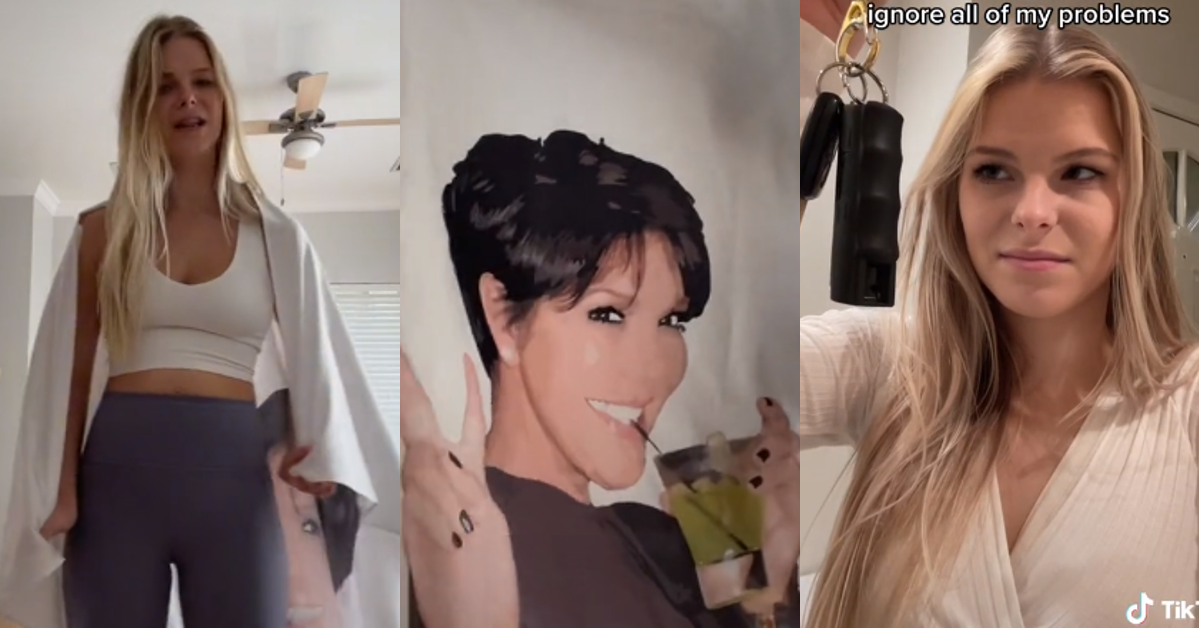 Renting has its ups and downs, and a lot of that depends on the type of landlord you have running your building. If they ensure that the property is well-maintained, trash is taken care of, and that everyone in the building is safe and happy, then it might be worth losing out on some future equity, especially if you're living in a place where the cost of owning a home + property taxes comes out to about the same as your yearly rent.
Article continues below advertisement
However, there are some landlords who are clearly happy to make their money while doing the least amount of work possible. From paint jobs that make your apartment look more like a Jackson Pollock painting, to toilets and leaks that never get fixed, to jacking up the rent without warning, some landlords absolutely suck.
It's also especially unnerving when you don't feel like the space you pay to live in is actually yours, which is how TikToker @trashy_taylor felt when she expressed how fed up she was with the way her building management handled showing prospective tenants tours of the premises.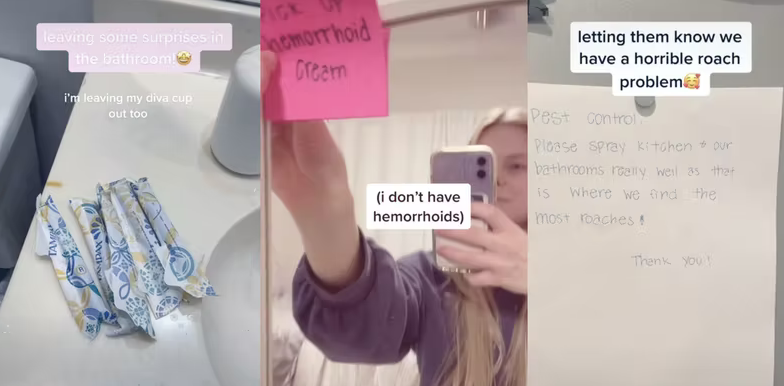 Article continues below advertisement
In a viral TikTok that's recently been made private, Taylor reveals that she received a text from her landlord stating that he might "stop by" as "a guy asked for a quick showing of your place."
She then claimed that the building's "creepy management always gives tours of our apartment without our permission."
Sick of it, she decided to take matters into her own hands by "preparing" her apartment in a way that might dissuade someone from living there. She left a note indicating that the building has a horrible pest problem. In the clip, a handwritten letter is left hanging in plain sight which reads: "Pest Control, please spray kitchen + our bathrooms really well as that is where we find the most roaches! Thank you!"
Article continues below advertisement
She also wrote a post-it note that says, "Pick up hemorrhoid cream," and left out a bunch of tampons near her bathroom sink, along with her diva cup.
Commenters were tickled pink by Taylor's initiative, and she asked viewers for other suggestions on how to make her leasing agents wish they never decided to give tours of her apartment. In addition to roaches and unsightly feminine hygiene products, Taylor also posted esoteric notes about revenge spells.
Article continues below advertisement
If bugs don't creep you out enough, then you'll probably be put off by the overly-personal notes, the potential witchcraft, and the realization that the tenant whose unit you're viewing clearly wasn't notified about the tour (which means the same thing could happen to you if you move there).
Article continues below advertisement
Landlords are legally required to give what is known as "reasonable notice" to a tenant if they're going to show their apartment to any other prospective renters. The definition of the term varies from state to state, but it's generally anywhere from 24-48 hours.
While Taylor hasn't yet updated her viewers on the outcome of the prank, we're willing to bet that her landlord will have second thoughts about showing her apartment (or anyone else's) without proper notice.