Individually, Sarah Schauer and Kendahl Landreth are no strangers to the spotlight. Both internet sensations in their own right, creating hilariously entertaining and witty content for TikTok, the duo has collectively amassed millions of dedicated followers. And now, they've combined their talents as co-hosts of The BCC Club podcast, discussing everything from family vloggers to nepo babies and beyond. The BCC Club has been selected as part of Spotify's RADAR program, made to showcase a diverse set of audio's next generation of great voices from across the world. RADAR aims to create opportunities and pathways for discovery within various markets across the globe, so that growing shows can garner new, larger audiences.
Distractify chatted with Sarah and Kendahl to learn about their favorite colors, their dream podcast guests, and more.
Article continues below advertisement
If you had to get a tattoo right now, what would it be?
SS: I'd get a Lady Justice tattoo on my forearm — I'm a libra, scales and fairness are important to me, and I also think it's really cool how she has her boob out. Believe you me, I'm not trivializing the boob — living an honest and true life with my girls out is the Sarah Schauer creed.
KL: Maybe the Vitameatavegamin bottle from I Love Lucy. I always used to reenact that scene as a kid to try and make my parents laugh, and as cliche as it sounds, when I have writers block as an adult, the first think I go back and watch is I Love Lucy.
If you could start any rumor about yourself, what would you say?
SS: I'd start a rumor that I've been divorced a couple times.
KL: I would love if people thought I'd had sex with Channing Tatum. I don't even think this rumor would hurt my current relationship, I believe my girlfriend would be really happy for me. Sarah always says that my desperate crush on Channing Tatum seems like something a closeted lesbian would pretend to have, and I honestly think anyone who says they didn't literally SEE GOD while watching Magic Mike needs to grow up.
Article continues below advertisement
Talk about the best fan interaction you've ever had.
SS: All of my best fan interactions have been after stand up shows! I've had about four people now come up to me and talk about how I helped them get sober — how vocal I am about sobriety has helped them start their journey. It truly makes me cry every time; getting sober was so hard, so I know what they're going through. I'm so incredibly proud of them.
KL: I love when I'm traveling to a really small town and it feels like there are no queer people to be found, and then the gayest teenager you've ever seen with their hair died purple and wearing a Target Pride t-shirt comes out of nowhere and asks for a picture. I adore those moments so much, because I honestly just love talking to as many gays as possible, and it makes me be like, "Oh I must being making OK comedy if this person approves!"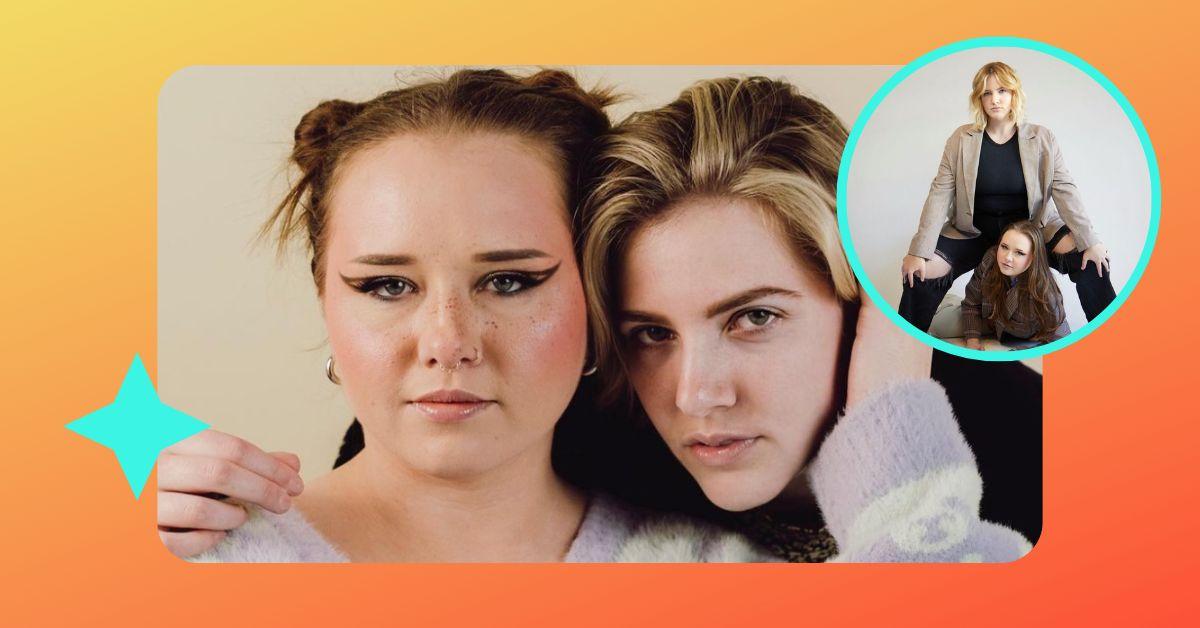 Article continues below advertisement
In your opinion, what's the wildest topic you've ever covered on 'The BCC Club'?
SS: The wildest thing we've ever talked about on The BCC Club is definitely family vloggers — those people are basically torturing their kids on camera. Adopting a child and then asking that child to recount why they were put up for adoption is disgusting. There truly needs to be more laws in place to protect children, especially in the realm of family vlogging.
KL: I must agree with Sarah on this one! Once you start down the rabbit hole of family vlogging, you will find yourself on a long journey where every two minutes (at least) you are saying, "That can't be legal." You think being a child actor is bad? Now imagine being a child actor where you don't get paid, have no limit on how many hours you can work, and you're not playing a character — your mom is filming you find out your grandma died!
What's your favorite color?
SS: Easy: pink. With all the crap pink's gotten over the years, it can truly hold its own and look great doing it.
KL: Green! Like, fields-of-Scotland-in-the-spring green!
Article continues below advertisement
Talk about the best meal you've ever had.
SS: It's not even close! A turkey leg at Disneyland. I've only been a handful of times, but the people at concessions can sense me entering the park like a horse senses rain.
KL: My girlfriend always makes fun of me because usually during every meal I say, "This is the best meal I've ever had." But I mean it! So I'll just tell you the last meal I had, which was a naan breakfast sandwich with eggs and bacon that came with tomato chili jam at Dishoom in London, and it changed my brain chemistry it was so good.
Article continues below advertisement
Who was your childhood celebrity crush?
SS: Straight answer: Orlando Bloom. Gay answer: Orlando Bloom in Lord of the Rings.
KL: I had the most insane crush on Natasha Lyonne, and when I found out she was straight, I lied and told my mom I was sick because I was too sad to attend school.
Shout out one of your favorite fellow creators!
SS: I've said this for years now: Ro Ramdin. She is a genius and the funniest person ever. Also, love me a good Kendahl Landreth, she's a star in every sense of the word. Chrissy Chlapecka, Snitchery, Lindsay Nikole, I could go on and on. Each of these people inspire me to be true to myself and chase my dreams with rabid fury.
KL: Flyanaboss are going to be winning Grammys in the next couple years; I'm calling it! Also, my girlfriend, Jordan Myrick, is a true comedic genius who knows all things food. And last but certainly not least, of course Sarah Schauer is internet royalty.
Article continues below advertisement
If you could have anyone guest star on your podcast, who would it be?
SS: Greta Gerwig! I think she'd think we're cool and we'd talk for hours.
KL: Obviously, I have to interview KeKe Palmer! She is a performer in every sense or the word, and also if Channing Tatum ever does something bad, she is second in line to be my celebrity crush (I'm sure she's been waiting by the phone to hear that news).
Tell us about your dream collaboration.
SS: Content creator-wise, there are too many people to list, but sponsorship-wise, LEGO. LEGO, if you see this, I love you.
KL: If I ever was able to do a sketch or film with Vanessa Bayer, that would be one or the greatest accomplishments of my life. Calling it a collaboration might be a stretch though, it would probably just be her doing the greatest character acting of our time while I hold onto her leg crying tears of joy.
Article continues below advertisement
If you couldn't be a content creator, what would your dream job be?
SS: Copywriter — I used to be the copywriter for Denny's social media and, I'm just going to say it, I think it was pretty iconic (for the time). But also I'd love to own a moving company (I was a military brat and moving is fun for me) or I'd love to be a high school guidance counselor — children are our future.
KL: An archeologist for sure! I hope one day to still go to school and become an archeologist, because the thought of just having to dig all day sounds so deeply relaxing. I'm also so excited by anything remotely old. Like, if a restaurant promotes that it opened in the '90s, I feel so amazed to be in a place that existed 30 years ago. So imagine me finding a diary written by a dinosaur. I'd lose my damn mind!
Article continues below advertisement
Share your top three desert-island necessities.
SS: Vyvanse (I am prescribed), my cat Dopey, and my phone.
KL: I've seen enough seasons of the survival show Alone to know I would bring a hatchet, a sleeping bag, and vending machine full of Diet Coke.
What's your No. 1 distraction?
SS: TikTok — it's my transfer addiction.
KL: I take 20 minutes every hour to stare into my 10-pound long-haired Chihuahua's eyes and tell her she's my entire world, and it affects my work greatly!