Partner Fears His Wife is Ruining Their Children with Her "Helicopter Parenting"
A distressed parent turned to Mumsnet for suggestions on how they should handle their wife's "helicopter parenting" of their daughter.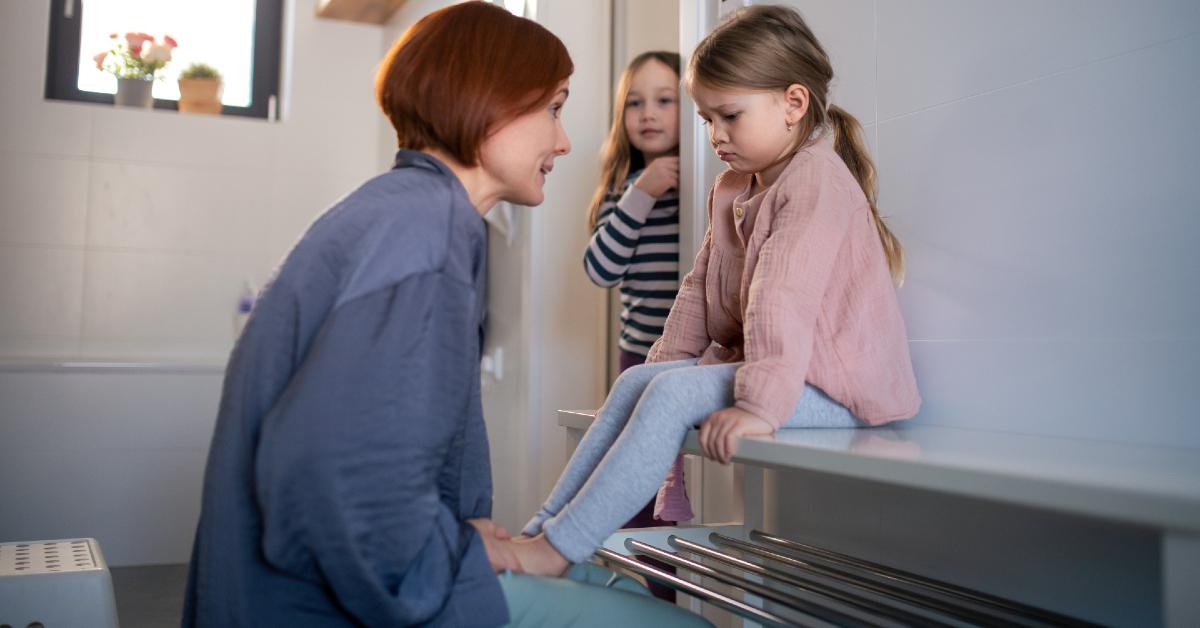 It's only natural for couples to have differing opinions. Hopefully, folks spend enough time with one another to learn whether or not these opinions or the ways that they go about living their lives aren't so at odds with one another that it's a deal breaker and it's time for them to stop seeing one another in a romantic capacity.
Article continues below advertisement
But there are some couples who've said that everything was fine and dandy with their respective relationships until they decided it was time to have kids. Heck, some even said that kids flat-out "ruined" their marriages.
The Candidly writes that "having kids puts your relationship in a pressure cooker," and there could be a number of disputes that arise now that the couple in question are also parents.
Article continues below advertisement
Inevitably, these parents are going to have some strong opinions on how their children should be raised, and there could also be a difference or clash in the types of parenting styles each person will adopt.
It's the aforementioned difference that appears to be at the root of the issue between this Mumsnet user and their partner.

Article continues below advertisement
They write that their wife is "obsessively controlling [their] daughter" and micro-manages nearly every aspect of her life.
While they admit that the two of them have never had a "great" relationship, they have nonetheless been together for 13 years and are now raising a 5 1/2-year-old daughter together.
They say that their wife doesn't allow them to play with hot or cold water and only bathes her a maximum of 2 times a week because she's afraid that the child will get a cold.
Article continues below advertisement
OP adds that the second their wife sees their kid with a runny nose she immediately bundles them up, even if the weather is nice outside.
OP says that their wife's hyperparanoia about their daughter potentially getting sick extends to food preparation as well.
According to OP, their wife won't let the little girl around raw meat in the kitchen and will immediately make her wash her hands upon touching any. When it comes to playing she can't touch her face against the carpet nor is she allowed to yell or scream either.
Article continues below advertisement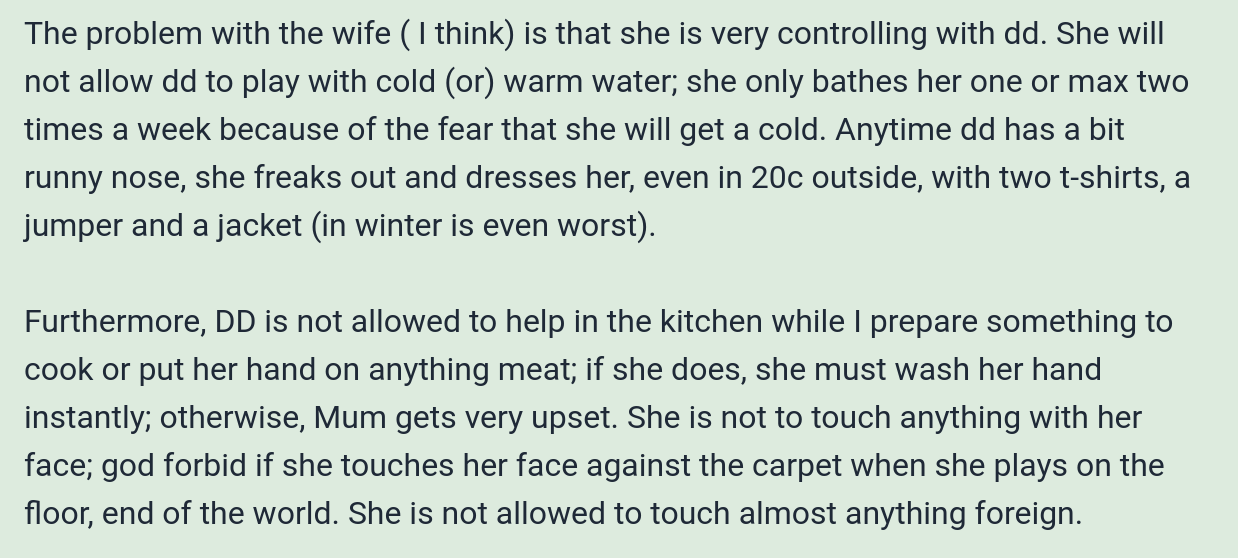 What seems to upset OP the most is the fact that the mother's constant corrective behavior appears to be inhibiting their daughter's ability to be herself, highlighting that their wife is constantly using "autocratic" language to consistently tell the child not to do things.
Article continues below advertisement
They add: "I understand these are everyday things to say to kids, but this is constant throughout the day. She monitors every move of dd."
In the post. OP also claims that their wife doesn't openly display affection for their daughter and that the never-ending stream of critical and corrective commentary is resulting in some unhealthy coping mechanisms for their daughter.
Article continues below advertisement

"She monitors every move of dd. I have noticed that my dd becomes very frustrated and angry because of this, to the extent that she goes into a complete rage where she can't control herself and throws herself violently on the floor."
Article continues below advertisement
Some folks responded by stating that it appeared OP's spouse was exhibiting signs of "obsessive" behavior. "Have you talked about this with your wife? It is clearly obsessive behavior - is she aware of that?"
Another came up with a positive way to address the situation and not "head on" as it would more than likely just result in OP's wife "shutting down."
Article continues below advertisement

"I know you love DD very much, you only want the best for her I can see that. However I worry sometimes that DD needs to make her own decisions and to play freely while we supervise in the background to keep her safe," one commenter penned as a type of response OP could implement in their discussion with their spouse.
Article continues below advertisement
Someone else urged OP to put an end to this sooner than later as they saw the end result of children who were raised in a similar fashion over several years: "I know somebody like this. The children are now a ball of fear and anxiety. Can't get a spec of dirt on them and are not allowed to play with other children. Not allowed to get toys out. Have missed lovely trips because it'll be "past their bedtime" which has never deviated from 7 pm despite them being much older now. Please please do whatever it takes to stop this now."
How would you handle this situation? Would you try a calm and even-keeled approach, or attempt to discover where OP's wife was coming from like some of the users in the replies mentioned? Or do you think that that time is past and the behavior OP's talking about is abusive?