Do Claire and Jamie End up Together in 'Outlander'? Here's the Update as of Season 7
Claire and Jamie have loved each other since Season 1, but do they end up together by Season 7 of 'Outlander'?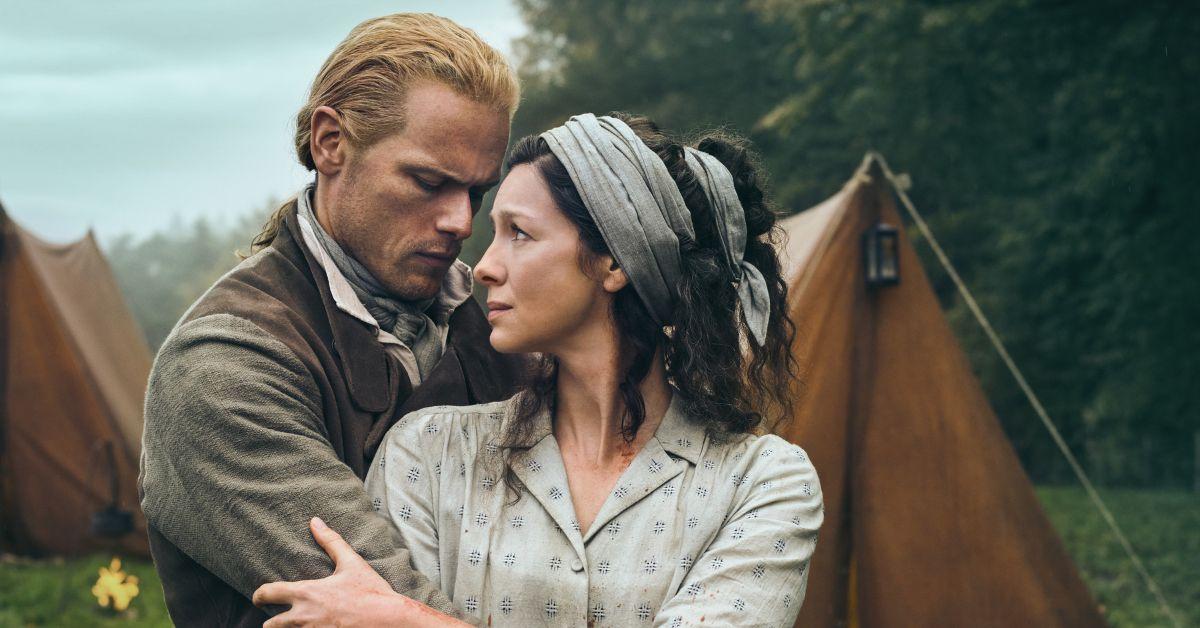 Season 7 of Outlander has begun, and fans will finally learn of Claire's (Caitríona Balfe) fate following the events of the Season 6 finale leading Claire to be arrested for a murder she did not commit. Not only was she arrested, but while receiving zero support from the people of Fraser's Ridge, they began throwing rocks at her and accusing her of being a witch.
Article continues below advertisement
All of this happens shortly after her separation from Jamie (Sam Heughan), and he is entangled in a situation of his own, especially since the committee decides to send him back to Scotland rather than kill him. The pair have loved each other since Season 1, leaving the chance of them being together in Season 7 a huge possibility.
Do fans finally find out if the pair stays together for good? Let's take a stroll down memory lane to see if their fate in previous seasons will give us a hint.
Claire and Jamie have mostly been an item since Season 1 of 'Outlander'.
Claire seemingly has a good life as a married World War II nurse from 1945 before she finds herself in the year 1743. That is all thrown out the window after she meets and falls in love with Jamie, while her husband Frank (Tobias Menzies) is still in the 1940s. As Season 1 ends, Claire tells Jamie that she is pregnant with his child while leaving for France.
Article continues below advertisement
Season 1 gives fans a happily ever after, but as the show progresses, a happily ever after seems to be far away from Claire and Jamie. After giving birth to a stillborn child in Season 2, she becomes pregnant again, and returns to be with her husband Frank and give birth to her daughter Brianna (Sophie Skelton) in 1968.
Sure enough, Claire and Frank seem to be unhappy, and Frank eventually demands a divorce before dying in a car crash during the Season 3 opener. Claire ultimately returns to Jamie, and the duo has been the heart and soul of Outlander ever since.
Article continues below advertisement
Do Claire and Jamie remain together in Season 7 of 'Outlander'?
It's too soon to tell when it comes to Claire and Jamie being together for all of Season 7. The opening moments of Episode 1 show Claire's hanging, but reveals to only be Jamie's worst fear — and not her fate. Audiences see that in reality Claire is alive, but still a prisoner, and Jamie does everything he can to save her.
Thankfully, by the end of the episode, Claire is safe. In fact, she feels so safe that she even falls asleep next to Jamie after her rescue. That alone is a likely sign that the pair are together once again. However, based on the Season 6 finale and Season 7 opener alone, it's unclear what their future holds. For now, Claire and Jamie are together once again, and hopefully will stay that way as the season progresses.
New episodes of Outlander airs on Fridays on Starz. Check local listings for times.