Money Does Grow on Trees in 'Animal Crossing' — but How Often?
Do money trees grow back on 'ACNH'? This helpful article answers that and a few other questions about plant life on 'Animal Crossing.'
There are a lot of things about life on Animal Crossing: New Horizons that we wish would happen in real life, but high up on the list is that money literally grows on trees if you cultivate it. Every day, a giant glowing spot on the ground signals where a bag of money can be found beneath the soil.
Article continues below advertisement
And if you rebury it, in a few days, a tree will mature and bear three giant money bags instead of fruit, thus tripling in value. But once you harvest, do the money trees ever giveth again? Let's explore that and how to get the most from your money tree.
Do money trees grow back in 'ACNH'?
We'll give it to you straight: A money tree only ever bears money once, after which it just becomes a standard hardwood tree. However, there is a way to get way more than 3,000 bells from a money tree so you can really make each one count.
Article continues below advertisement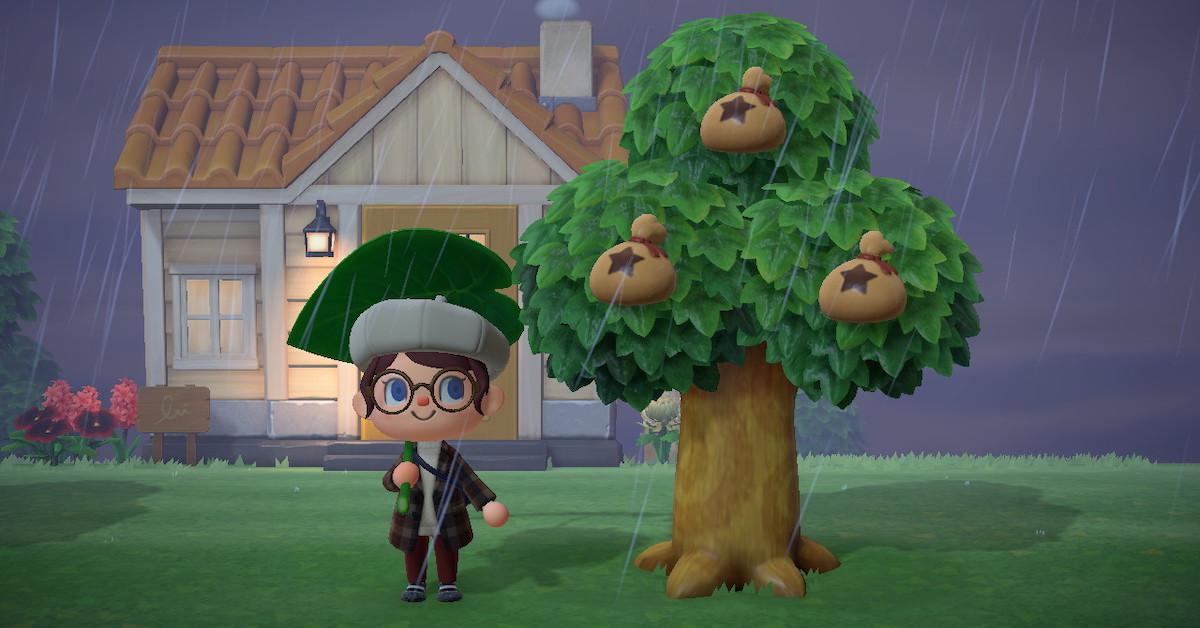 Though the bag you find when you dig at the site where the ground glows only contains 1,000 bells, you don't necessarily have to rebury that bag to plant your money tree sapling. You can instead go into your pockets and grab 10,000 bells from your purse. This will put a bag with that amount in your pocket, which you can bury in place of the 1,000-bell bag.
Article continues below advertisement
Can you bury more than 10,000 bells and triple your investment?
We would not recommend burying sums larger than 10,000 bells if you want to ensure you triple your investment. Though some players have had success burying up to 30,000 bells, which reportedly yielded them a 90,000-bell return when the tree reached maturity, plenty others have seen the tree only bear three 10,000-bell bags. We would hate for you to bury a 100,000-bell bag only to get back a meager 30,000.
Article continues below advertisement
There apparently is a time-travel cheat you can use to yield up to a 60,000-bell profit from your money tree, so if that's your style, go off. We personally don't want to deal with the weeds that kind of jump into the future would wrought.
Here are some other money tree tips for better success.
Sometimes, a money bag will spawn in a less than ideal spot for growing conditions. For a tree to reach maturity, it needs each 1x1 space around it to be free, meaning you can't have any objects like rocks or flowers adjacent to it, and it can't be right next to the water. Also, if you have any sort of pavement or custom design ground covering adjacent to your tree, it will not grow. If you have a dirt path alongside it, however, it will still grow.
Article continues below advertisement
The good news is, once you have established your money tree sapling, you can transplant it wherever you would like it to grow on your island. Some players establish a money tree grove where money trees in various stages of maturity all grow in one spot. Once one bears "fruit," you can shake it, chop it down, remove the stump, and plant your new sapling in the hole that remains.