Twitter Is Torn on Whether Kamala Harris Wore a Wig at the Vice Presidential Debate
Sen. Kamala Harris' vice presidential debate hairstyle has left some people wondering whether she was wearing a wig. Here's what we know.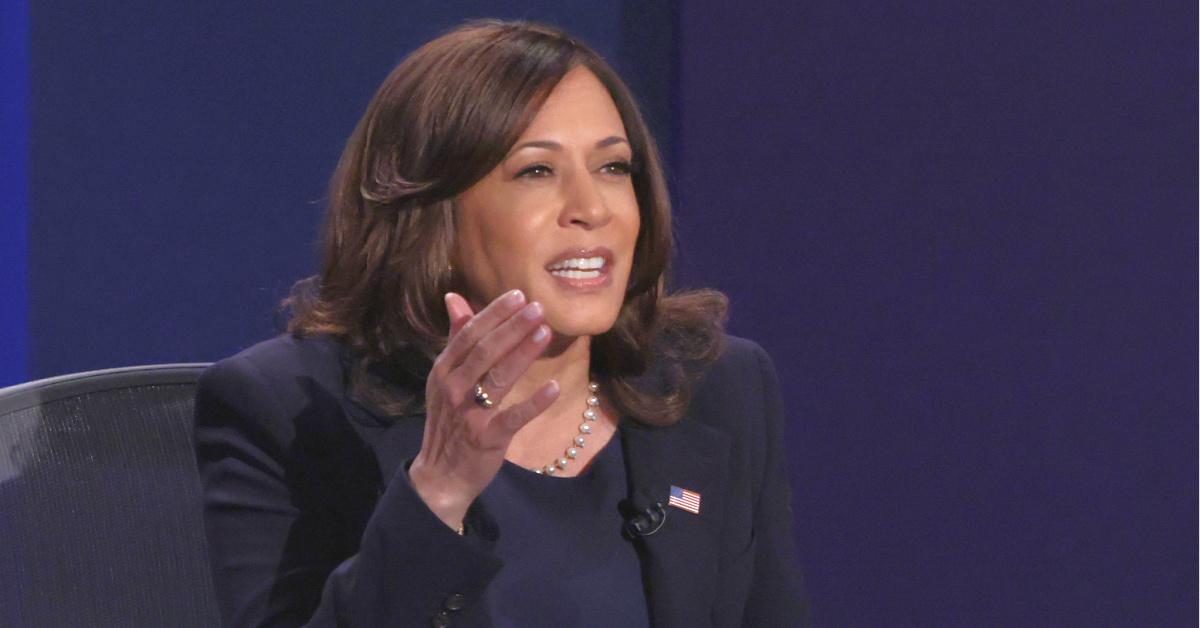 If you happened to watch the vice presidential debate (or just caught up on the main talking points by scrolling through Twitter after the fact), then you know that some things really stood about the evening. First of all, it was very different from the first presidential debate. Second, the fly (obviously the fly gets a mention). And third: Kamala Harris' hair was 100 percent amazing.
Article continues below advertisement
Regardless of who you were rooting for in the actual debate, no one can deny that Kamala's hair looked incredible. Maybe a little too incredible, according to some people. The internet quickly became flooded with people asking: Does Kamala Harris wear a wig?
Article continues below advertisement
Does Kamala Harris wear a wig?
This answer to this question is actually a little more complicated and nuanced than you might think. The way Black people — and perhaps especially Black women — choose to style their hair is often a matter of extreme curiosity for people who aren't Black. And as HuffPosts's Jolie A. Doggett so aptly puts it: "It's OK to be curious, but it's not OK to treat Black women like a curiosity on display."
In the 1700s, enslaved people who worked in the fields often covered their hair with fabric, whereas those who worked in the house would sometimes wear wigs or otherwise style their hair to look more like that of their enslavers. By the end of the 19th century, a hair-straightening comb was invented, and many Black people used it to "tame" their natural hair (in other words, to make it look more similar to white people's hair).
Article continues below advertisement
Fast forward to the 21st century, and anti-Black hair sentiment is still very much prevalent in the United States. In 2017, twin sisters Mya and Deanna Cook had to serve detention after school officials determined that their braids violated school policy. In 2018, high school wrestler Andrew Johnson was forced to cut his locs or risk forfeiting a match. Clinton Stanley Jr., a six-year-old, was turned away from his first day of school because he wore locs.
Article continues below advertisement
For Black people in America, a hairstyle can rarely ever just be a hairstyle — it's seen as a statement, whether it's intended as one or not. It also often becomes a conversation piece for people who are probably "just curious" and may be well-intentioned, but who are nonetheless participating in microaggressions.
It's not uncommon for Black women to wear weaves, extensions, or full-lace wigs, so there's definitely a chance that Kamala decided to go that route for the debate. However, some Black people have naturally straight hair — and considering that Kamala is also Indian American, it's definitely possible that her hair could be naturally straight as well. Twitter seems to be split on the matter, with some insisting she wore a half wig at the debate and others insisting the look was a silk press.
Article continues below advertisement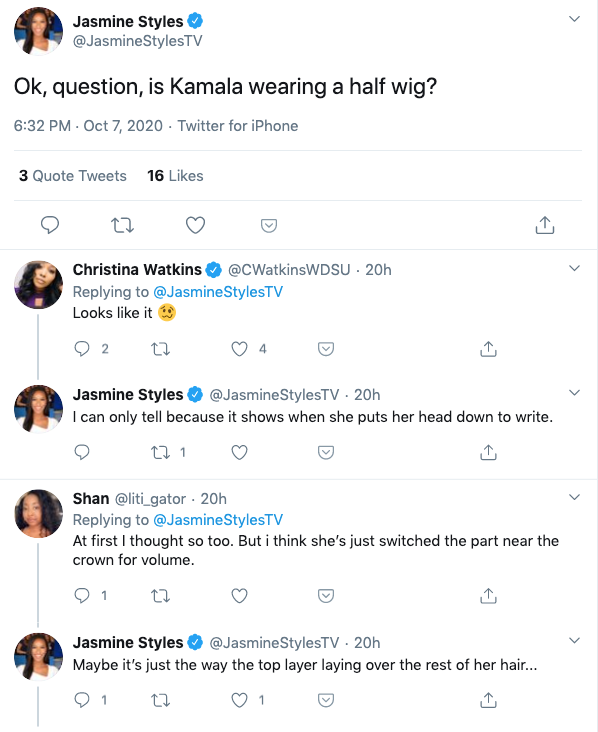 As far as we can tell, she hasn't talked much about her hair (other than mentioning that swimming can sometimes "create an issue" with it in a 2018 profile for The Cut). One thing's for sure, though: Regardless of how Kamala chooses to style her hair, we haven't seen any flies land in it.