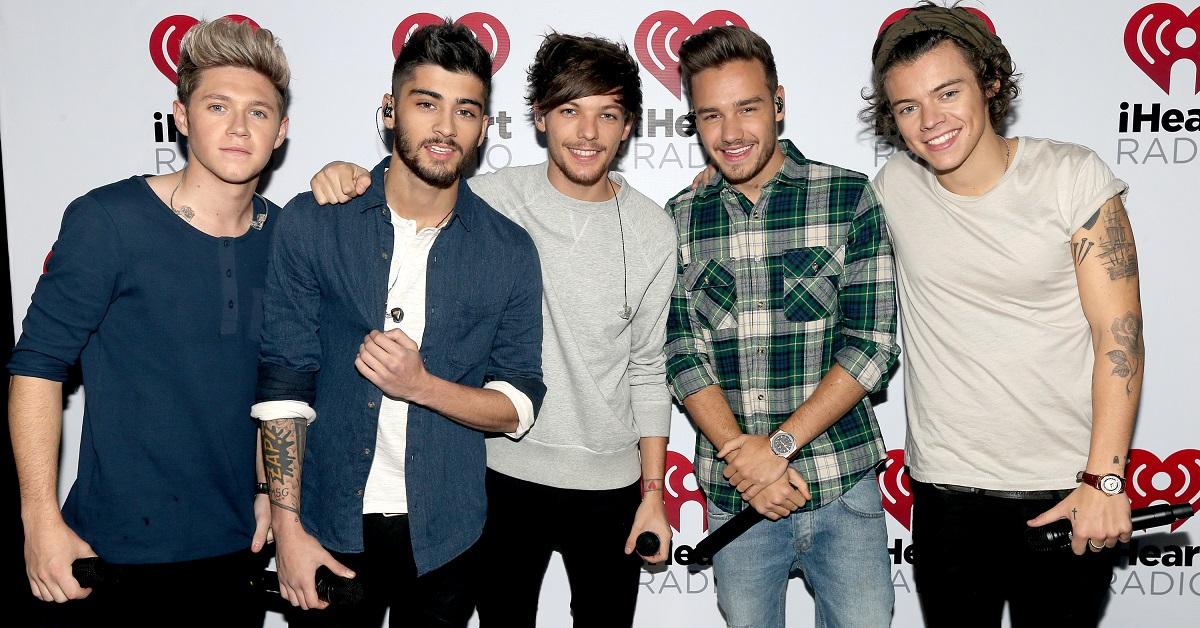 One Direction Is Celebrating Their 10th Anniversary With a New Site for Fans
It's been 10 years since One Direction formed and immediately sang their way into the hearts of people across the planet. The anniversary hasn't gone unnoticed by the band, who has promised fans a slew of new offerings to celebrate the special day. As fans celebrate the group's legacy, though, they're also wondering whether they were ever able to cement their status with a star on the Hollywood Walk of Fame.
Article continues below advertisement
Does One Direction have a Hollywood star?
Although they were arguably one of the biggest acts in music at their peak, One Direction does not have a star on the Hollywood Walk of Fame. It may seem like a fairly minor infraction, but given the band's enormous success, it feels like a glaring omission. It's possible, of course, that Harry Styles, Liam Payne, Zayn Malik, Niall Horan, and Louis Tomlinson don't actually care about the stars.
Article continues below advertisement
One Direction launched a new site for their anniversary.
Although they may not have a Hollywood star, One Direction fans can still celebrate the band's success on their 10th anniversary. The band has launched a new website that offers fans access to new content, including interactive playlists, reformatted EPs featuring B-sides and rare songs, remixes, live recordings, and acoustic versions of some tracks.
The site will also feature a celebration video that was made especially to commemorate the band's anniversary. In honor of the anniversary, the band's members took to social media to share their best memories of their time together as a group.
Article continues below advertisement
The group shares their memories of recording and touring together:
"What a journey… I had no idea what we were in for when I sent this text to my Dad ten years ago at this exact time the band was formed. Thanks to everyone that's supported us over the years and thanks to the boys for sharing this with me," Liam wrote. Accompanying the post was a screenshot of a text he'd sent to his father with an image of the guys and the words "I'm in a boy band."
Article continues below advertisement
"Feeling pretty emotional today. 10 years!! Spent the morning watching old interviews and performances. Just wanted to send a massive thank you to ALL of my band mates. What we did together was incredible," Louis tweeted. "And to the fans. The people who gave us all these amazing opportunities. You are incredible, your unmatched level of loyality [sic] is something that makes me really really proud." He added that he misses it every day.
Niall added thoughts of his own, tweeting: "When I met these four gents there was no way I thought we would go on to do what we did. So many unbelievable memories we shared together. We felt the adoration of millions from around the planet on a daily basis and it was mind blowing. It's such a major part of our lives and always will be. Cheers to US today boys and thank you to all you beautiful people who have supported us over the last 10 years."
Later in the day, Harry also joined in on the remembrances on Instagram. "I've been struggling to put into words how grateful I am for everything that's happened over the last ten years," Harry wrote.
"I've had the pleasure of meeting and working with some of the most incredible people, and gained friendships that I know I will treasure for the rest of my life. None of this would be possible without the support you've given along the way. And for that, I will be forever thankful."