Taylor Swift and Bernie Kosar Were an Odd Pair Before the Chiefs and Chargers Game
Taylor Swift was pictured hanging out with former NFL quarterback Bernie Kosar ahead of the Chiefs game on Oct. 22, 2023. Do they know each other?
The Gist:
Former NFL quarterback Bernie Kosar posted photos of himself with Taylor Swift ahead of the Chiefs game on Oct. 22, 2023.
It isn't clear whether the two knew each other previously, but they do now.
Taylor also unveiled a new celebration handshake with Brittany Mahomes at the game.
Article continues below advertisement
Another Sunday, another week of NFL fans getting mildly annoyed at how much attention is given to Taylor Swift's attendance at a Chiefs game. On Oct. 22, 2023, Taylor looked on as her boyfriend Travis Kelce helped the Kansas City Chiefs take down the Los Angeles Chargers 31-17.
The Chiefs got another win, leaving them with one of the best records in the league. Many fans were far more concerned about what Taylor was up to both before the game and during it. Among the many things she seemed to be doing, some noted that Taylor was spending a lot of time with former Pro Bowl quarterback Bernie Kosar.
Article continues below advertisement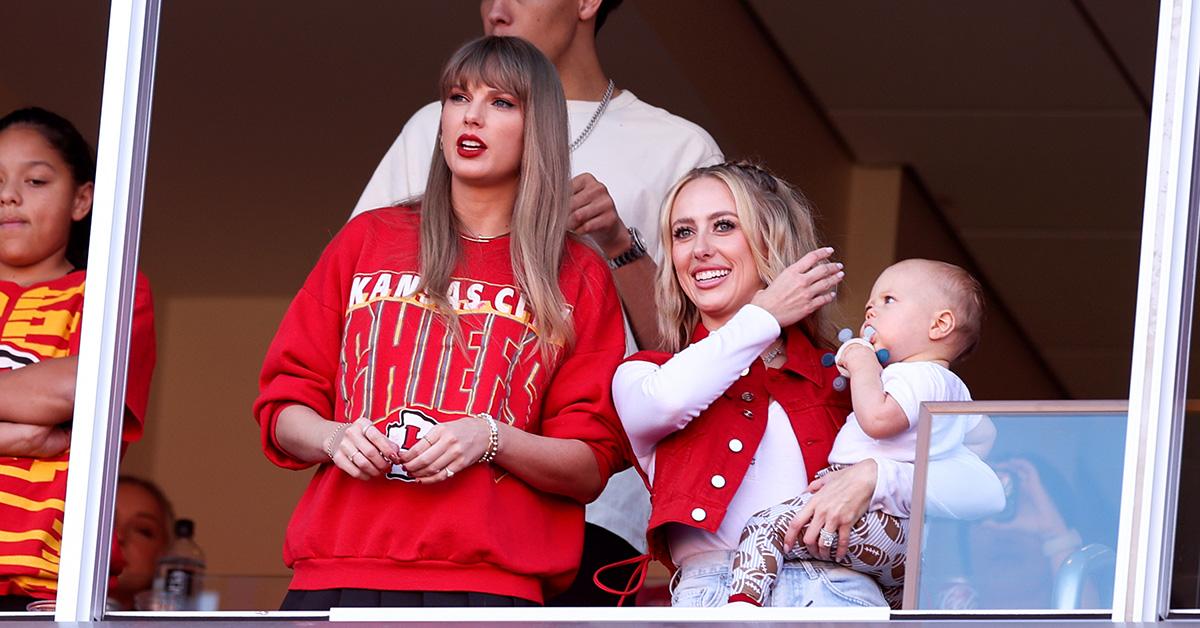 Does Taylor Swift know Bernie Kosar?
The reason so many people are wondering about Taylor's relationship with Bernie is that he posted multiple pictures with Taylor at a pre-game get together at Travis's house before the game. Taylor hung out with Bernie and some other folks at Travis's house before they headed to the Chiefs and Chargers game. After Taylor went over to Arrowhead Stadium to watch the game, Bernie posted another photo of them together during the pre-game festivities.
Article continues below advertisement
It isn't clear whether Taylor and Bernie have any sort of pre-existing relationship, but the two certainly seemed to be friendly enough in the pictures that Bernie shared.
The likeliest explanation seems to be that Travis invited them both to his house before the game and Bernie took the opportunity to get a few photos taken with one of the most famous women on the planet.
Bernie Kosar is a Super Bowl champion himself.
Although he doesn't have as many rings as Taylor's boyfriend, Bernie played in the NFL for 12 seasons and was part of a Dallas Cowboys team that won the Super Bowl. Bernie never played for the Kansas City Chiefs, but he was wearing red jacket ahead of the game.
Bernie likely traveled to Arrowhead to watch the game in person, but he wasn't visible during any of the pictures or video taken of Taylor during the game.
Article continues below advertisement
Taylor also debuted a new handshake with Brittany Mahomes.
Once she arrived at Arrowhead, Taylor was in full celebration mode, which included wearing one of her signature friendship bracelets emblazoned with the number 87 (Travis's number). She also unveiled a new signature handshake that she seems to have developed with Brittany Mahomes for the moments when the Chiefs score a touchdown.
Although she hasn't been to every Chiefs game, Taylor's regular attendance at these games has added a whole new level of interest for many around the country. On top of that, it likely means that many more people know Bernie's name than they did last week.