Fans Can't Get Enough of Travis Kelce and Taylor Swift's Relationship — How Did They Meet?
Taylor Swift's attendance at Travis Kelce's latest home game has some wondering how the two met, and how long they've been romantically linked.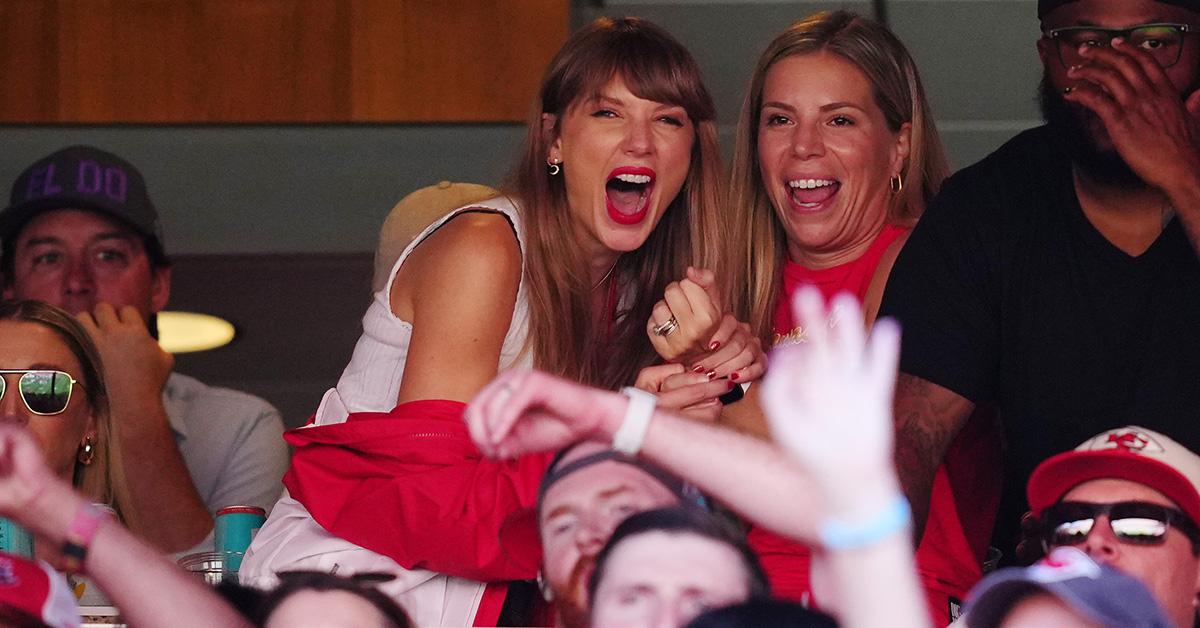 The Gist:
Travis Kelce attended one of Taylor Swift's concerts over the summer, but the two failed to connect.
After Travis was public about wanting to get in touch, the two started texting and seeing each other casually.
On Sept. 24, 2023, Taylor attended one of Travis's home games in Kansas City and sat next to his mom.
Article continues below advertisement
There are few things that more completely capture the imagination of the general public than Taylor Swift's ongoing relationship drama. Recently, news broke that Taylor was dating Kansas City Chiefs tight end Travis Kelce. On Sept. 24, 2023, Taylor was in attendance at Kansas City Chiefs game against the Chicago Bears at Arrowhead Stadium. Let the Travis and Taylor memes begin!
Following what seems to be a confirmation that the two are officially dating, many wanted to learn more about their full relationship history, including the crucial question of how they actually met. Thankfully, we've got everything you need to know about the new relationship.
Article continues below advertisement
How did Travis Kelce meet Taylor Swift?
The potential romance between the two started in July when Travis discussed his interest in Taylor during his New Heights podcast with his older brother and fellow NFL star, Jason Kelce. Travis said that he attended the Taylor Swift concert in Kansas City and made a friendship bracelet with his number on it to give to her.
"If you're up on Taylor Swift concerts, there are friendship bracelets, and I received a bunch of them being there, but I wanted to give Taylor Swift one with my number on it," Travis said during the show.
Article continues below advertisement
Taylor isn't meeting fans on this tour, in part because she's putting so much effort into the music itself.
"I was disappointed that she doesn't talk before or after her shows because she has to save her voice for the 44 songs that she sings," he explained. "She doesn't meet anybody — or at least she didn't want to meet me, so I took it personal."
In September, rumors that the two were "talking" began to spread online, and the gossip spread quickly. Jason even got in on the action, saying that he didn't know anything about Travis's love life, but felt like speculating anyway.
On Sept. 21, The Messenger reported that sources said the two had seen each other twice, and that it wasn't anything serious yet.
Article continues below advertisement
The couple apparently "have hung out twice, and it's nothing serious. She thinks he is very charming, and they have been texting this last week. He is a little embarrassed at how much attention they are getting, but he has told her he would love to continue seeing her."
The source added, "They are seeing where things go." The source also said that Taylor is in her "fun girl" era and isn't taking things too seriously.
Of course, the curiosity about their relationship only intensified after Taylor attended Travis's most recent home game and sat next to his mother. The two were also seen leaving Arrowhead Stadium together and driving off in Travis's car. It was more than enough to send fans into a total titter.