Does 'Finch' Pull an 'I Am Legend' With Its Lovable Dog Lead Character?
If you love post-apocalyptic Sci-Fi films, then there's a good chance you've heard of 'Finch.' But a question many viewers has is: does the dog die?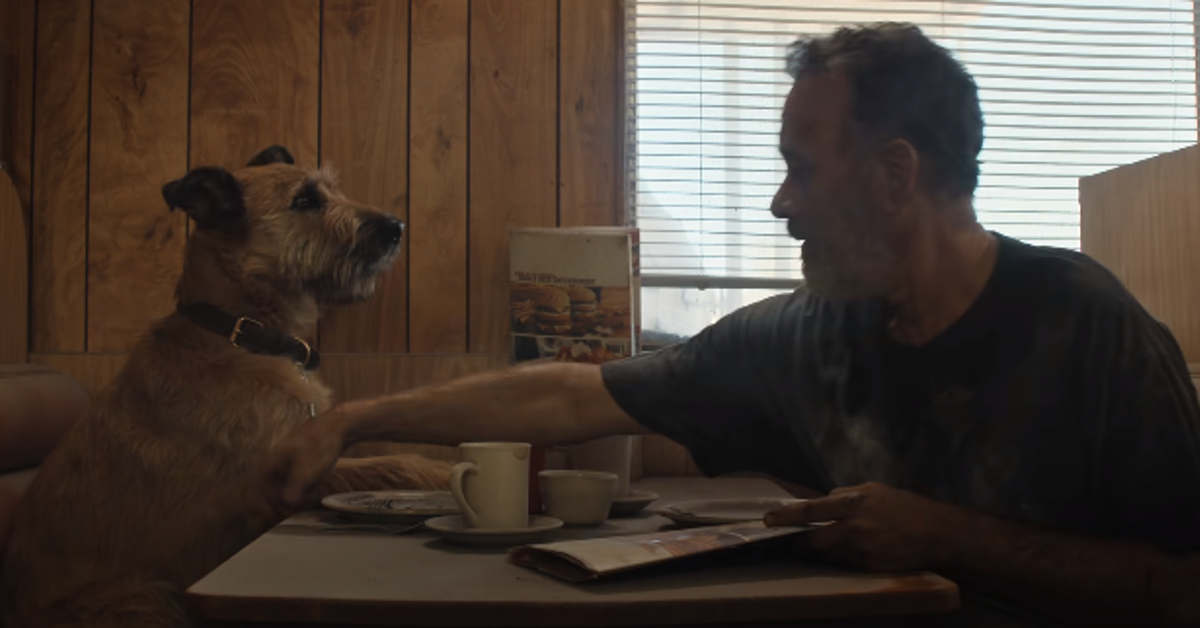 There's a few golden rules of narrative films. You never kill the animals. Men can die all the time, and girlfriends/wives are all fair game, heck, even children. But if you kill a pet, especially a dog, then people are going to come for your head. It's why that scene in I Am Legend where Will Smith is forced to break the neck of his beloved German Shepherd as it turns into a Vampire Beast is so heartbreaking.
In fact, there are some people who absolutely refuse to watch flicks that depict even simulated violence against animals, so a lot of people want to know, does Goodyear the dog die in Finch?
Article continues below advertisement
Does the dog die in 'Finch?'
Warning: Spoilers for Finch ahead.
There's something about living in a post apocalyptic world and having a best friend canine companion help you traverse the wasteland of a destroyed earth. Not to bring up I Am Legend again but that book/movie featured a very similar dynamic, and if you love playing Bethesda's Fallout games, then you're familiar with Dogmeat, your pupper companion who helps you fight all sorts of baddies and unspeakable monsters in your quest to healing the world back to its former non-nuked splendor.
Finch adds a robot to the equation, (Hanks plays an inventor eeking out an existence in the Apple TV+ film), and Tom is trying to train the robot to look after the dog, presumably in the event anything happens to him.
In the film, Hanks' titular character, Finch is on a road trip to a habitable haven for him, his doggie Goodyear, and his robot pal Jeff. They're headed back to San Francisco, but it appears that Finch is growing weaker as the journey progresses.
Article continues below advertisement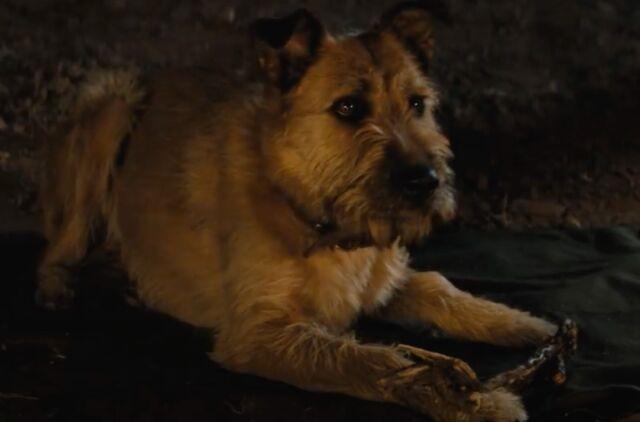 They hit a bunch of obstacles along the way: massive dust storms that nearly wreck their RV and a scary car chase that sees the solar panels on the RV destroyed, Finch, Jeff, and Goodyear end up finding an Oasis that that happens to be under a piece of the earth's Ozone Layer that was eradicated by people taking a bunch of cheap flights to Vegas and using hairspray. Just kidding in the film, it's a Solar Flare that causes it, because the Sun is a total d**kwad.
Article continues below advertisement
Jeff is the one who spots the natural sanctuary after seeing a bunch of butterflies. The RV stops and Finch cleans himself up, donning a white suit to celebrate the momentous occasion with Goodyear and Jeff. As they enjoy one another's company, Finch appears to become increasingly weak during the sequence. He states that he wants to go back into the camper to rest for a bit.
Article continues below advertisement
Finch doesn't wake back up, passing away in his sleep. However he has fulfilled his duty and has left Goodyear in the hands of Jeff, who knows how to property care for the pup. Jeff and Goodyear continue the rest of their journey towards San Francisco, which has hopefully, due to a global apocalypse, had a drop in its housing market pricing.
Article continues below advertisement
What kind of dog is Goodyear in 'Finch?'
Any time a dog character makes a prominent appearance in a big film, people always want to get a pupper just like that for themselves. If Goodyear is just the type of canine you want snuggling in bed with your or longingly looking at your food while you're eating dinner, then you just need to look for Irish Terrier mix breeds.
Article continues below advertisement
Irish Terriers are known to be extremely intelligent and protective, and although they're great family dogs, they are known to fight tooth and nail against dogs of the same sex if they feel threatened.
Dogtime writes: "Irish Terriers can be aggressive toward dogs of the same sex, and they don't back down from a challenge. They will fight to the point of serious injury to themselves or the other dog. Being fearless, they'll take on dogs much larger than themselves without thought for the consequences."
Sounds like just the type of dog you want be your side during the apocalypse. Goodyear from Finch is definitely a mix, although it's unknown exactly which other dog his one Irish Terrier parent was bred with.