Dominos Slammed for Response to Woman After She Reported "Creepy" Delivery Guy
A Dominos driver was fired after obtaining a woman's information, and then reached out to her to flirt via text.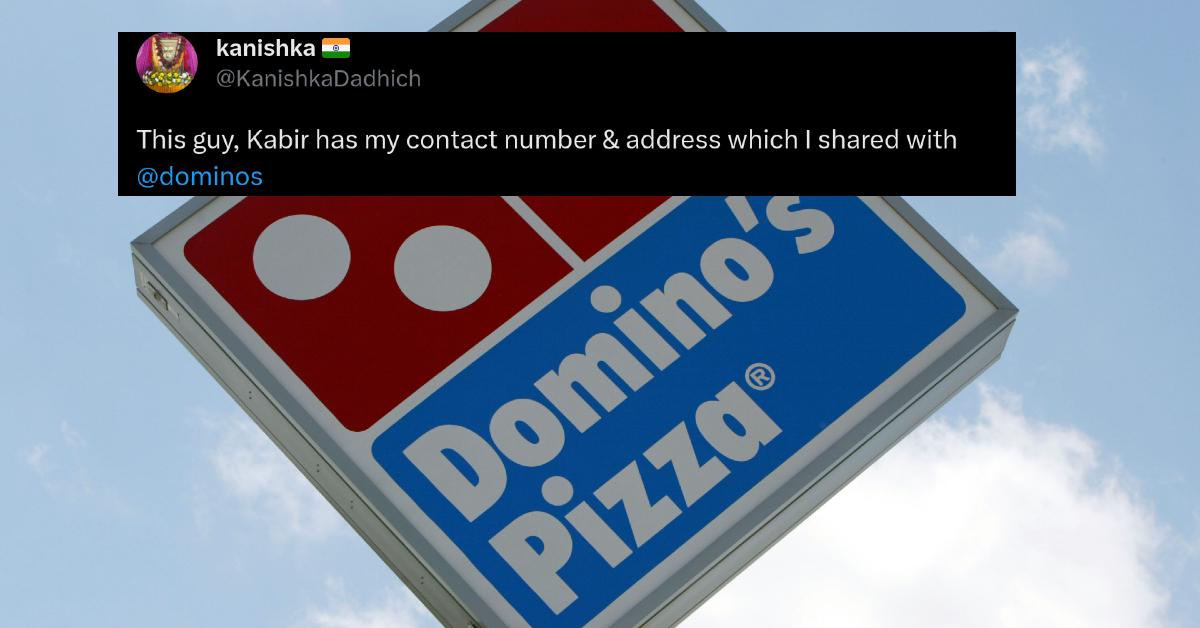 Love, at first sight, is real: if it wasn't, then Kylie Minogue wouldn't have made a song about it. But navigating romantic relationships can be tricky, especially when it comes to letting a complete and total stranger that you've taken a liking to them.
Article continues below advertisement
And the key to understanding the best ways to navigate those emotions really boils down to understanding situations, like which ones it would be good to tentatively broach the subject of a potential connection with a person.
For instance, if you see someone is at work and they're busy, maybe trying to make them stop everything they're doing just so they can listen to you try and flirt with them or ask them out on a date probably isn't the best idea.
Article continues below advertisement
Or, if you're a Dominos delivery driver, maybe don't take the customer's phone number from the company database that was only given to you for the sole purpose of completing a delivery order, and then hit them up with their phone number so you can immediately "propose" to them.
Article continues below advertisement
That's what happened in Uttar Pradesh, India, to a woman named Kanishka who was just hoping to get some of the pizza chain's offerings and not an offer of matrimony, Business Today, writes.
Kanishka posted about the incident, which involved a worker for the restaurant franchise named Kabir. Upon completing delivery of her order, Kabir purportedly texted her with this opening line: "Sorry, my name is Kabir, yesterday I came to give you pizza, I am the same, I liked you."
Article continues below advertisement
Kanishka's initial tweet, which purportedly shared a screenshot of her text conversation with Kabir, has been removed from Twitter as it "violated" the site's rules. However, her subsequent messages to Dominos revealed what she found most troubling about the entire situation.
Article continues below advertisement
Namely: how was Kabir able to get a hold of her personal information off of Domino's servers? "I want to ask if this is ethical to send a delivery guy so that he could get anyone's number and address. Even if he liked me, this is not the way to confess. It means he has misused the number given to the company for delivery purposes," she wrote.
Article continues below advertisement
She also pointed out that the delivery driver's identity seemed to change depending on the communication medium he was using: he went by Kabir via message but in the store he went by Mannu. His email address appears to be consistent with the name Kabir, however.
Dominos released a statement to the outlet News 18, indicating that they would be firing Kabir: "We are deeply concerned to hear about this incident. As a responsible corporate entity, Domino's India maintains an unequivocal commitment to a zero-tolerance policy towards any form of misconduct or harassment. Upon being apprised of the incident, we immediately delved into the matter. Guided by pertinent laws and our company's policies, we have initiated the process to terminate the employment of the individual involved. We will provide our full cooperation with the concerned authorities in the investigation."
Article continues below advertisement
However, Kanishka stated that initially, Dominos wasn't taking the incident seriously enough, so she ended up taking the matter to India's Consumer Court in order to file an official legal claim.
Article continues below advertisement
In a series of tweets, Kanishka posted screenshots of her correspondence with Dominos, and also expressed that she feared for her safety, since she didn't know if Kabir would take any retaliatory action against her or her family after he had been fired, now that he knows her personal information and where she lives.
Numerous folks who saw Kanishka's posts about the unwanted messages from the Dominos employee, and the company's follow-up responses (at first), sparked outrage.
Article continues below advertisement
There were some who urged her to notify the police about what had happened, while others suggested she sue the company as her privacy was compromised, just because she wanted to get some food delivered to her home.
News 18 also reported that there was a 30% increase in the total reported crimes against women in India according to statistics provided by the National Commission for Women.