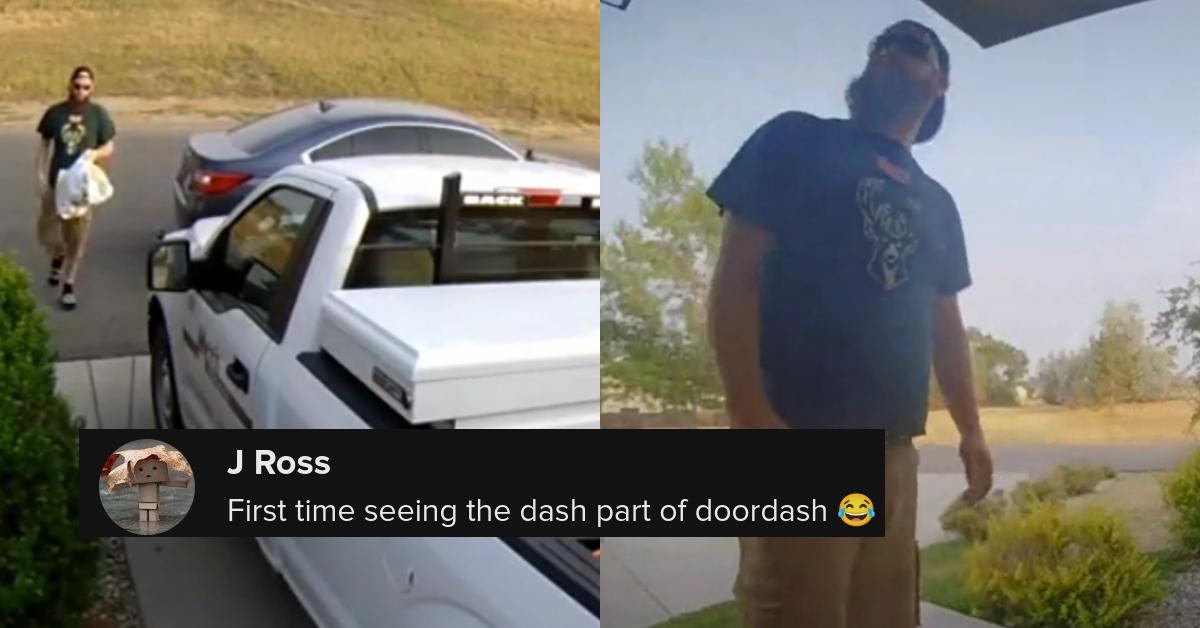 DoorDash Driver's Car Rolls Away During Delivery as Customer Watches Through Doorbell Camera
A DoorDash driver was caught on a Ring Doorbell camera chasing down their car when it began rolling away after he had parked it.
Delivering food for DoorDash comes with its own set of occupational hazards. There are customers who will outright refuse to tip you. They don't care if you've been waiting in the Popeye's drive-thru for an hour to get their food, nor do they care that the app's only paying you $2.87 to deliver their food on a 7-mile drive.
Article continues below advertisement
And then you've got customers who, despite receiving their orders, will tell the app that it was never delivered, just so they can complain to customer service and get some meal credits, or get a full refund.
There has been a slew of reports of violent attacks being perpetrated against DoorDash drivers, so much so that the app added a panic button to the app in 2021.
Not to mention sometimes DoorDash drivers get their cars stolen, and worse yet, when their kids are in the car, too.
The delivery driver in this viral TikTok posted by Brian Ensing (@becustomsllc) also had their car get away from them, but they weren't a victim of a carjacking, nor did they get their car repossessed because they couldn't afford payments on it anymore because they were constantly getting stiffed on tips.
It just looks like they forgot to put the e-brake on.
Article continues below advertisement
In the video, the DoorDash delivery driver can be seen approaching the house carrying the customer's food, and the vehicle immediately begins rolling slowly down the street, the driver blissfully unaware.
Article continues below advertisement

They approach the door at the side of the house as several seconds go by. That is, until, the customer inside the house, Brian, tells them over the loudspeaker: "Dude, your car is escaping and rolling away." The driver doesn't seem to understand what the customer's telling them as they hand over the food.
Article continues below advertisement

"You might want to go grab it," Brian says again. It doesn't seem to register with the driver, "Your car is rolling away," the customer says again. The DoorDash driver looks behind him and it looks like the reality of the situation finally hits, and he runs off after it.
Article continues below advertisement

He books it down the street as another car drives up and past the house. According to local news outlet KTVU, Brian said that the delivery driver was able to get to his vehicle before it crashed into anything.
Article continues below advertisement

In the comments section of Brian's video, folks expressed how shocked they were at the amount of time it took for the driver to realize what he was telling him. "He thought you were joking took a minute to register."
Article continues below advertisement

Someone else remarked, "Thank God his car is safe but he wanted a tip...next time"
Others said that judging by the trajectory the vehicle was headed, it was obvious that the driver was at least properly maintaining their car: "You know it's aligned though"
Article continues below advertisement

As it turns out, the other car driving up the road on the clip was actually the DoorDash driver who caught up to the vehicle and popped a k-turn. It appears to be a seamless transition with a time-lapse in the camera footage; unless we're dealing with a delivery driver who is capable of running at superhuman speeds. Or maybe the car didn't roll away that far, to begin with.
Article continues below advertisement

Some folks thought that Brian was "too chill" with the driver's car rolling away like that and asked why he didn't try and help him, however, Brian said that his 8-month-old was in the house with him, so it's not like he could go storming outside to help him chase down the vehicle.