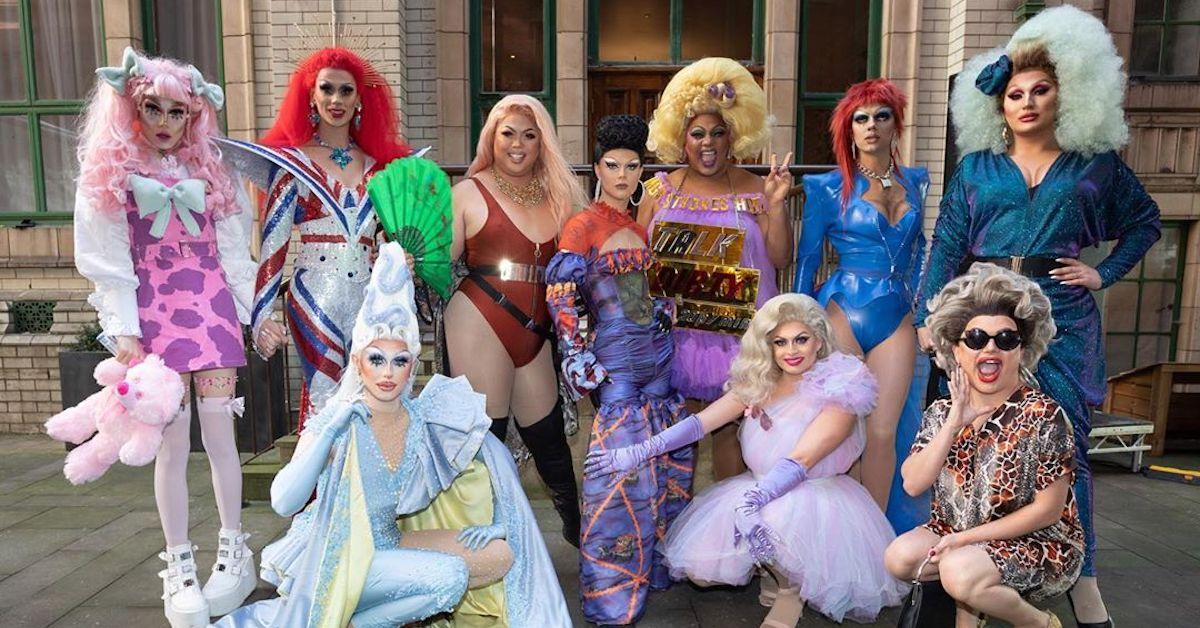 Meet the 10 Fierce and Totally Fit Queens of 'Drag Race UK'
RuPaul and Michelle Visage have sashayed across the pond to bring RuPaul's Drag Race to the U.K. with 10 queens all hailing from the British Isles. They'll be supported by U.K. chat show host Graham Norton and comedian Alan Carr at the judges' table.
In addition, the star-studded list of guest judges is impressive: Game of Thrones star Maisie Williams, Geri "Ginger Spice" Halliwell, model icon Twiggy, actor Andrew Garfield, Little Mix's Jade Thirlwall, Chewing Gum's Michaela Coel, X Factor presenter Cheryl, chat show host Lorraine Kelly, and journalist Stacey Dooley.
Meet the Drag Race UK cast of beauties.
Though the first episode won't air until October, the list of contestants is out and this yank thinks the Brits are just as sickening as their sisters in America. Scroll on to get the scoop on the Drag Race UK cast.
Article continues below advertisement
1. Baga Chipz, 29
Hometown: London
Instagram: @bagachipz
Bio: Baga is inspired by a young Princess Diana and the cast of Coronation Street circa 1970. She says she's a performance queen, and while she doesn't excel at dressmaking or serving face on Insta, she expects to own the stage for Match Game.
2. Blu Hydrangea, 23
Aka: Joshua Cargill
Hometown: Belfast, Northern Ireland
Instagram: @bluhydrangea_
Bio: Unlike Baga, Blu Hydrangea lives for the 'gram and works as a makeup artist. And if the above picture is any indication — where she's painted the entire cast of Drag Race UK on her chest — her skills are unparalleled.
Article continues below advertisement
3. Cheryl Hole, 25
Aka: Luke Underwood
Hometown: Essex
Instagram: @cherylholequeen
Bio: Cheryl is going to die when she sees one of the guest judges this season because her drag icon is Cheryl herself. She brags that she's been called a "lip sync assassin," so anyone who finds their way to the bottom two with her should watch their back!
Article continues below advertisement
4. Crystal, 34
Hometown: East London (via Canada)
Instagram: @crystal.will.see.you.now
Bio: Crystal says, like her namesake, she is "glamorous, sparkly... but ultimately worthless." She's an aerial acrobat and a whiz with a sewing machine, and promises a gender-bending, unexpected performance style.
Article continues below advertisement
5. Divina de Campo, 35
Aka: Owen Farrow
Hometown: West Yorkshire
Instagram: @divinadecampo
Bio: Um, did anyone order a ringer? Divina has already competed on the U.K. version of The Voice and says she's performed with nearly all the U.S. girls, so she's definitely the one to beat. However, she says she actually hates competition. Could have fooled us!
Article continues below advertisement
6. Gothy Kendoll, 21
Aka: Sam Handley
Hometown: Leicester
Instagram: @GothyKendoll
Bio: The name pretty much says it all. She's dark and she's into fashion and beauty. She is definitely more into polish with her look rather than campy performance.
Article continues below advertisement
7. Scaredy Kat, 19
Hometown: Wilshire
Instagram: @scaredykatofficial
Bio: Scaredy is the youngest in the competition and sees it as both a blessing and a curse because she expects to be underestimated. She identifies as bi and has a girlfriend at the moment, and what she lacks in experience she makes up for with confidence (or at least the ability to look confident!).
Article continues below advertisement
8. Sum Ting Wong, 30
Aka: Bo Zeng
Hometown: Birmingham
Instagram: @issumtingwong
Bio: Sum Ting Wong got her name by reclaiming a bad joke. She doesn't see sewing or dancing as her strong suits but doesn't need to lip sync for her life — she can sing for her supper.
Article continues below advertisement
9. Vinegar Strokes, 35
Aka: Daniel Jacob
Hometown: London
Instagram: theonlyvinegarstrokes
Bio: iPlayer Vinegar classifies herself as a straight up comedy queen, and she is definitely not looking forward to sewing. But her performance skills should more than make up for it. She's fresh off a stint on stage where she performed in the hit West End musical Everybody's Talking About Jamie.
Article continues below advertisement
10. The Vivienne, 27
Aka: James Williams
Hometown: Liverpool
Instagram: @thevivienne_
Bio: The Vivienne's talents include live vocals and impersonations, but she's a wee bit scared of choreography. Her style blends the polish of newer queens' aesthetic with the campiness of older queens' performance style.
Article continues below advertisement
11.
Drag Race UK debuts Oct. 3 on BBC iPlayer or, for audiences outside the U.S., you can download the WOW Presents app from Google Play or the App Store.