Drakeo the Ruler Had Beef With This West Coast Rapper Before His Death
Why did Drakeo the Ruler and YG have beef? The West Coast rapper was stabbed several times backstage at Once Upon A Time in LA. Who killed him?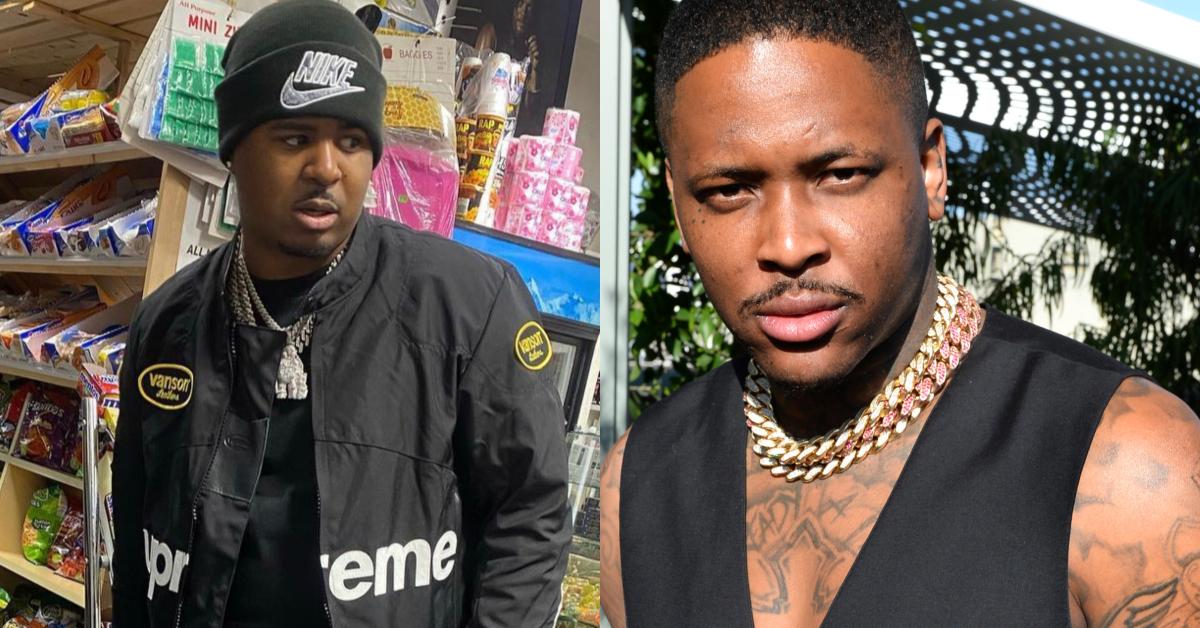 In 2021, we were forced to say goodbye to more than a few celebrities — many of whom were rappers. Along with DMX, Young Dolph, Kangol Kid, and Lil Loaded, Drakeo the Ruler was killed on Dec. 19 at a music festival in Los Angeles, Calif. The 28-year-old rapper, born Darrell Wayne Caldwell, was raised in South Central and rose to fame after being discovered by DJ Mustard.
Article continues below advertisement
Since his death, Drakeo's fans and celebrity friends alike have taken to Twitter to share their condolences. But the rapper had a handful of enemies when he died — including a fellow West Coast rapper.
Now, fans wonder if Drakeo the Ruler's ongoing beef with YG was somehow related to his death. Here's what we know.
Article continues below advertisement
Why did Drakeo the Ruler and YG have beef? The rapper's death raises questions.
Although both YG and Drakeo were raised in South Central, they found themselves embroiled in a bitter rivalry that reached its boiling point in March 2021. In a video that has since gone viral on social media, Drakeo threatens to kill YG for comments he made on Adam 22's No Jumper podcast.
Drakeo claimed that his beef with YG was due to his disrespect. "A rap [n-word] going to get swiss cheesed he say one more thing, and they know that. I don't want no friends," he said in the video.
Their online spat didn't seem to end there. Questions arose after West Coast rapper Slim 400 — who is closely affiliated with YG — was shot several times and killed in early December. His death came only weeks before Drakeo's murder.
Article continues below advertisement
Who killed Drakeo the Ruler?
Drakeo died during a backstage brawl at Once Upon A Time in LA. The rapper was stabbed several times by an unknown assailant. Shortly after, the event was shut down and fans were asked to leave.
According to Los Angeles police, Drakeo's murder is currently unsolved. As of now, no arrests have been made in connection with his murder.
Article continues below advertisement
Among the performers who also took the stage on Dec. 19 were YG and Ice Cube. Since then, a number of artists have come forward to pay homage to the rapper on social media.
Article continues below advertisement
Snoop Dogg was among those to express his sadness. "My prayers go out to everyone affected by the tragedy. Please take care, love one another, and stay safe y'all."
Other friends of the rapper, like Drake, Saweetie, and Joey Fatts, also shared their frustration.
​​Joey wrote on Twitter, "Drakeo was killed while working. [He] was there for a performance. All these 'get out the streets' tweets [and] 'leave your city' tweets. Shut the f--k up." He added, "No reason why a knife should be able to be snuck into a music festival. Especially since the Travis Scott s--t. RIP Drakeo. [I] hope his [family] sue."
In death, the rapper is survived by his girlfriend, Bianca Noel, and his son, Caiden Caldwell.