Guy Saw Woman Dancing on Her Roof and Asked Her out Via Drone — It Worked
Jeremy Cohen is a photographer in Brooklyn who documented the whole thing on TikTok and Twitter. It's a match made in quarantine!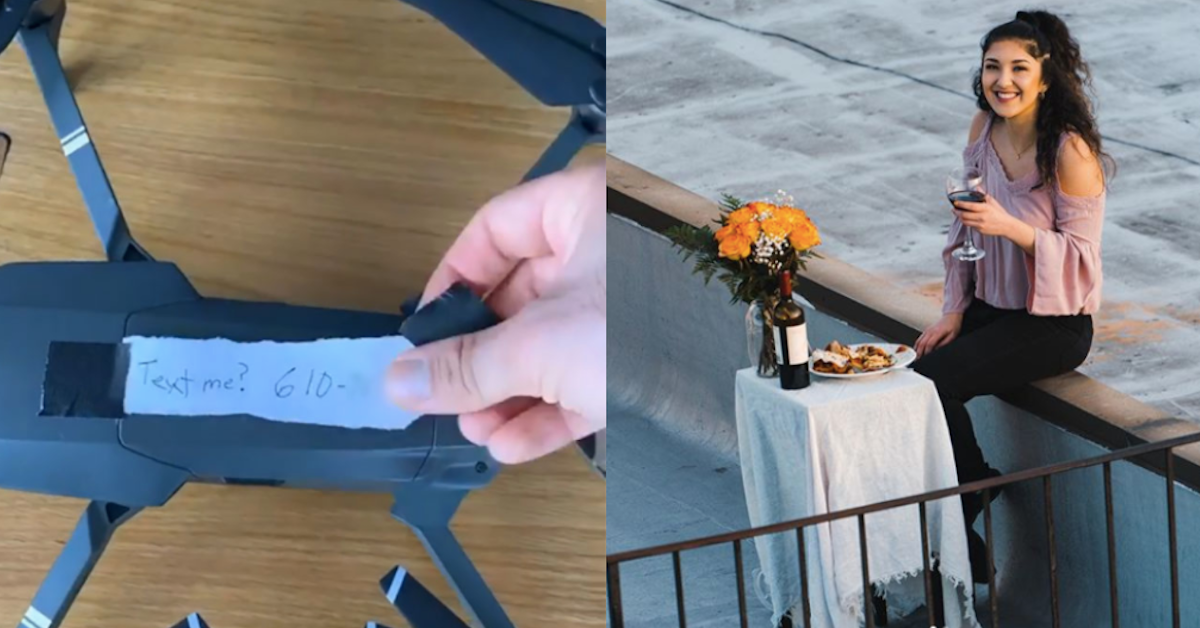 Jeremy Cohen is a photographer living in Brooklyn. Tori Cignarella is the woman who lives across the street from Jeremy and sparked the cutest quarantine love story when she went up to her roof to dance one day.
Article continues below advertisement
Jeremy has documented their whole journey on TikTok, and it's a real bright spot in these weird, dark times. It really did all start with Jeremy noticing a girl on her roof across the street dancing and looking like she was having the time of her life.
He decided he needed to meet her, so he sent a drone over with his phone number. And that's where this story really takes off.
Article continues below advertisement
Tori texted him! And they started chatting. "I can't believe this actually worked and yes this is a real story," Jeremy wrote on Instagram. But it wasn't enough that he and Tori had exchanged numbers. He wanted to actually take her out on a date.
That's kind of hard, though, when you're supposed to stay home all the time and not meet with anyone you don't live with. But Jeremy is a creative guy. He figured it out. He asked Tori out to dinner, but she had one very important question: "How?"
Article continues below advertisement
Jeremy told her not to worry. He set up a table for one on his balcony, and he conspired with Tori's roommate to have her set up a table on their roof. Tori and Jeremy FaceTimed while they ate their microwaved meals together...while still across the street from each other. And the date went great.
"Depending on how long this quarantine lasts," Jeremy said on TikTok, "I might be in a long-distance relationship with someone who lives across the street from me."
Article continues below advertisement
If you think that's the cutest thing you've ever heard, just wait. In the third part of his TikTok story, Jeremy decides to make a grand romantic gesture.
It's worth noting that, at this point, Jeremy and Tori were all over the news. The "Quarantine Cutie" story had already garnered hundreds of thousands, if not a million, views and followers. People were invested in their love story.
And so was Jeremy. He really wanted to see Tori in person, but he wanted to respect the shelter in place and social distancing order. So what did he do? He blew up a human-sized plastic bubble, got in it, sealed it up, and walked across the street to her apartment to surprise her.
Article continues below advertisement
He brought her flowers, but there was no way to give them to her. It didn't matter. This was the cutest thing pretty much ever. The two of them went for a walk through the neighborhood together, Jeremy in his giant bubble (I don't know how he didn't fall!).
Article continues below advertisement
But then, they got stopped by the cops. For a second they thought they were in trouble. But it turns out, the police officer had seen their story on the news and just wanted to get a picture. Not only are Jeremy and Tori cultivating the world's cutest quarantine romance, but they're also now totally famous!
You can watch the whole story unfold in just under two minutes right here...
Article continues below advertisement
It really does seem like Jeremy and Tori hit it off, which is great for the rest of us because now we have an adorable story to follow for the next month of lockdown, at least. Here's hoping that Tori and Jeremy continue to grow to like each other even more. I don't know if I could handle their quarantine breakup at this point.
Bored Panda asked Jeremy how this newfound fame has affected his life. "In a positive way!" he replied. "It makes me feel good to know people are rooting for me, but more importantly, it gives something for people to believe in during these strange and dark times. If this story brings joy to people, then it brings joy to me."