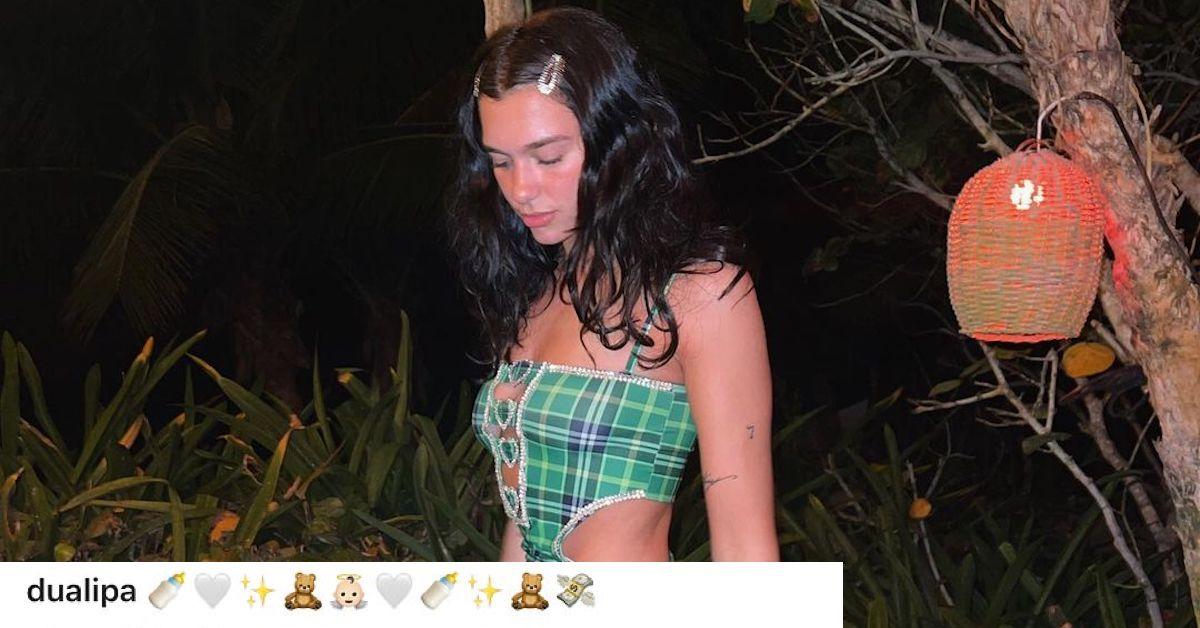 Is Dua Lipa Pregnant? A Series of Baby-Related Emojis Sparks Speculation
Is Dua Lipa pregnant? Her followers were convinced the singer was revealing huge news in January 2021 thanks to a photo caption.
When it comes to female celebrities, fans seem to always be on "bump watch." Stars' tummies must be toned and flat, or else they must be pregnant. (Never mind the reality of things like bloating, changes that come with being a mother, or straight-up weight gain.) Some celebrities face pregnancy rumors every few months or so, but Dua Lipa hadn't been one of them — until January 2021.
Interestingly, the pregnancy speculation wasn't tied to her appearance; it had everything to do with an Instagram caption.
Article continues below advertisement
Is Dua Lipa pregnant?
On Jan. 13, the English singer-songwriter posted an Instagram photo of herself while on vacation in Mexico with her boyfriend, Anwar Hadid. The shot shows her looking gorgeous in a green plaid mini dress, and nothing about the photo itself would have sparked speculation about pregnancy. However, Dua's caption certainly did.

Article continues below advertisement
There was no actual text in Dua's caption, however a perplexing string of emojis — which included a baby, a baby bottle, and a teddy bear — prompted her Instagram followers to ask if she was pregnant.
Once the singer caught wind of the confusion, it looks like she commented on a comment that asked, "She is pregnant?" Her response was simply, "Food baby."
Article continues below advertisement
Since then, the star seems to have replaced the baby-related emojis with embarrassed crying faces on Instagram. But since tweets can't be edited, they still remain over on Twitter.
Article continues below advertisement
Meanwhile, others made some pretty good points about the situation — like this Twitter user who pointed out that if / when Dua is actually pregnant, she probably wouldn't announce the news with baby emojis.
Article continues below advertisement
Still, others insinuated the emojis might have been for attention. "OK so that's food baby in yo tummy but why them caption emojis be like baby related?! SUS," another person wrote on Twitter.
Article continues below advertisement
Dua Lipa's followers also slammed her for traveling during a global pandemic.
Pregnancy speculation aside, Dua's followers also honed in on the fact that the singer had traveled to another country for a vacation in the middle of a global pandemic — something that she's publicly criticized others for doing.
"Did you guys forget we've been in the middle of a pandemic for the past three months???" she wrote earlier in the year.
Twitter users didn't hesitate to remind the "New Rules" singer of her hypocrisy.
Article continues below advertisement
Dua Lipa isn't pregnant, but she did recently become an aunt!
In case you didn't make the connection, Dua's boyfriend, Anwar, is Gigi Hadid's younger brother — and Gigi and Zayn Malik announced the birth of their first child, a daughter, in September 2020.
Shortly after the pregnancy was revealed, Dua briefly spoke about the happy news during an appearance on a New Zealand radio station, The Edge.
"Technically, you're going to be an auntie?"
"Yeah," the singer replied. "It's very exciting news. We're very, very excited."
Article continues below advertisement
So yeah. Although Dua Lipa is now a proud aunt, she is not currently expecting her own child. She was merely a victim of her own, unclear "food baby" Instagram caption, and some fans (understandably) got a bit carried away.