Making Duck Sounds Is the New Weird Trend on TikTok
A TikTok user started a trend challenging people to make their best duck call… but why? Because TikTok, that's why. Check them out here.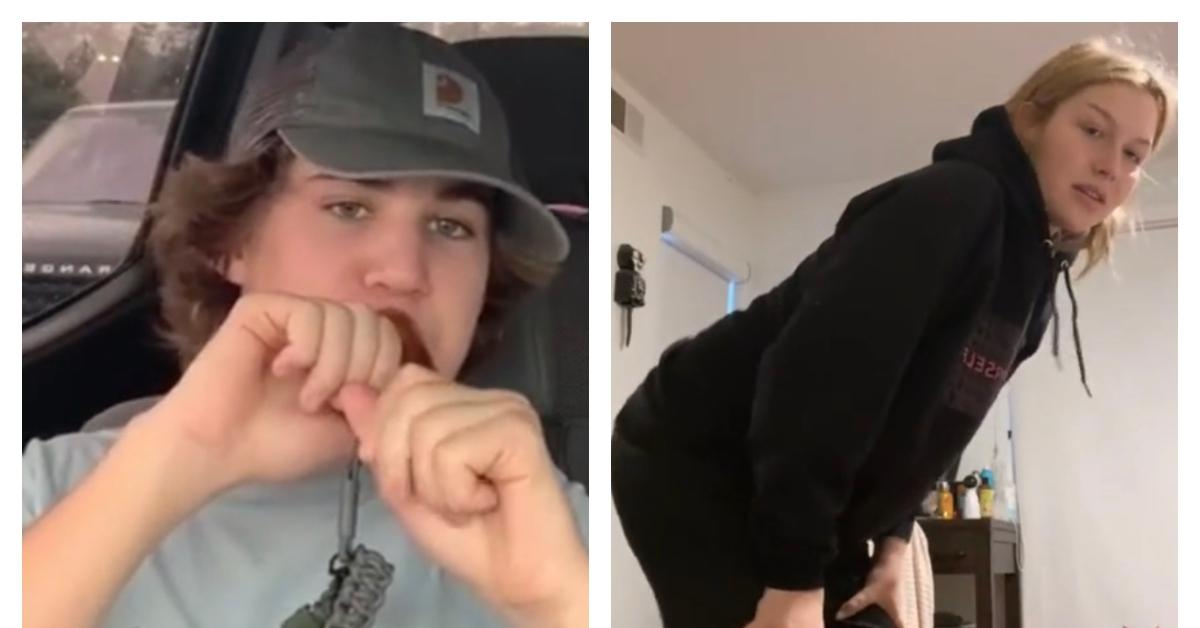 Some of the most exciting news from social media these days is finding out what the new viral trend is on TikTok. And let's be real, we've seen it all on that app. Yes, dancing is very much an ongoing popular activity to showcase on there, but we've also seen everything from people pranking their friends on FaceTime to people coming up with fascinating food hacks.
Article continues below advertisement
So you wouldn't be surprised to hear that the next big thing on TikTok is duck calling. Yep, you read that right. There is a legit challenge populating where people are showing off their best duck calls. Creators on the app have really gotten... creative with the whole thing and some of them are pretty wild and entertaining.
What is the duck call challenge on TikTok?
In December of 2020, a user named Ethan Kirby (@ethankirby21 on TikTok) made a video where he said: "Please duet this if you can blow a duck call better." He proceeds to exert air into a device that mimics the sound of a duck.
Article continues below advertisement
The video has currently a million views (and counting) and over 80,000 likes and has sparked others to try and see if they can also recreate the noise of the animal on their own. Some accounts have used the same device that Ethan did, but also there are some who got very innovative.
Article continues below advertisement
One person that gave the challenge a try that has made the trend even more popular is Safiya Witt aka @wizqueifa_ on TikTok. She went ahead and did a duet to the video like Ethan prompted, but did the unexpected. She stood in front of her camera, said "Is this a challenge?" and proceeded to pass gas whilst bouncing her body. It was very uncalled for, but we will say, the sound that was coming out was shockingly incredibly similar to the sound that Ethan created using his duck call device.
Article continues below advertisement
Her duet has garnered more than 45 million views and even has users dueting her video. It's a little chaotic, but it's absolutely hilarious. 10/10 would suggest watching this if you're in need of a good laugh.
Others have also taken the comedic route with this challenge. A user named @mikeytheteacher also did a duet to Ethan's video where he attempted to produce a duck sound. He films himself sitting on his bed, with his hand cupped around his mouth, and all he does is say, "Come here, duck." He captioned his video: "lol. How's that?" If you're asking us, that's pretty decent in our eyes!
Article continues below advertisement
Another guy insisted he knew how to do a proper duck call without using the professional hunting tool because he was originally from South Georgia. He sounded really confident in himself to only use his hands to make a random sound that sounded nothing like a duck. We love a good troll!
Article continues below advertisement
What is a duck call?
If you're not well-versed in the hunting and wildlife world, you might have no idea what a duck call even is. The product that Ethan was using to emulate the sound of a duck was a duck call and it's used to attract the bird when people are hunting for them.
It's usually made out of wood or acrylic and it is basically a whistle that one blows air into which produces a noise that sounds identical to that of a duck.