Who Is Dwayne Fields in the Disney+ Docuseries 'Welcome to Earth'? You May Have Seen Him on the BBC
The Disney+ six-part nature docuseries 'Welcome to Earth' sees Will Smith explore Earth's lesser-known regions alongside experts, including Dwayne Fields.
Because the ethereal wonders and miracles of Mother Nature aren't entertaining enough for Disney+ viewers, the streaming giant got Oscar-nominated actor Will Smith to host its nature exploration docuseries Welcome to Earth.
Produced by filmmaker Darren Aronofsky, the six-part Disney+ and National Geographic series takes Will Smith, various adventuring experts, and viewers alike on a journey across the globe. More specifically, the show highlights some of the Earth's lesser-known regions.
Article continues below advertisement
"I've got a confession to make. I've never climbed a mountain. Never swam in a lake. I was in a cave once — I'm beginning to think that I might be missing something," Will says in the trailer. "I asked the best modern-day explorers to take me to the ends of the earth, and they said, 'Oh, we can go farther than that."
Among said explorers is Dwayne Fields. So, what's his field of expertise?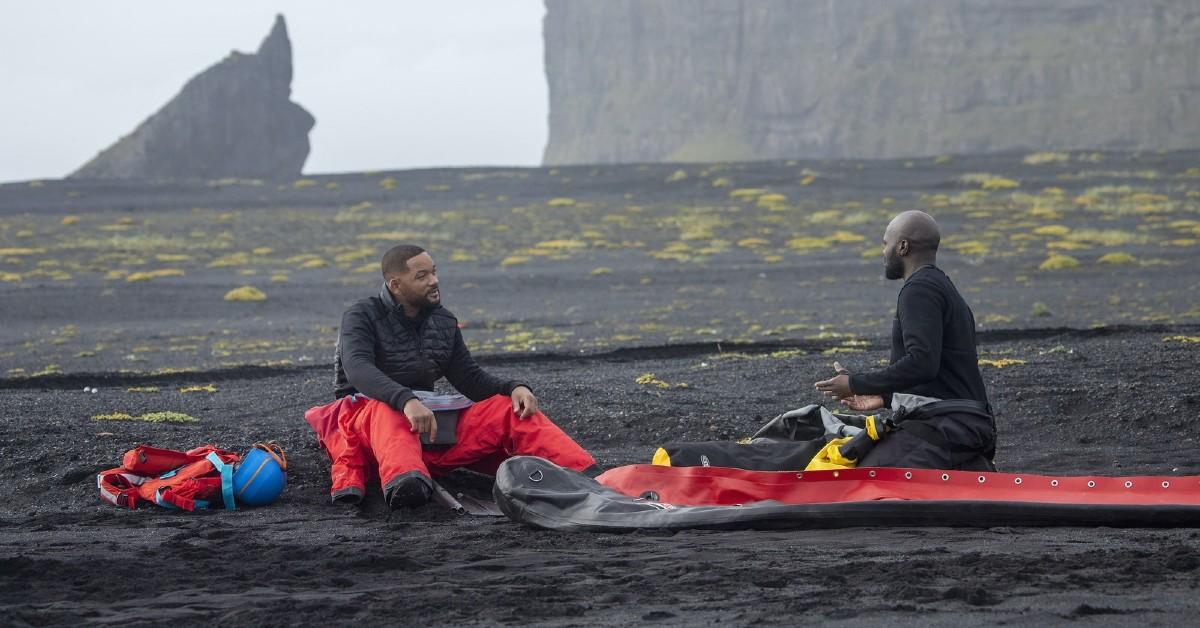 Article continues below advertisement
In 2010, Dwayne Fields became the first Black Briton to reach the North Pole, walking more than 400 nautical miles.
That's right, Jamaican-born Dwayne Fields is a history-making explorer, motivational speaker, and a presenter on the BBC's Countryfile, which highlights the vast agricultural and environmental wonders in the U.K. He wouldn't have found a successful life of adventure if it weren't for one life-altering incident.
After storming over to a neighbor's London property in 2005, demanding to get back the motorbike the residents of the home stole, his life flashed before his eyes. "Walking on to someone else's estate is the stupidest thing you can do. But I was blinded by anger and frustration," he told The Guardian.
Article continues below advertisement
One of the men he confronted whipped out a gun, pointing it directly at Dwayne."Before I could say, 'You don't have to go that far!', I heard the click." Unbelievably, even after two shooting attempts, the gun failed to release a bullet, and Dwayne's life was spared.
Article continues below advertisement
The moment was so jarring, so monumental in his life, that Dwayne still gets "phantom pains" around his stomach where he imagined the bullet would enter his flesh. Though Dwayne himself was never involved with gangs, his friends and peers were back in 2005, and he felt that he was slowly being pulled into a seedy life of "suitcases of weed, cocaine, and guns."
It was said near-death experience that woke Dwayne up. He needed to change his surroundings, as well as the course of his life.
From experiencing homelessness to completing a charity run to enrolling at the University of East London to study psychology and business management, Dwayne reached for the stars. Much happened in between those eras, of course, but the point is that Dwayne has seen it all.
Article continues below advertisement
Once Dwayne (still a student at the time) saw Ben Fogle and James Cracknell on TV, saying they were in search of another explorer for an Antarctic expedition, Dwayne perked up. He found his calling.
His first expedition was one to the North Pole in celebration of the 100th anniversary of Peary and Henson's 1908 to 1909 expedition.
Article continues below advertisement
What is Dwayne Fields' role in 'Welcome to Earth'?
Polar explorer Dwayne Fields appears in the sixth episode of Welcome to Earth, titled "Beyond Fear." Together, he and The Pursuit of Happyness star encounter Icelandic white-water rapids and traverse a massive glacier, eventually descending into one of its icy holes.
"He was such a good person to work with because he did exactly what I hope every single person that I bring on an expedition would do. He came with an open mind," Dwayne told Condé Nast Traveler of his magical expedition alongside Will.
"There were moments, like when we stood at the edge of [Studlagil] Basalt Canyon, and the river that was flowing through was flowing fast — you can see whitewater rapids further down. I could tell he was anxious, but he's got this way of just pausing, taking a breath, and then it's, 'Let's go,'" he continued.
Amazingly, Hollywood icon Will Smith tried many terrifying new things on Welcome to Earth, and Dwayne was able to hold his hand through many of them.
All six episodes of Welcome to Earth are currently streaming on Disney+.