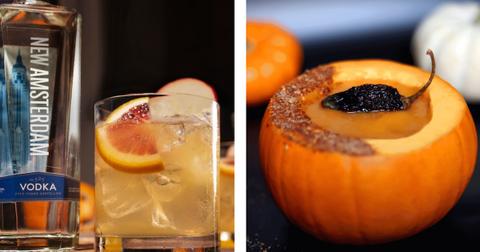 These Halloween Cocktail Recipes Are #SpookySeasonGoals
By Lizzy Rosenberg

Updated
After much anticipation, it seems as though spooky season is finally here, at long last... and that means it's time to party.
I'm a sucker for concocting creepy, festive drinks in the name of Halloween, and this year, I have a ton of scary-easy recipes up my sleeve. So whether you're throwing a party or if you simply happen to be hosting your October book club meeting, these 19 easy Halloween cocktail recipes are bound to come in handy.
Easy Halloween cocktail recipes that are to die for...
1. Vampire Kiss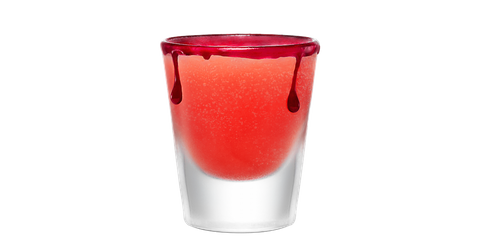 Maybe you never got over the Vampire Diaries ending, or you might simply love the 1922 classic Nosferatu. Either way, Malibu's original Vampire Kiss shot is an ode to all of the vampires you've ever loved.
Simply dip a shot glass into raspberry puree. Then combine a shot of Malibu with a dash of Grenadine, and a little lime juice. It's guaranteed to be deathly delicious.
2. Smirnoff Boo-YA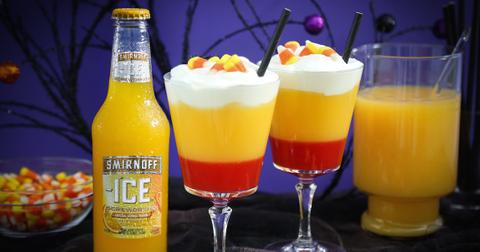 Smirnoff's Boo-YA drink recipe makes six drinks, so you'll want to invite over a few witchy friends to brew these babies.
Start off by chilling a Smirnoff Ice Screwdriver and some orange juice for two hours. Then, combine them into a large pitcher, and add one ounce of grenadine to the bottom of six cocktail glasses. Once chilled, pour the Smirnoff-orange juice mixture on top, and leave about an inch of space from the rim.
Top it with whipped cream and candy corn and enjoy.
3. The Apples & Pears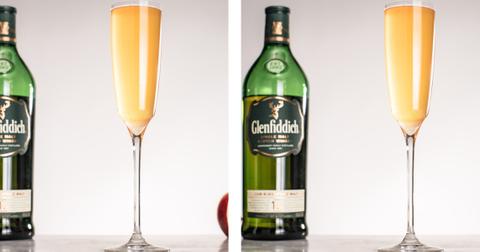 If you're looking to make peace with some classy spirits, go for the ever-classy Apples & Pears.
Combine one part Glenfiddich 12 Year Old with .5 ounces of lemon juice, .25 ounces of Drambuie, and 2 dashes of bitters. Shake and pour into a glass, before adding one part seltzer, one part cider, and a lemon garnish.
4. Pumpkin Smoke Margarita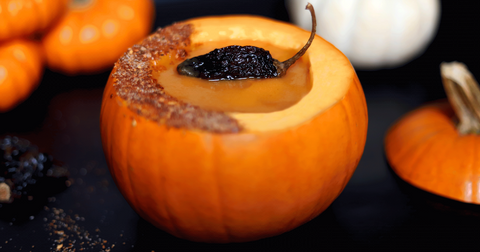 OK, the only difficult part of this drink is navigating the pumpkin carving, but once you've cut off the top of a small pumpkin and removed all the guts, coat the rim of the pumpkin with margarita agave. Proceed to combine one part Spicy Tanteo Chipotle Tequila with a splash of lemon juice, as well as pumpkin puree.
Then, if you want a little added smokiness, add a chipotle pepper — it's fiery as heck and so beautifully festive.
5. Papa's Pumpkin Pie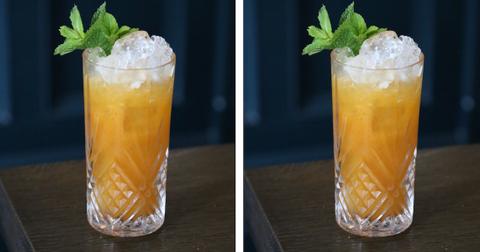 For those who live and breathe pumpkin spice, this one's for you. Combine 1.75 ounces of Don Papa Rum with .5 ounce of pumpkin puree, .5 ounces of pumpkin spice syrup, two dashes of orange bitters, and .75 ounces of lime juice.
Generously coat the rim of your class with icing sugar, and add a mint sprig for color. Bone appetit.
6. Strange Brew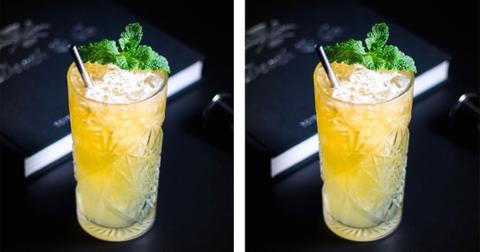 Concocting potions can be tricky, but this one's a breeze. Combine 1.5 ounces of Aviation American Gin with .5 ounces of St. Germain, .5 ounces of pineapple juice, and an ounce of lemon juice in a pint glass. Fill it with ice and shake it. Then, strain it into a pilsner glass (or whatever you have lying around) which is filled with ice.
Next, top it with 1/5 ounces of Widmer Hefeweizen, and garnish it with a mint tip. Strange, but satisfying.
7. The Goblin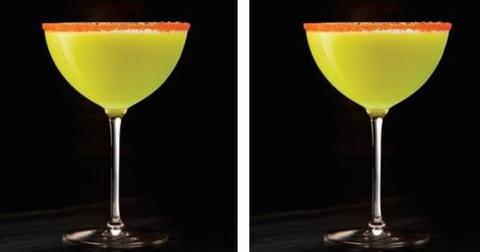 Get down n' dirty with Bacardi's Goblin — it's basically a martini that has crossed paths with a terrifying troll.
Simply combine 1.5 ounces of Bacardi Superior Rum with .5 ounces of Midori Liqueur, .5 ounces Reàl Coco, half an ounce of fresh lime juice, and two ounces of pineapple juice. Shake all ingredients with ice and strain it into a martini glass, before garnishing with ghoulish gummies.
8. Zombie Apocalypse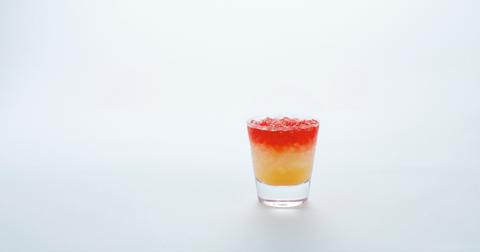 Fighting off zombies is tough stuff, so alcohol is definitely required.
Combine 1.5 ounces of Absolut Mandrin, .5 ounces of Malibu, one ounce of Passion Fruit Puree, .5 ounces of White Grapefruit Juice, .75 parts of Cinnamon Schnapps, and two dashes of Pernod Absinthe. Pour over some crushed ice and top with .5 an ounce of Cappelletti.
Top it off with plastic spiders and other creepy candies.
9. Spooky (but Basic) Bloody Mary: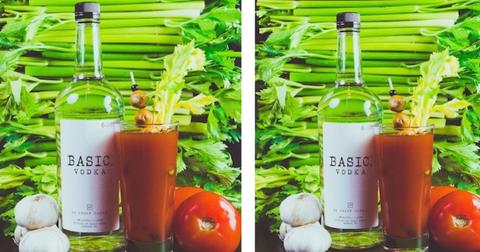 A "Basic Bloody?" Count me in.
Combine one teaspoon of Worcestershire sauce with three dashes hot sauce, one teaspoon of fresh lemon juice, and a dash of pepper. Stir with four ounces of Bloody Mary mix, and two ounces of Basic Vodka, before garnishing with a celery stick.
Talk about a boo-sy brunch, am I right?
10. The Werewolf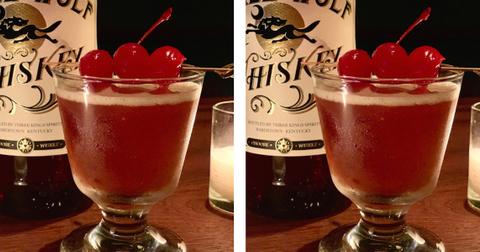 Whether you're howling at the moon with friends, or fending off vampires, The Werewolf is a delicious ode to any full moon.
Combine 2 ounces of Little Wolf Whiskey with one ounce of Pedro Ximenez Sherry, and a few dashes of chocolate bitters. Shake with ice and strain it into a glass before garnishing it with a cherry on top.
11. Pumpkin Cider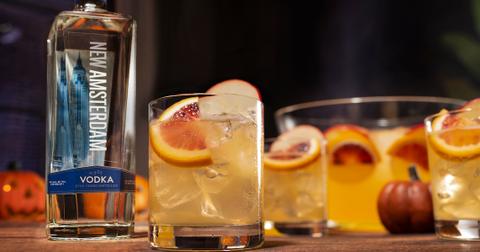 For a delicious taste of fall, brew up some Pumpkin Cider.
Combine two ounces of New Amsterdam Vodka 80-Proof with half an ounce of lemon sours, and half an ounce of RE'AL Pumpkin Syrup, as well as equal parts apple cider and ginger beer into an ice-filled punch bowl. Stir together, pour into glasses, and garnish with whatever you'd like. Cheers.
12. Caramel Apple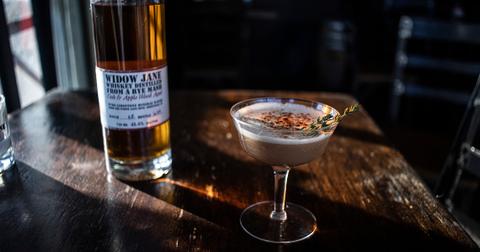 Reminiscent of an old-school Halloween party or costume parade, Bartender Natalie Raslina from Botanica has created the Caramel Apple with all New-York-based ingredients.
Combine half an ounce of St. Elizabeth Allspice, 1.5 ounces of Widow Jane Oak + Applewood Rye, .5 ounces of caramel, .5 ounces of lemon, and .5 ounces of cherry liqueur. Shake for 10 to 15 seconds, pour into a glass filled with ice, and garnish with cinnamon and thyme.
13. Blood Red Bulleit Be-Dazzle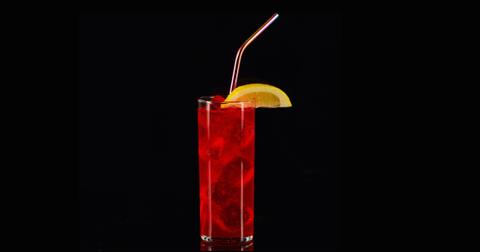 Quench your thirst for blood with the Blood Red Bulleit Be-Dazzle.
Start out by combining two parts Bulleit Bourbon with one part grapefruit juice and half part bitters. Shake all together and top with 2 parts Fanta Strawberry and a lemon garnish.
14. Pumpkin Old-Fashioned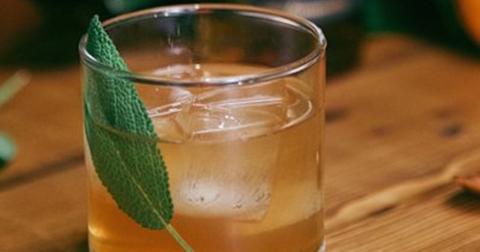 Appease prohibition-era ghosts with this age-old gem.
Pour two parts Jameson Black Barrel, .25 parts pumpkin syrup, and two dashes of bitters over ice. Stir and pour into a glass filled with ice, before garnishing with a sage leaf.
15. Ofrenda Jalisco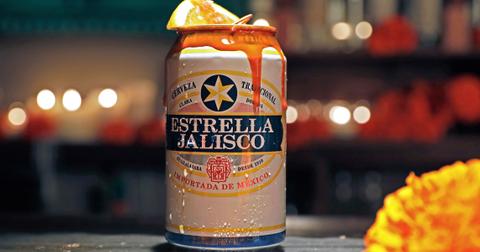 For those celebrating Day of the Dead, honor your Ofrenda with this spicy sip.
Dip a can of Estrella Jalisco in hot sauce and sprinkle the rim with smoked salt. Open the can and add a splash of Mezcal, before squeezing in a little orange juice. Garnish with a second orange wedge, before adding more hot sauce and smoked salt.
16. Orange You Afraid Of The Dark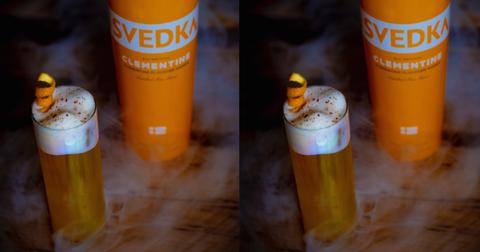 Everyone is a little afraid of the dark. Add two ounces of Svedka Clementine Vodka, two ounces of black tea, one ounce of Caramelized Pineapple-Vanilla Syrup, and two dashes of bitters into a shaker with ice. Shake it all up for 10 seconds, and strain into a glass filled with ice.
Garnish with a little cinnamon and maybe an orange peel on top, if you dare.
17. Old Man Rick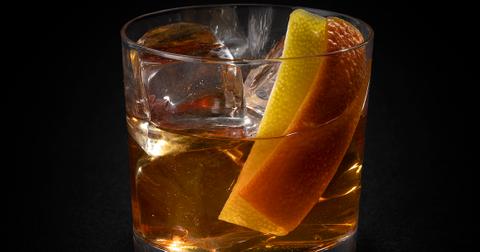 The Walking Dead recently came out with a signature Bourbon Whiskey, so it goes without saying a zombie cocktail is in order.
Combine 1.25 ounces of The Walking Dead Kentucky Straight Bourbon Whiskey with a dash of aromatic bitters, ice cubes, and half a teaspoon of simple syrup in a rocks glass. Stir together for 20 seconds, add two more ice cubes, and garnish with a lemon and orange twist.
Remember, though: hunt or be hunted.
18. Scooby Snacks Shots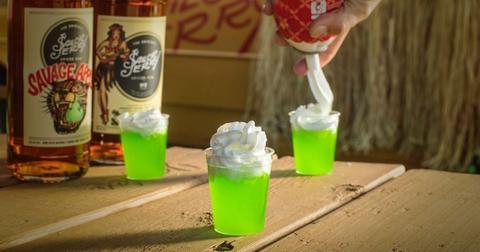 Zoinks, Scoob!
To like, fight off those monsters, combine one part Sailor Jerry, one part Savage Apple, one part Melon Liqueur, and one part Pineapple Juice in a shaker with ice. Strain into shot glasses, and top with whipped cream.
19. The Spirited Specter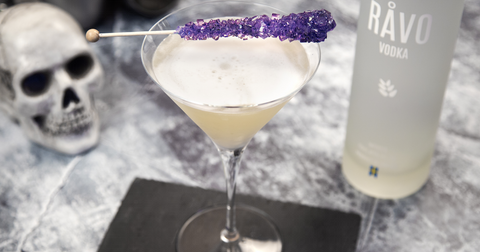 For an elegant monster mash bash, this martini is bound to be the belle of the ball.
In a cocktail shaker filled with ice, combine two ounces of Ravo Vodka, one ounce of Lemon Lime Soda, and a splash of lemon juice. Shake it up and strain into a chilled martini glass. Then garnish with a crystal rock candy.
Regardless of your spooky season plans, you'll definitely want to brew up some of these spooky cocktails. But beware — they might attract some thirsty spirits.