What Exactly Is Elite TikTok? It Involves a Lot of Face Emojis
What is Elite TikTok? You may see users on the app referring to themselves as "elite," and they're responsible for several recent top trends. Details.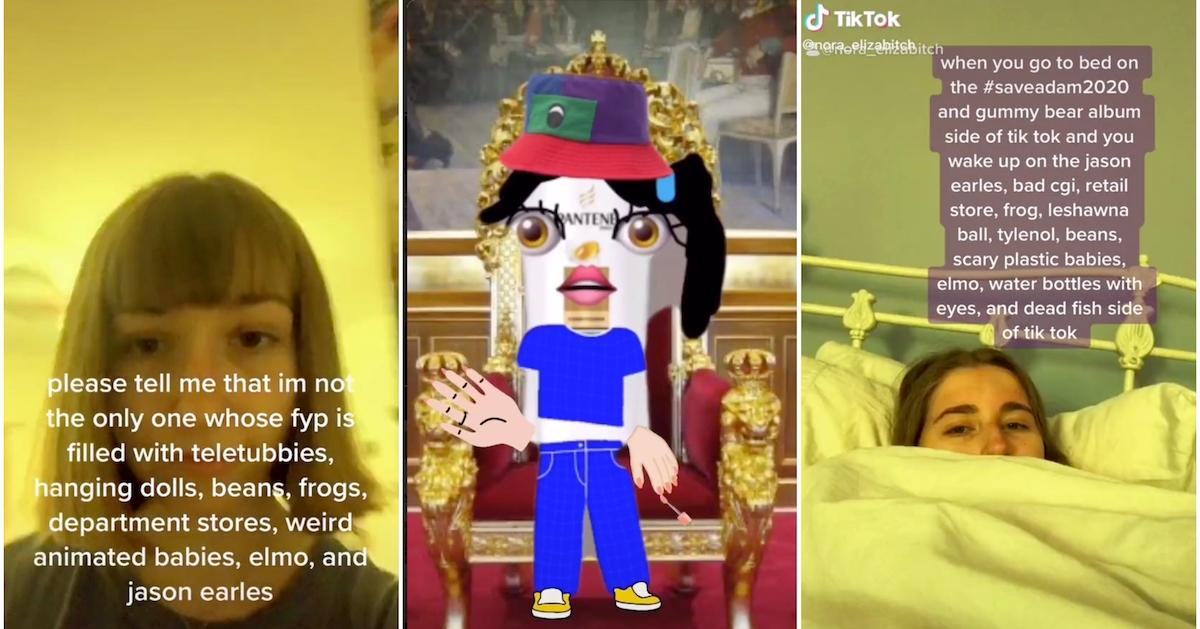 For people who are no longer teenagers, just getting on TikTok feels like an accomplishment in and of itself, as the app has a considerable fanbase among Gen Z users. While navigating the app, participating in challenges, and following the likes of Charli D'Amelio and Addison Rae might make you feel like you're "in the know," there is so much more to TikTok.
Article continues below advertisement
The "For You Page" (FYP) on TikTok curates content that is similar to what users have already watched on their feed. Many TikTok users have identified their TikTok aesthetics based on the videos that are featured on that page, which has given life to the terms "Straight TikTok" and "Elite TikTok / Alt TikTok."
Article continues below advertisement
If your "For You Page" is filled with content about beans, department store romances, face emojis on retail outlets, and photos of Hannah Montana star Jason Earles, then you've made it over to Elite TikTok. But what's Elite TikTok's meaning?
What does Elite TikTok mean?
There's a battle on the app between those who are part of straight TikTok, which includes dance challenge videos, content from TikTok collectives like Hype House and Sway House, and POV content, and Elite / Alt TikTok.
While Straight TikTok consists of new dance challenge videos each day, and the ever-changing popular sound clip to dance to, the trends on Elite TikTok are more stagnant.
Article continues below advertisement
The Elite TikTok sect took off in late April of 2020, when an "official" account for Purell was made. The creator put facial emojis over a bottle of Purell, which took off due to the importance placed on sanitizers during the coronavirus pandemic.
Article continues below advertisement
One main staple is Retail TikTok, which is when users personify certain stores, like Burlington Coat Factory, Whole Foods, and Aldis. They do this by putting facial emojis over images of storefronts. Accounts posing as these official brands are considered to be the content creators for Elite TikTok.
Elite users have also deemed that some of these stores are in relationships. Shampoo brands, sauce bottles, and certain spices have also gotten the face emoji treatment too.
Other trends that have made it on to Elite TikTok are photos of beans, images of actor Jason Earles from when he appeared on the Disney Channel series Hannah Montana, twerking Elmo, and #FreeAdam, which involves Adam Jones from the family band SM6.
Article continues below advertisement
There are a lot of posers who want to be part of Elite TikTok.
There's a thin line when it comes to whether or not a user is really in the know about Elite TikTok. Putting a few emojis on top of a building doesn't exactly qualify someone to transition over to Elite / Alt TikTok.
Several users who consider themselves to be on Elite TikTok spoke with The New York Times about "posers" and how easy it is to identify someone as one.
"There's two audios, 'tacos are not for breakfast' and 'who in the hell put the muffins in the freezer,'" said a 15-year-old TikTok user named Ava. She is the person behind the @OfficialTabasco account on the app. "That's what people who are trying to get into Elite TikTok think it is. They think they're in Elite TikTok, but really they only know those audios and are posers."
Chances are, if you even have to ask, you're probably not part of Elite TikTok.