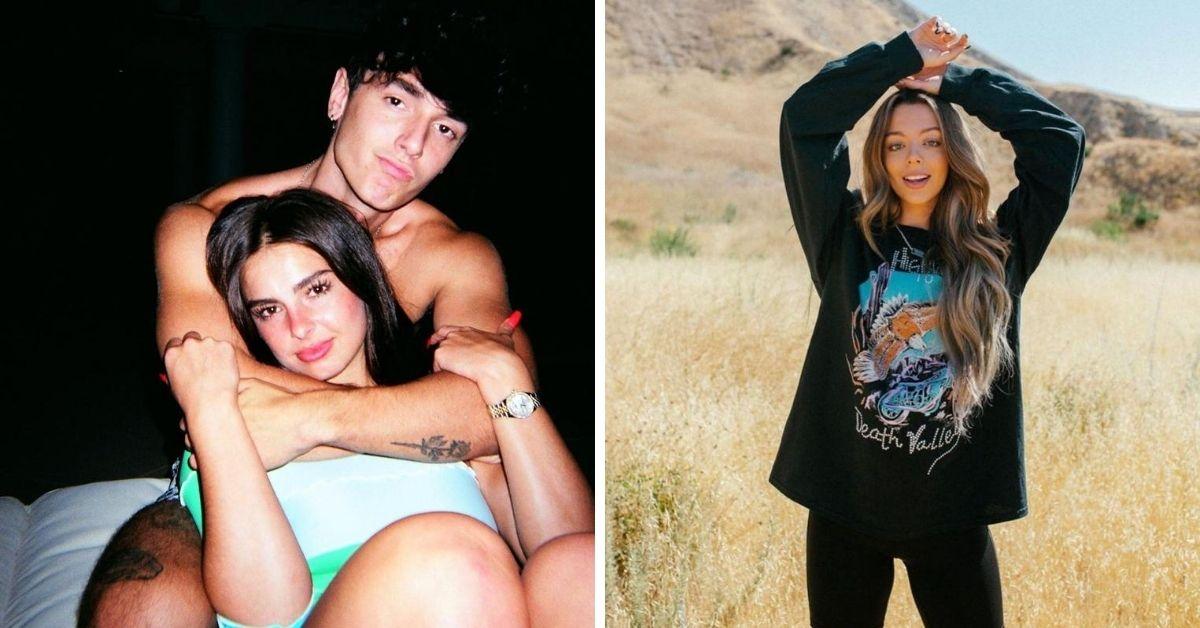 An Explainer of the Drama Between TikTok Stars Eliza Minor, Bryce Hall, and Addison Rae
There has been a whole new breed of celebrities thanks to TikTok. Three popular influencers on the site have found themselves embroiled in some drama that's sort of playing out on social media. Eliza Minor, Bryce Hall, and Addison Rae have found themselves in the middle of some problems, but fans are having a hard time figuring out exactly what happened. Here's an explainer of all the drama — maybe someone can make sense of it.
Article continues below advertisement
Who is Eliza Minor?
Eliza Minor is a 16-year-old from North Carolina who has found fame thanks to the app TikTok. She's used to being somewhat in the public eye, having won the Miss North Carolina Teen 2019 pageant, but her influence has risen thanks to the social app.
Article continues below advertisement
Eliza Minor started her TikTok profile in June 2019 and, since then she's gotten 1.1 million followers on the app and has accumulated over 44 million likes. She primarily posts videos of her take on viral dances, shared duets, and lip syncs, but has also uploaded playful comedy sketches, too.
Article continues below advertisement
Who is Bryce Hall?
Bryce Hall is a 20-year-old social media star who first gained some popularity on the now defunct app, Vine. When Vine disappeared, Bryce moved his creativity to YouTube where his popularity continued to climb, and in 2019, he started a TikTok profile.
Article continues below advertisement
His popularity soared there and as of August 2020, he has amassed more than 12 million followers on TikTok and over 634 million likes on his videos. He's been involved in several different controversies over his time on social media — but one that draws a lot of attention is his love life, specifically in relation to his on-again-off-again will-they-won't-they relationship with Addison Rae.
How are Eliza Minor, Bryce Hall, and Addison Rae all connected?
Addison Rae is also an influencer whose fame mostly comes from TikTok and Instagram. Addison is currently ranking as the second most followed person on the social media platform, and there have been rumors that she's in a relationship with Bryce Hall, again.
Article continues below advertisement
On Oct. 7, 2019, when Addison and Bryce appeared in their first TikTok together, fans felt it was a confirmation that these two were an official couple.
Article continues below advertisement
That was only the first TikTok they appeared in together, as over the next few months, more videos featuring the two of them were uploaded to TikTok.
Despite several videos and even a New Year's Kiss, they never officially confirmed to their fans that they were an item. Things took a twist when Bryce made a statement on Twitter about his relationship with Addison — denying they were together.
Article continues below advertisement
But that hasn't stopped fans from speculating that Bryce and Addison were hiding their true feelings and true relationship. Which is perhaps why fans were particularly upset when a video was posted on TikTok that reportedly shows Eliza Minor and Bryce Hall at a Sway House party together.
Article continues below advertisement
Given Eliza is only 16 years old, a minor, and Bryce may or may not have been in a relationship with Addison, it wasn't a good look.
Article continues below advertisement
The drama was brought back up in August.
"no one knows the full story to anything and luckily i choose not to put every detail on the internet so please respect me and my feelings," Addison Rae tweeted in August. Adding, "nothings confusing, it was explained privately."
At first glance, it's hard to know what exactly Addison is alluding to and she had many of her fans scratching their heads.
And it seemed to confuse Bryce as well, who tweeted out, "braddison" aka Bryce and Addison's couple name "is the definition of confusing." When Bryce's tweet was picked up by the popular drama Instagram account The TikTok Shaderoom, Eliza left a comment saying, "nothing about that night was confusing." To which Addison replied with a heart.
Article continues below advertisement
And many are confused by the whole situation because it appears the influencers aren't sharing all the details of whatever happened publicly, though some believe that Eliza's comment is confirmation that more happened with Bryce than what we saw in the initial video.
But it looks like the influencers' fans will be left confused unless the three decide to open up further. But for now, it appears that Bryce and Addison have worked things out, with her sharing that they have "handled things privately and off social media."