TikTok Star Eliza Moore Has Passed After Her Cancer Battle
Eliza's TikTok-chronicled cancer battle has come to an end. Chance Moore and Kate Hudson recently said they didn't have "much time" with their princess.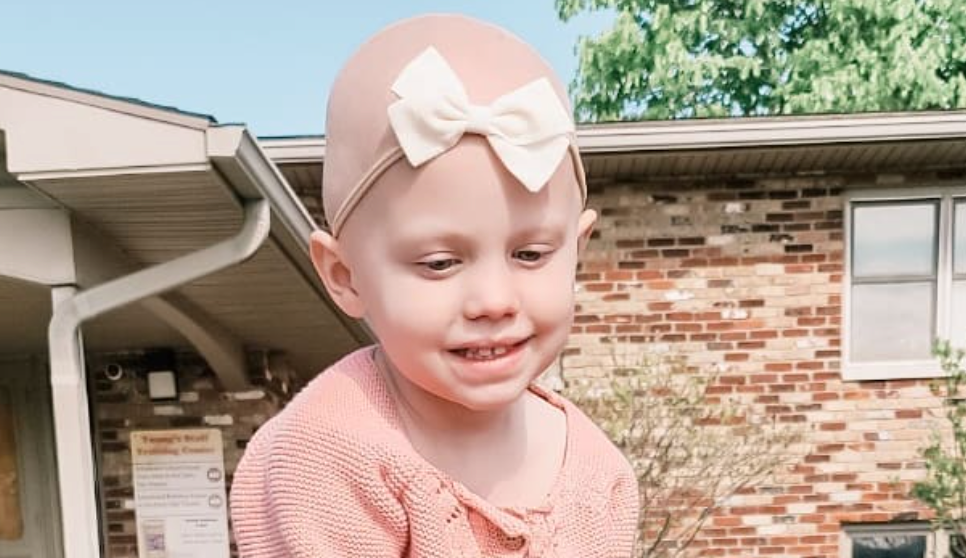 A young TikTok star named Eliza Moore has moved millions with her brave cancer battle. Her parents — Ohio blogger Kate Hudson and her fiancé Chance Moore — have been keeping fans updated with everything going on throughout this journey. Back in April 2021, we found out the devastating news that the little girl didn't have much time left. And now, Eliza's parents have just announced that she passed away.
Article continues below advertisement
After battling cancer for most of her life, the 2-year-old who would have seen her third birthday in just a couple of months passed away on Father's Day 2021.
Article continues below advertisement
Eliza has passed away from cancer.
On June 21, 2021, Kate posted on Instagram to share the tragic news with her followers. "Eliza Adalynn Moore. My sweet baby girl. I don't know how we will go on without you. I know we promised you we would we brave, just like you," the caption says in part. "But we are broken. Even though we know you are no longer suffering or in pain or frustrated with what life had become."
In the caption, Kate also says that she hopes that somewhere, Eliza is still alive in this world and that this is all just a nightmare she'll wake up from soon. The post features a black-and-white photo of Eliza and has over 1.4 million likes as of publication. The comments are also flooded with support from people sending their love and prayers to the family.
Article continues below advertisement
Eliza's cancer battle first ended so she could be "a kid again."
Kate Hudson, Eliza's mom, said in a TikTok video on Wednesday, April 21, 2021, that she and Chance Moore, Eliza's dad, didn't receive "the best news" about their daughter's health. "It was unexpected news," she added. "For us, for her surgeon, and for her entire oncology team. We are making the most of our lives together, as a family."
Chance elaborated on his daughter's condition in a video two days later.
In a video on Friday, April 23, Chance wrote, "We've been dreading this post for a long time. Eliza has gone through more than most people go through in a lifetime … including myself. She has been fighting cancer for more than 70 percent of her life."
Article continues below advertisement
Then he broke the devastating news, telling followers that he and Kate decided to stop Eliza's cancer treatment and to enjoy whatever remaining time they have with their little girl.
"After her most recent battle against this awful disease, we were told that we do not have much time left with our princess," he said. "We decided it was best for Eliza to end her heroic battle with cancer … and let her be a kid again. Life is so precious and so is the time we get to spend together."
It's been a long journey for little Eliza.
According to MailOnline, a then-10-month-old Eliza was diagnosed with cancer in June 2019. A day after that diagnosis, she had a kidney removed due to complications related to her tumor.
The following month, she was diagnosed with a malignant rhabdoid tumor (MRT), a very rare type of tumor made of large cells, most common in babies between 11 and 18 months old, according to the National Cancer Institute's Center for Cancer Research.
Article continues below advertisement
A few weeks after that, Eliza was diagnosed with an atypical teratoid rhabdoid tumor (ATRT) — a primary central nervous system tumor — after doctors found a tumor in her brain. The young girl underwent brain surgery and started a course of aggressive chemotherapy, MailOnline reports.
For a while, it seemed like Eliza was out of the woods. She was able to end her cancer treatment in February 2020, and she and her parents celebrated the milestone by ringing the bell at Nationwide Children's Hospital in Columbus, Ohio.
But, per a GoFundMe page, the last CT scan had revealed nodules in her right lung; the surgeon then found "thousands of tumor 'seeds' that had completely obliterated her right lung and had spread over her heart and down into her diaphragm. Surgery and radiation were no longer viable options."
Chance and Kate have gotten financial support from GoFundMe donors and from TikTok itself.
A GoFundMe campaign benefitting Eliza raised nearly $40,000, and Chance and Kate were two of the first recipients of TikTok's $1 billion Creator Fund, as the social media platform announced in August 2020.
In a blog post, TikTok U.S. General Manager Vanessa Pappas praised Chance and Kate for posting "videos of family positivity and optimism" starring their "amazing and beautiful" daughter.