Elon Musk Roasted For Using Someone Else's 3-Year-Old Photo of an Ice Cream Sundae
It is truly a mystery why Elon Musk thought it was a good idea to post this picture on Twitter.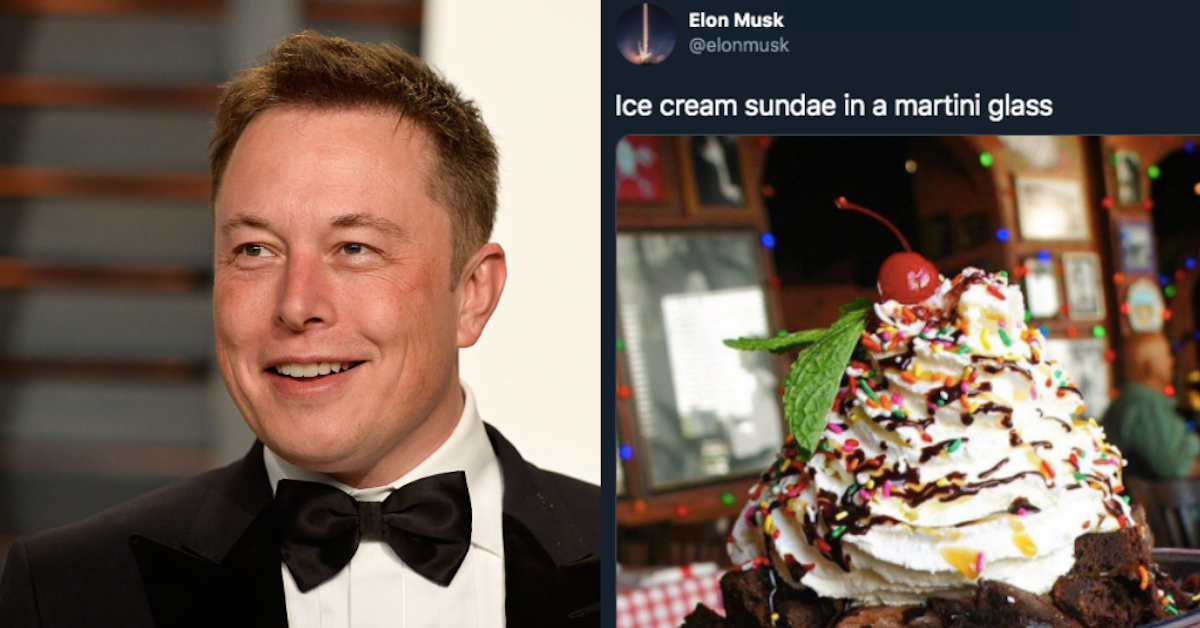 Elon Musk's Twitter presence is really something else. He's recently been responsible for tweeting problematic things and breaking everyone's brains with the name of his and Grimes' new baby. But the latest Elon Musk Twitter controversy has to do with a photo of an ice cream sundae. Yes, for real.
Article continues below advertisement
He recently posted a photo of a delicious-looking ice cream sundae complete with whipped cream, rainbow sprinkles, and a cherry on top. He posted it with the caption, "Ice cream sundae in a martini glass."
Article continues below advertisement
Weird thing to tweet, sure, but it gets even weirder. People were quick to notice that the photo he posted, seemingly as if it was his own, has a watermark in the bottom right corner.
So, internet detectives everywhere did the old reverse Google image search, and they quickly found the source of this photo. Hint: It's definitely not Elon Musk. In fact, it was originally posted in 2017 on Instagram by a woman named Diane. She goes by @theepisodiceater, and she took this photo at Buca di Beppo, a chain of Italian restaurants.
Article continues below advertisement
It just baffles the mind why Elon Musk would choose this photo, of all the photos in the world, to post on his vastly popular Twitter account and seemingly take credit for. Why? Why did he do it?!
Article continues below advertisement
No one seems to know, but they also can't get over it. It's just an insane thing to do. He has a new baby at home with girlfriend Grimes, and here he is tweeting about ice cream sundaes that aren't even his. Amazing.
Article continues below advertisement
Did he want people to believe he was actually out eating at a restaurant during the pandemic? If so, why? Also, why steal this specific image from Buca di Beppo? No one knows. I have a hard time believing Elon Musk would eat at this chain Italian place that I only know of because there's a location outside of Universal Studios theme park in Los Angeles.
In a follow-up tweet, Molly writes, "Also Elon Musk has a private chef, he's not heading to Buca to eat with plebes." I have to agree. Not to mention, he made it way too easy for people to find the actual source of the photo. He probably googled, "ice cream sundae" and posted the first photo he could find.
Article continues below advertisement
The whole experience was very surreal for Diane, to whom the photo actually belongs. "Yep, it's my photo!" she wrote on Twitter. "I don't understand how something from over three years ago was found, but a few people noticed the watermark and tagged me, although it would've been nice for the 100K people who liked the original tweet to know it was originally mine."
Article continues below advertisement
The internet lost its mind over this strange tweet from Elon Musk, supposedly one of the smartest men in the world. It's just a weird thing for a billionaire with a newborn baby to spend his time doing, you know?
As one random Twitter user so wisely wrote in response to this whole mess, "Someone tell that fool to log off the net and raise that damn son of his, Xerox or whatever."