'Love & Hip Hop' Star Erica Mena Is a Proud Mother of Three After Welcoming a Baby Boy
If you're hip to the world of reality television, chances are, you're familiar with Erica Mena. While first making a name for herself in the industry as a video vixen/model, she quickly made the switch to reality television. And since then, she has been chasing her coins to take care of her beautiful family.
Article continues below advertisement
While Erica's Instagram is, for the most part, filled with gorgeous shots of herself, she also gives fans some glimpses of her kids. From videos of helping her son with his homework to adorable snaps of her baby girl, it's clear that Erica's passion in life is all for her children. And as she just recently gave birth to a baby boy, Erica is now a mom of three kids. Read on to get the full scoop.
Erica Mena has three kids: two sons and a daughter.
As passionate as Erica is about maintaining her career, she appears to give the same effort and focus to her children.
Fans of the Bronx native are likely aware of her 14-year-old son King Javien, whom she shares with Terror Squad's Raul Conde. King can often be seen throughout her Instagram Stories and feed showing off his studious side and fun personality.
Article continues below advertisement
Erica and Safaree Samuels have also welcomed two children together since jumping the broom back in 2019. The soon-to-be divorced couple welcomed Safire Majesty Samuels to the world in February 2020.
Article continues below advertisement
While Erica decided to keep photos of Safire off of Instagram for some time, she finally shared some snaps of her gorgeous girl in November 2020.
"The BEST part of 2020," she captioned the post. "My Safire Majesty."
Article continues below advertisement
A fashionista in the making just like her mother, Baby Safire can be spotted wearing cute ensembles on Erica and Safaree's respective Instagram pages.
Amid Erica and Safaree's divorce, the pair welcomed their first son together on June 28, 2021. In a now-deleted post, Safaree announced the news to fans with a photo of him holding his new bundle of joy.
"Mr.Strait Jr. is here!!" he captioned the post.
Erica Mena and Safaree Samuels are showing no signs of reconciliation.
The arrival of their baby boy is apparently not enough for the former lovebirds to patch up their relationship. In fact, preparing for their baby boy's birth appears to have brought them even more drama.
Article continues below advertisement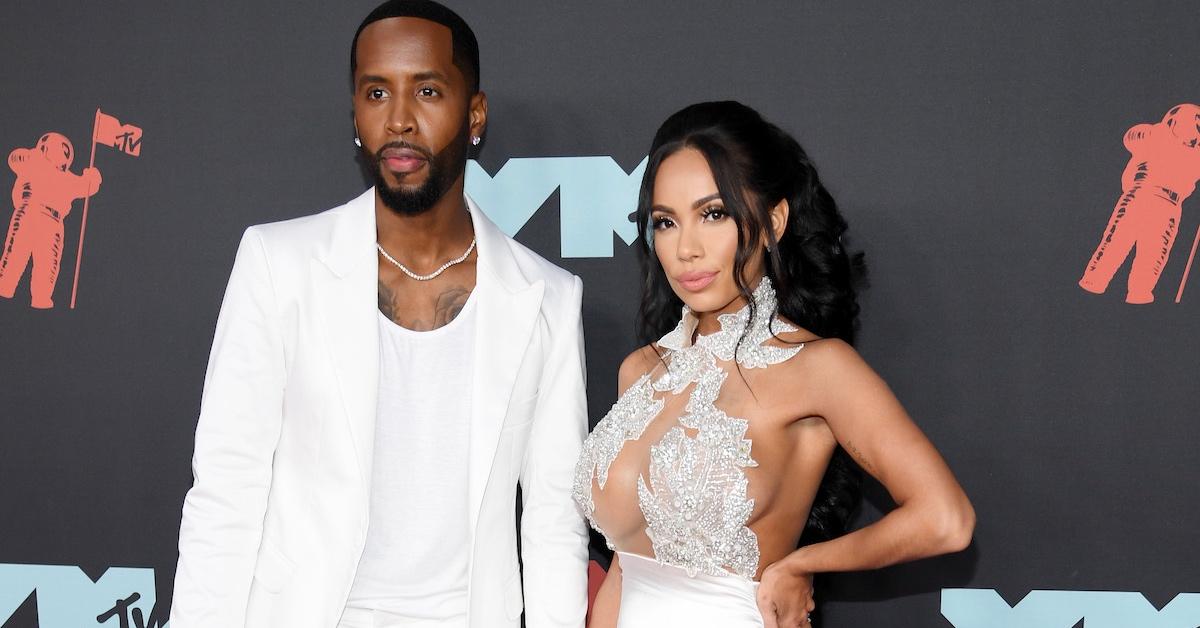 According to court documents obtained by TMZ, Safaree was worried about not being present for the birth of their baby boy. Since their divorce is getting pretty ugly — Erica is requesting primary custody of both of their children — he was concerned that she would try to keep him away at all costs.
Article continues below advertisement
Not to mention, Erica has gone on record about how Safaree has acted throughout her pregnancy. Erica has explained that Safaree "failed to be involved in her care or to visit her at the hospital during her most recent stay, where she remained overnight for many days related to her pregnancy," per TMZ.
And with Erica accusing Safaree of being involved with reality star and model Kaylin Garcia, things are far from being civil between the two.
No one should have to go through so much drama after giving birth. We sincerely hope that Erica is able to find true happiness and peace.