Woman's Family Denied Jet Ski Rentals Because They "Don't Speak English"
A Florida jet ski rental company denied a woman and her family jet ski rentals after discovering several of them don't speak English.
Family vacations are supposed to be an excellent time for loved ones to be around one another more often than they are at home. Many families use their extra time with each other to have adventures they can discuss long after the trip ends.
Article continues below advertisement
During a summer family getaway, one family attempted to enjoy themselves by renting a few jet skis and riding them through the ocean. Unfortunately, their plans were ruined after the company unfairly mistreated them because several of the family members didn't speak English.
Keep scrolling to find out what happened!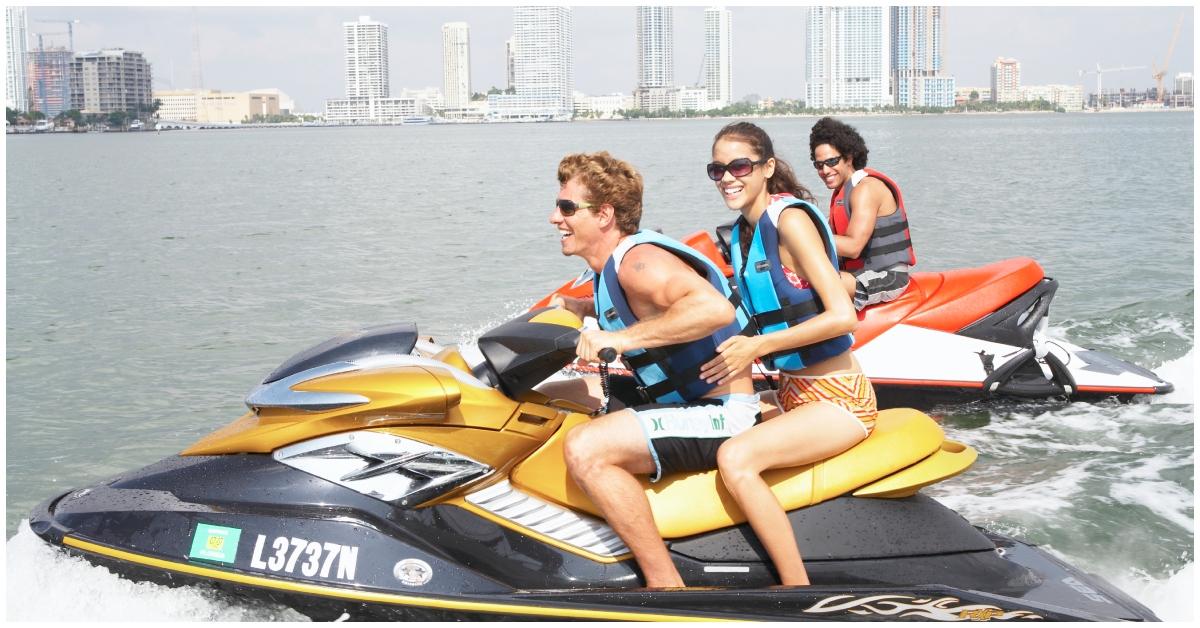 Article continues below advertisement
A woman says her family was denied rentals from a jet ski company because they don't speak English.
Although many MAGA supporters have attempted to suggest otherwise, America remains a melting pot filled with people of all races, ethnicities, and cultural backgrounds. Due to this fact, those who work and build companies in the U.S. would accommodate everyone who fits under the umbrella of being an American. However, one woman and her family discovered the expectation was far from reality.
In July 2023, TikTok user Yuli (@uuul.02) explained her devastating time trying to rent jet skis for her and her family. During the video, Yuli added some backstory and said she and her family moved to Texas from Venezuela "five years ago" and were on vacation in Destin, Fla.
Article continues below advertisement
Yuli also noted that her family had visited Destin before and rented jet skis from another company without any problems. Although she had no issues with one company, she said the place they went to for their most recent trip, Waverunner Rentals, which is part of Destin Parasailing, wouldn't rent jet skis to her family because some of the members weren't fluent in English.
Article continues below advertisement
Yuli said that when she and her family arrived to pick out jet skis, the woman at the front desk refused to give them access to the jet skis. The woman told Yuli that, per the company's policy, she wasn't allowed to rent items to non-English speakers and heard some of Yuli's family speaking Spanish.
Yuli said she tried to explain to the woman that her family had ridden jet skis before and didn't need much help from her. And if they did, Yuli offered to translate for her loved ones, as she had done in previous situations. The rental company's employee still refused and told Yuli she and her family wouldn't get their money back because, per their policy, jet ski rentals must be canceled at least 24 hours before the appointment.
Article continues below advertisement
After discovering she and her family could be out $1,600 (they paid about $400 a pop for four jet skis), Yuli understandably went "back and forth" with the front desk associate. Eventually, the woman agreed to let the family ride their jet skis upon realizing they could understand English, even if it wasn't their first language.
But soon after agreeing, the woman upset Yuli and her family by not allowing her to stand with her grandpa and her mom's friend, who weren't fluent in English. Out of fear that the company would discover she technically broke their policy, the woman advised Yuli to leave her relatives to avoid being outed as their translator.
Article continues below advertisement
The TikToker received tons of support for raising "awareness" about the company's policy.
While telling her story, Yuli was visibly upset and fought back tears as she explained what had happened to her and her family. Underneath her TikTok, she received many comments from others thanking her for sharing her mistreatment on the app.
Article continues below advertisement
Several users even took action by discussing the TikTok on the company's website.
"Just know we all went to their page to raise awareness on this issue ... so sorry you went through this," one user said.
"Sounds like the company is discriminating, THAT IS NOT OKAY!!!" another exclaimed. "I want you to sue them and get a refund and money for emotional damage."
Yuli stated during her TikTok that, after reading the company's policy, she didn't see any proof that the company doesn't rent their jet skis out to non-English speakers. Based on this alone, she seemingly has a case against the company, and I hope she gets all of their coins!