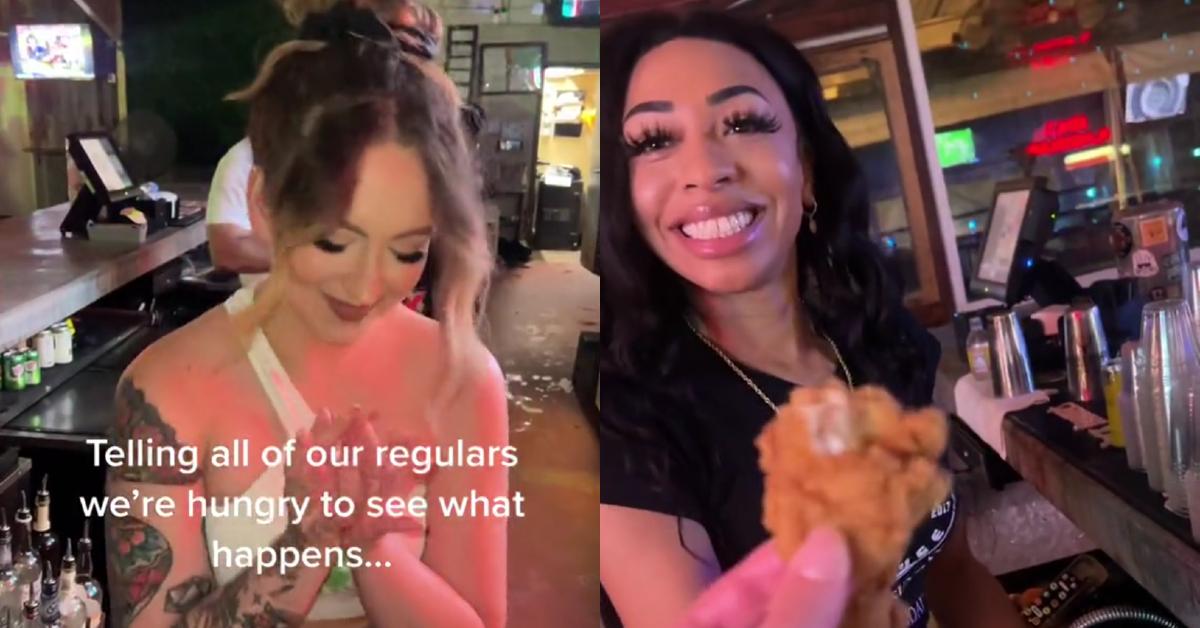 Female Bartenders Share Genius Way They Get Free Food Delivery While at Work
Two bartenders tried seeing which of their regulars they could get to buy them food after mentioning that they were hungry.
Sometimes, folks figure out ways to finagle the "system" and that "system" can be anything. Like if you're an extreme couponer who is always on the hunt for deals, and you discover a little glitch at one of your favorite retailers that let you buy a bunch of products on the cheap.
Article continues below advertisement
Or maybe you're one of the many resellers who visit bargain stores on the prowl for great finds for domestic products that fetch higher prices internationally. That's one way of "gaming" the system, especially if you're a person who enjoys shopping and finding great deals.
Or maybe you're a bartender who knows that they can get their regular patrons to order you free food after they've had a few drinks in them. Perhaps you use a little bit of charm, and a little bit of guilt to hint at them that you could really go for some grub.
Article continues below advertisement
That's what it seems like these bartenders may've done while on shift at the watering hole they work at. Emily Jewell uploaded a video that shows her and a coworker dancing and rubbing their hands together with a text overlay that reads: "Telling all of our regulars we're hungry to see what happens."
Article continues below advertisement
After they laid out their grub plot, the video then transitions to a man standing at the bar who is holding a phone in his hand, presumably showing off a screen that he's ordering delivery to the venue.
Next, the video cuts to someone in a car, presumably a delivery driver, handing over a bag of food to a woman who is holding two cans of coke.
Article continues below advertisement
The next part of the clip shows a man wearing a pink t-shirt holding a big bag of Whataburger in his hand as he dances in the bar beneath flashing light.

Article continues below advertisement
The final part of the video shows the hauls of food that regulars purchased for the bar. The first individual who placed the order, the man at the bar wearing the black tee, unveils a box of what looks like a pepperoni pizza.
There's then a smash cut to a styrofoam container opening up to reveal what looks like enchilads topped with salsa, cheese, and guacamole along with rice and beans.
Article continues below advertisement

There's dessert too: a chocolate molten lava cake with what looks like additional chocolate and a container of whipped cream. The end of the video shows the bartenders enjoying the spoils of their experiment: they cheers with some Whataburger chicken tenders.
Article continues below advertisement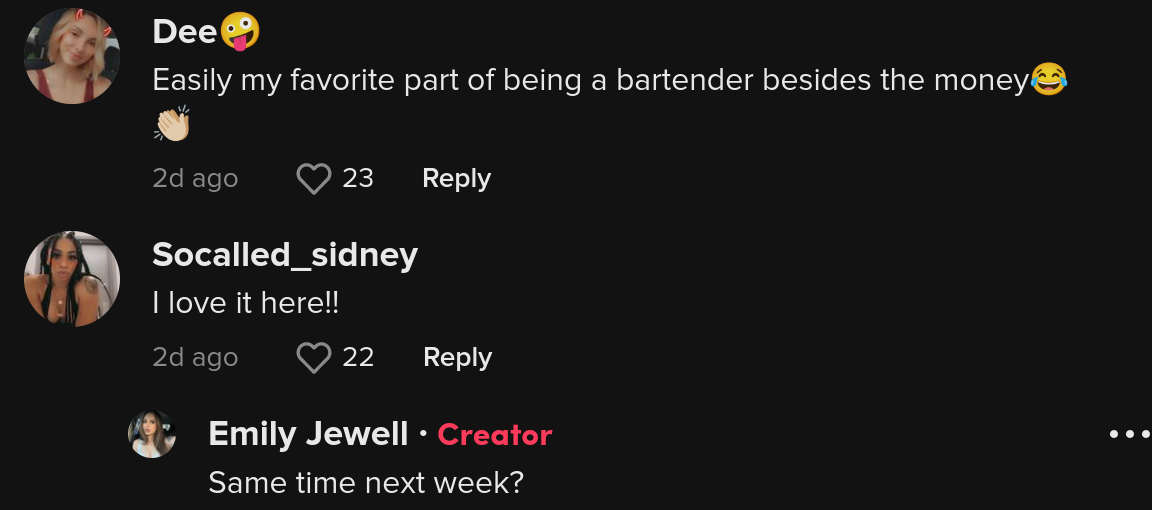 A caption for the video reads: "Every slow shift needs a 4 course meal from our favorite alcoholics"
One TikToker's remark may've given some insight into how the employees were able to finagle free food from the bar's guests: "My ex left me for a bartender, men love bartenders"
Article continues below advertisement
Another appeared to be miffed by the video, writing: "They are more faithful to their bartenders than the significant other"
One person, who says they used to work as a bartender that this was a common occurrence, and explained one of the reasons why they thought some folks forked over money for food: "As a former bartender this is true... it's not always on some bs tho... sometimes they just want you to get their drink first and this is how u do it!"
Article continues below advertisement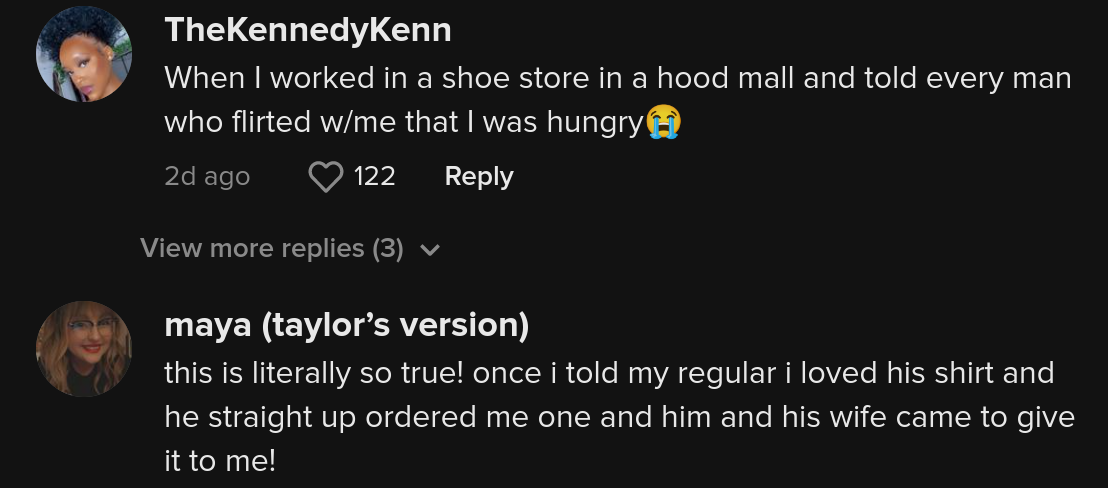 And someone else wrote: "Dude I had rent asap and food every damn day"