Florist Creates Toilet Roll Bouquet as a Joke and People Actually Bought Them
The gag gift costs the same as a dozen roses: $75.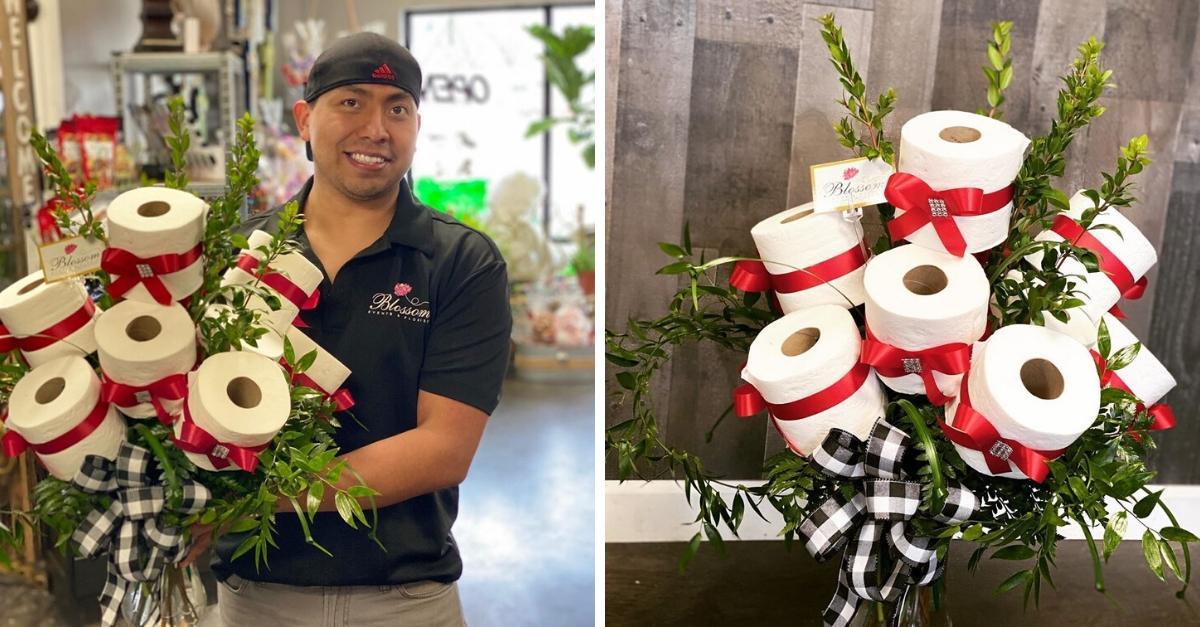 the next few months will be incredibly tough for small businesses. There's a lot less traffic on the high street, and some states are forcing non-essential companies to close their doors in an attempt to slow the spread of the coronavirus.
Article continues below advertisement
But one florist has found a pretty creative way to keep the doors open in such a tough situation. David Faulkner of Blossom Events and Florist in Trumann, Arkansas, recently took to Facebook to advertise a bouquet of a dozen toilet paper rolls.
Article continues below advertisement
"It's just like a dozen roses, except that it has toilet paper," David explained to WREG. "I mean we made toilet paper look pretty, I guess if you can consider that. Like I said, it was just for giggles, you know, to bring some smiles to our community."
While the toilet roll bouquet was initially meant to be a joke, the post soon went viral. With over 139,000 shares in just a week, David was soon getting messages from people asking if they could actually purchase a bouquet, which costs the same price as a dozen roses: $75.
Article continues below advertisement
"Same element, same base of it," David Faulkner added. "Same concept. It has greenery. It has water, it has a vase, it has ribbon. Lots of mechanics on the inside. It took a lot of labor. You just can't make tissue paper look pretty. You just can't."
If you're concerned that David cleared out stores of toilet paper to make the gag gifts, he went on to assure everyone that he's a couponer and already had more than enough toilet paper before things went down.
"It is going to affect our business one way or another, so we're just trying to, right now, do like everybody and make the best of it," Bart Faulkner said.
Article continues below advertisement
The gag gift comes as stores around the world struggle to keep up with increased demand due to panic buying. In response, many have limited the number of goods that people can buy and even introduced shopping hours reserved for the vulnerable.
The best way to prevent contracting or spreading coronavirus is with thorough hand washing and social distancing. If you feel you may be experiencing symptoms of coronavirus, which include persistent cough (usually dry), fever, shortness of breath, and fatigue, please call your doctor before going to get tested. For comprehensive resources and updates, visit the CDC website. If you are experiencing anxiety about the virus, seek out mental health support from your provider or visit NAMI.org.