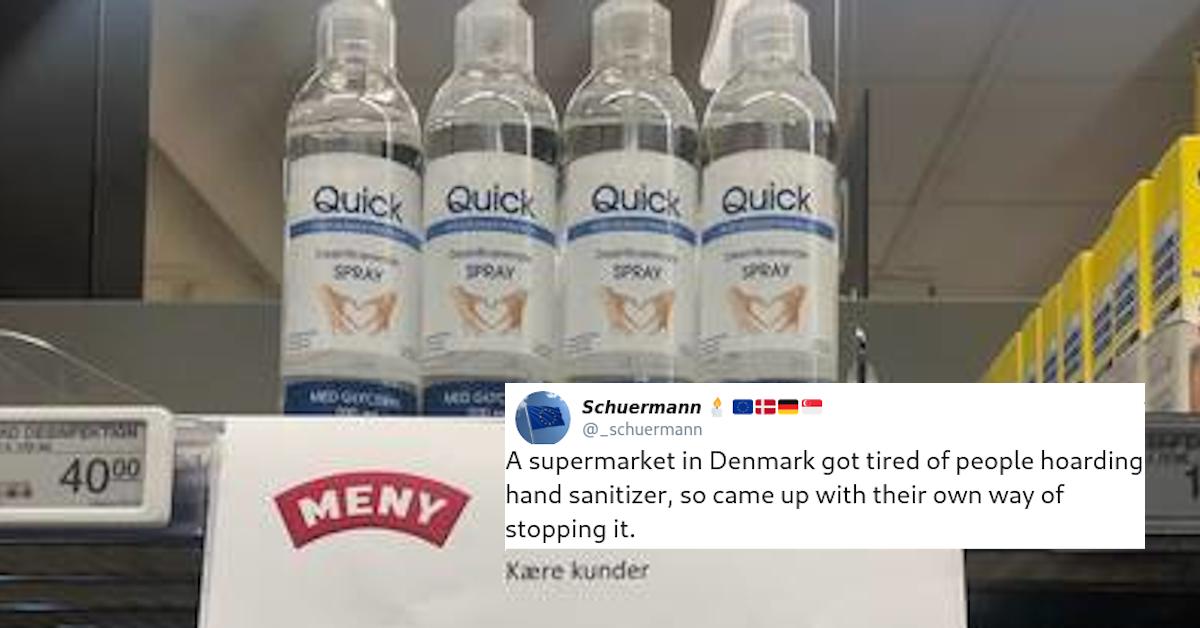 Danish Supermarket Stopped People From Hoarding Hand Sanitizer in a Genius Way
A grocery store wanted to make sure that all customers are able to get products by charging a seriously heft premium for item hoarders.
While there have been plenty of heartwarming stories of people's positive reactions to the novel coronavirus pandemic, there are just as many terrifying tales of human beings acting out the worst versions of themselves. Panic buying and hoarding of essential supplies are sadly becoming the norm all over the world. But it seems like an upscale retailer in Copenhagen, Denmark has found a way to halt people from not spreading the love.
Article continues below advertisement
Matt Colvin recently became public enemy number one in America when he was busted for buying out tons of necessary sanitary items/supplies, keeping them in a storage unit, and then selling them at huge mark-ups. Once word got out that he was price-gouging, local authorities intervened and not only stopped his resale operation, but forced him to donate the products he purchased. He also lost his selling privileges on eBay and Amazon.
And despite there being plenty of evidence that shows hand sanitizer really isn't the best defense against spreading the coronavirus, that hasn't stopped folks from buying it in droves.
But the Rotunden grocery store has discovered a method of curbing folks from hoarding items with a simple and effective pricing method that doesn't involve law enforcement: by offering "reverse" bulk discounts for people who buy more than one bottle of hand sanitizer.
Article continues below advertisement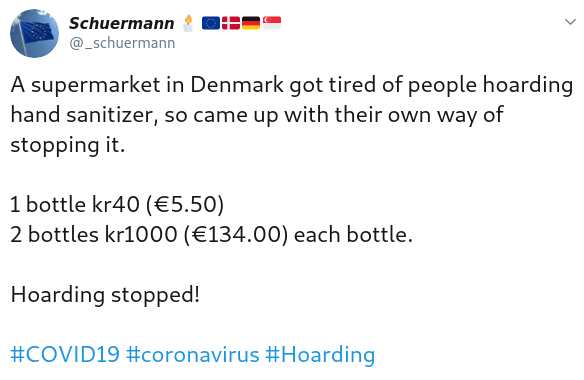 If you're shopping at their grocery store and would like to pick up a regular old bottle of the germ-fighting liquid, it'll cost you around $4.09. But if you want to go and get yourself a second bottle, you'll have to fork over $95. I'd imagine that the price goes up exponentially depending on how many bottles of the stuff you're trying to walk out of the store with.
Article continues below advertisement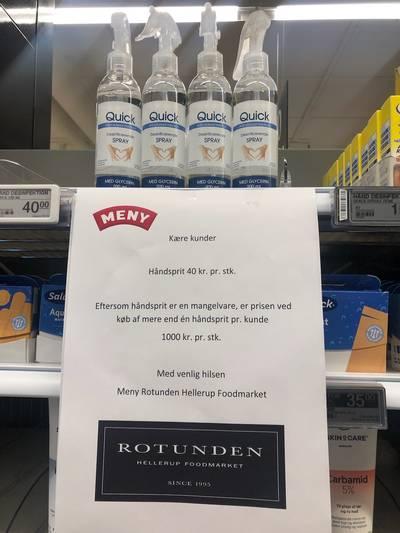 Article continues below advertisement
The grocery store noticed that they couldn't keep the stuff on the shelves as folks started buying up tons of hand sanitizer, so they implemented the unique solution to curb their shoppers from panic buying and pulling off their best squirrel impersonations.
They also went on social media to explain their reasoning behind the pricing change, after world got out of the multiple-item purchasing hike.
Article continues below advertisement
The translation, via Bored Panda, reads: "Dear customers: We have a great responsibility to keep the business running, and we can only do that with everyone's help and understanding. We can help in the following way:
We ask all customers to respect the distance between each other and our co-workers;
Sprinkle (likely sanitize or wash) hands off at the entrance and use gloves."
The message continued, "If you are a family, please allow only one person to purchase the purchases if possible; There may be times when we limit how many customers we accept in the store at one time. We will keep you informed about any operating changes on Facebook. Take care and thank you for your understanding."
Article continues below advertisement


Article continues below advertisement
While there were plenty of jokes about the wealthy nature of the denizens who live in the neighborhood the Rotunden is located in, a ton of folks praised the supermarket for how they put a stop to hoarders.

Article continues below advertisement

And while some said that this isn't really "stopping" hoarding, as nothing is really halting folks from leaving the store and coming back at a later time in the day to just buy themselves another bottle, others pointed out that it's a good way to get shoppers to reflect on how silly they're acting after the checkout process. Others pointed out that maybe their tactic isn't working, as there seems to be only four bottles left.
What do you think about the Rotunden's method of stopping panic buyers? Do you think more stores should adopt it and folks will be properly shamed into not going nuts at the supermarket? Or do you think it's a supply problem that they need to deal with and folks should hoard as many items as they want?