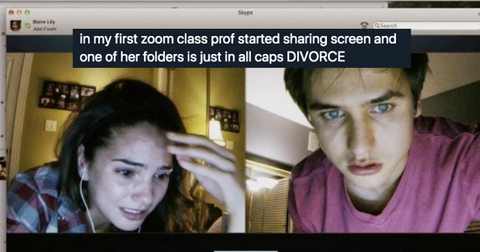 People Are Sharing Their Cringey Online Class and Meeting Fails
By Robin Zlotnick

Mar. 20 2020, Published 3:05 p.m. ET
With lots of people suddenly working from home, meetings and classes have moved online. Whether you use Zoom, Google Hangouts, Skype, FaceTime, or some other video chatting app to connect with classmates or coworkers, the situation has proven to be quite fraught. You see, many people who are not used to video chatting in a professional capacity have been forced to all at once.
Article continues below advertisement
That has resulted in lots of embarrassing incidents and regrettable fails that I will now gather here for your amusement. Because we have to laugh at something, right? Right guys? People who are video-chatting for the first time seem to be surprised that other people can: A) see them; B) hear them; C) see what's behind them. It's caused a lot of problems.