The Furry Community Claims TikToker @fluffygoosh May Have Committed Suicide
Members of the furry community say that TikTok user @fluffygoosh has died by suicide. Conflicting rumors state that they may be in the hospital.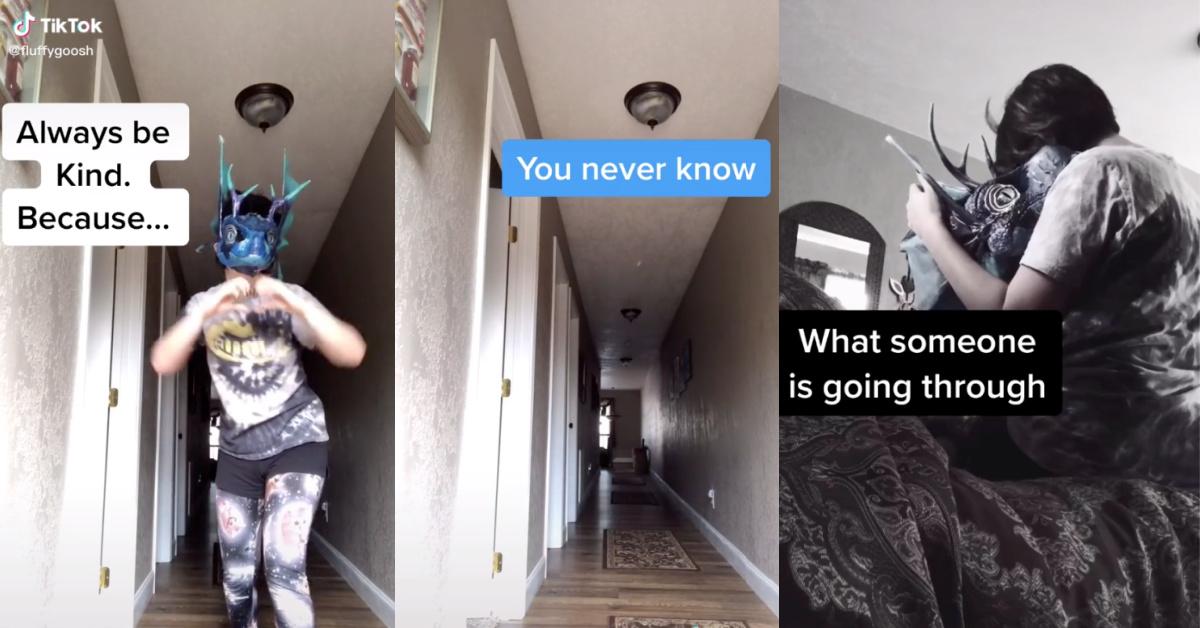 We're all aware that online bullying can be a huge problem for some individuals, but it definitely becomes even more apparent when the people affected are ones you personally know about. Followers of TikTok user @fluffygoosh have been sharing the sad news that the content creator, who appears to have been part of the furry community, has died.
Article continues below advertisement
Several of @fluffygoosh's followers have stated that the TikTok creator committed suicide after being subjected to bullying, both online and in real life. Here's what we know about what happened to @fluffygoosh.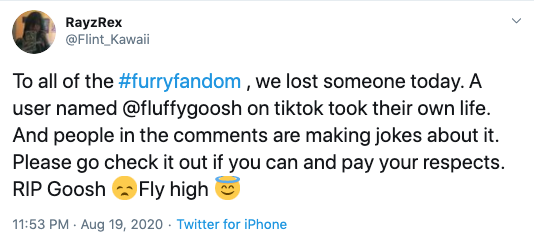 Article continues below advertisement
What happened to TikTok user @fluffygoosh?
Because of the nature of @fluffygoosh's online persona and accounts, it is difficult to find official sources confirming any news of what happened to them. @fluffygoosh wore a mask in all of their TikTok videos and never used any moniker other than Fluffy Goosh to refer to themselves. It appears as though Goosh is the name of one of their fursonas (a furry persona).
In their TikTok bio, @fluffygoosh linked to their Etsy shop where they sell incredible custom furry costumes. In addition to making their own fursuits, they also created custom masks, tails, claws, and other fursuit components for individuals. Their impact wasn't limited to their physical creations, however. @fluffygoosh uploaded a number of TikTok videos that encouraged people to stand strong in their identity and be kind to others no matter what.
Article continues below advertisement
Right now, all we have to go on is the response @fluffygoosh's account has been getting over the past couple of days. On their most recent videos, a number of people have left comments wishing for the creator to "Rest in Peace" and "Fly high." On Twitter, several people have shared tweets saying that @fluffygoosh committed suicide and that they had been severely bullied online leading up to that.
Article continues below advertisement
@fluffygoosh also used the tag #help on several recent videos, leading many to believe that the TikTok creator may have used the tag as a literal request for help. Since most of @fluffygoosh's followers do not appear to know the individual behind the videos in real life, there has been some conflicting information going around about what may have happened to them.
One rumor states that @flufflygoosh is currently in the hospital.
Some people assert that @fluffygoosh may actually still be alive and is currently in the hospital. At this time, there is no way to confirm that information, though we do of course understand that everyone wants to hope for the best in such a sad situation.
Article continues below advertisement
Unfortunately, we can't confirm any information regarding @fluffygoosh's well-being until they or someone who knows them in real life makes an update. In the meantime, some people have been lighting candles as a tribute to @fluffygoosh, sharing their videos online, commenting kind things on their videos, and encouraging others to follow their message of being kind to people no matter what.
Our thoughts are with @fluffygoosh's friends, followers, and family members at this time.
If you or someone you know is contemplating suicide, call the National Suicide Prevention Lifeline at 1-800-273-8255.