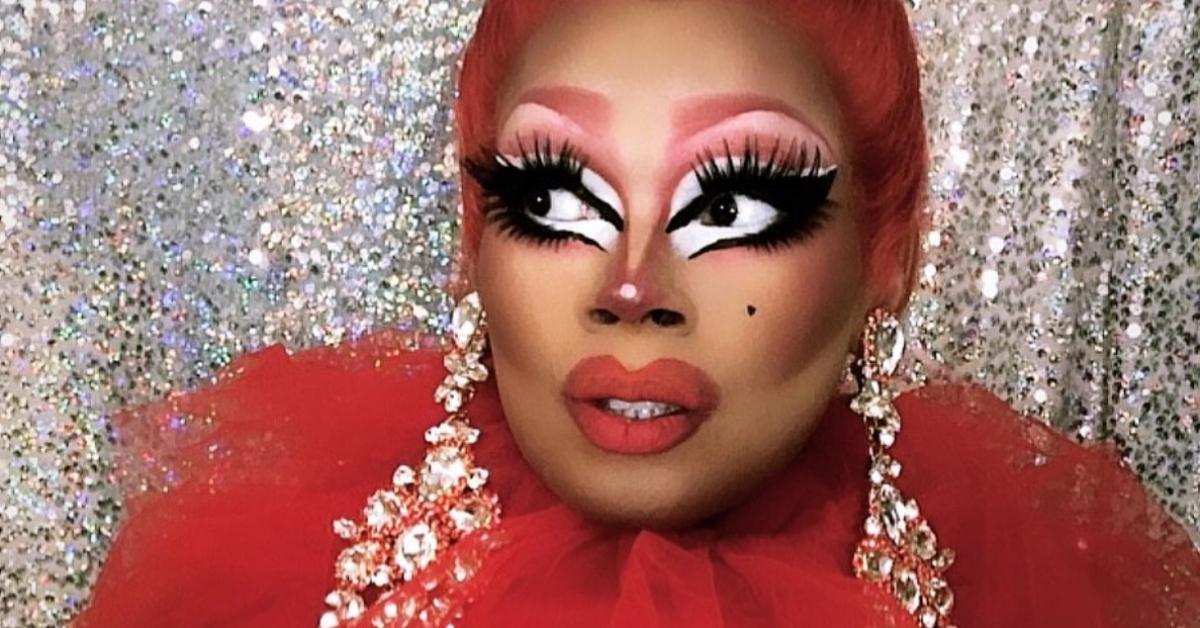 Chi Chi DeVayne, the Star of 'RuPaul's Drag Race,' Has Died Aged 34
RuPaul's Drag Race star Chi Chi DeVayne (aka Zavion Michael Davenport) died on Thursday, Aug. 20, 2020. The drag queen renowned for her killer lip-synching skills, exceptional dance moves, and impeccable sense of style was admitted to the hospital with suspected kidney failure. At the time, she tested negative for COVID-19. So, what happened?
Article continues below advertisement
Chi Chi DeVayne rose to fame with an appearance on 'RuPaul's Drag Race.'
In 2018, Chi Chi was diagnosed with scleroderma, a connective tissue disease that causes symptoms such as the hardening of the skin, joint pain, or in more extreme cases, acute kidney disease.
In the course of the past few weeks, the star posted several health updates. The first Instagram story went live on Thursday, July 16, and it's likely that she was admitted to the hospital around the same time.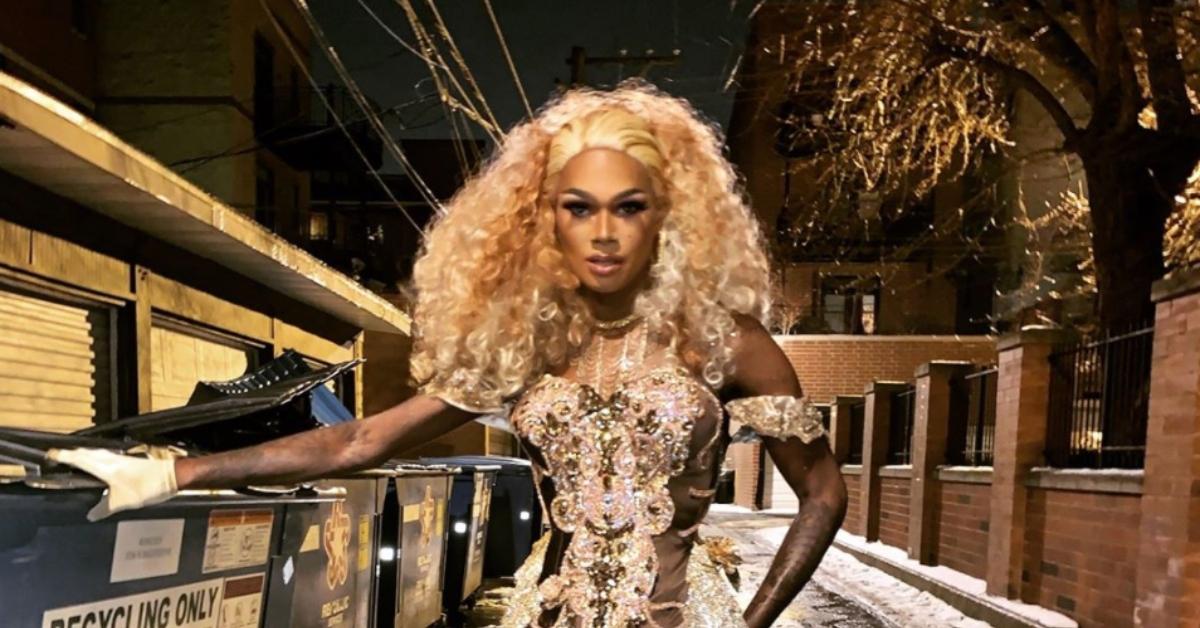 Article continues below advertisement
"They got my blood pressure down and all of that good stuff [...] But today they have to do three hours of dialysis to see if they can get my kidneys back functioning," Chi Chi explained in an Instagram story uploaded on July 16.
"If you don't know, I've got scleroderma and it affects everything in your body like heart, lung, kidneys everything and I let it go too long without going to the doctor, and these are the consequences. Take care of your body," she added.
Reportedly, she had a biopsy, and she also posted a video about undergoing kidney dialysis. She was discharged from the hospital toward the end of July. She was re-admitted with pneumonia sometime around the second week of August.
"Hey guys, I'm back in," she said in a video message posted on Saturday, Aug. 15, 2020.
Article continues below advertisement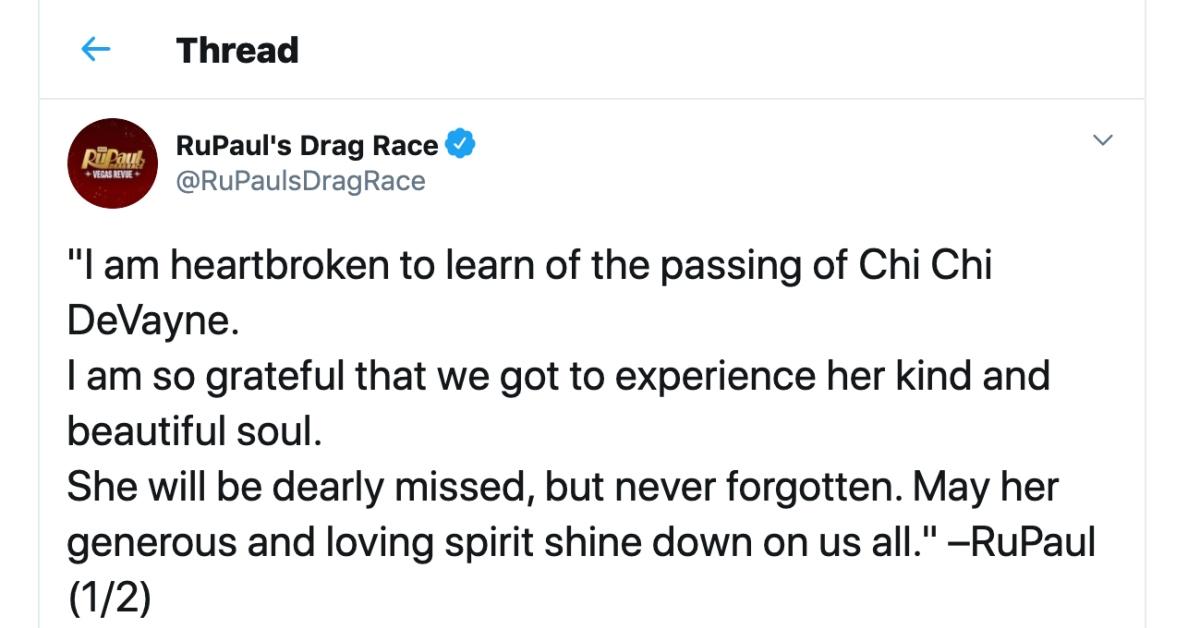 Her tragic passing left fans and co-stars equally devastated.
"I am heartbroken to learn of the passing of Chi Chi DeVayne. I am so grateful that we got to experience her kind and beautiful soul. She will be dearly missed, but never forgotten. May her generous and loving spirit shine down on us all," reads a statement posted on RuPaul's behalf by RuPaul's Drag Race on Aug. 20, 2020.
Article continues below advertisement
"On behalf of VH1, World of Wonder and the cast and crew of RuPaul's Drag Race, I extend my deepest sympathy - from our family to hers," the statement concludes.
Chi Chi's passing came as a great shock to her co-stars and fans alike, with many taking it to Twitter to commemorate the star.
"I'm devastated and sick to my stomach. Wake me up when it's all over," Shea Couleé, the winner of Season 5 of RuPaul's Drag Race All Stars wrote.
Article continues below advertisement
"Chi Chi was one of my favorite queens on the show. She was legendary, and a iconic queen. I am heartbroken to hear that she's gone. Heaven has claimed another angel, and she will be deeply missed by everyone. Fly high, Chi Chi," wrote a fan.
"She was one of my favorite Queens. She'll be missed," wrote another person.
"It is with tremendous sorrow that my family and I announce the passing of my beloved son, Zavion Michael Davenport, the world renowned 'Chi Chi Devayne," reads the statement posted by Chi Chi's family.
"His final words to his family and fans, 'Never Give Up!'" the statement added.