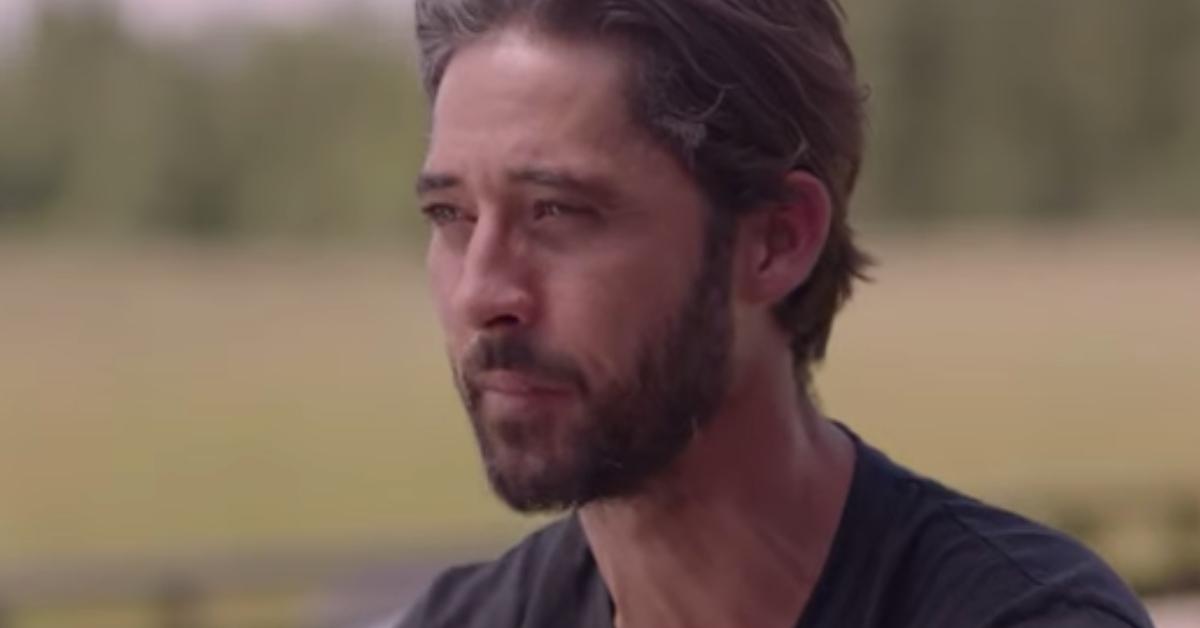 'Yellowstone': What Happened to Walker? Character's Fate Revealed
Turns out, Walker didn't lose his life in Season 2 of Yellowstone. "Blood the Boy" saw Jamie and Rip set up an elaborate scheme geared toward murdering Walker. Thanks to a stroke of good luck, the cowboy miraculously survived.
So, who was supposed to kill Walker? And, what is his fate moving forward on Yellowstone?
Article continues below advertisement
What happened to Walker on 'Yellowstone'?
In "Meaner Than Evil," Walker is at the mercy of ranch hands Rip Wheeler (Cole Hauser) and (Forrie J. Smith), and he needs to either prove that he can be trusted... or be killed.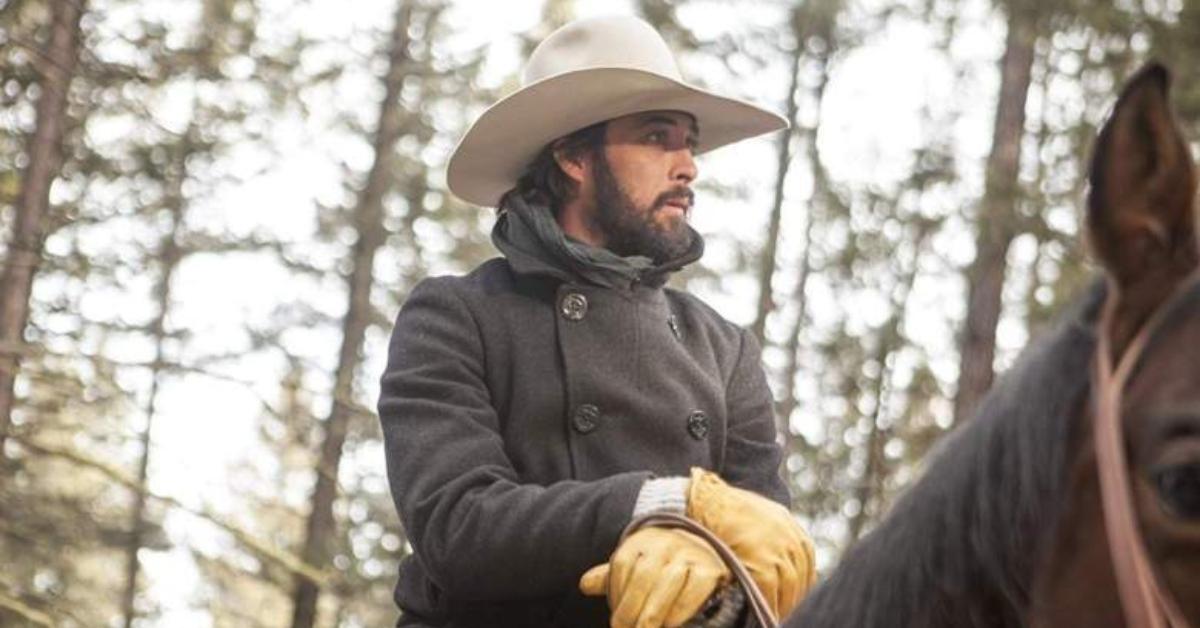 Article continues below advertisement
When the gang discovers that Colby (Denim Richards) and Teeter (Jennifer Landon) are barely alive after the brutal attack from Wade (Boots Southerland) and his men, John Dutton (Kevin Costner) orders his guys to go after them and give John something back that belongs to him.
Walker is used as bait and when Wade and Clint attempt to get the jump on him, the bunkhouse members ambush Wade (Clint dies instantly via a run-in with a tree branch) and string him up.
But, before he's hung, Walker must prove himself by cutting the brand off of Wade's chest, which he does.
So, with Walker back at Dutton's ranch, it'll be interesting to watch what's next for the character. Fans were shocked with Walker's return to the series as his character was initially supposed to be killed off in Season 2.
Article continues below advertisement
So, which character was supposed to kill Walker on 'Yellowstone'?
"Blood the Boy" captured Walker's last-ever day on the Dutton ranch. The cowboy called it quits after Jamie and Rip got him involved in a murder without his knowledge. Tired of the near-constant fight for respect, Walker announced that it was his full intention to leave the place.
However, the boys saw otherwise. Worried he might let slip of their dirty secret, they arranged a "ride to the train station," i.e., tried to set up his murder.
Article continues below advertisement
Walker made a fatal mistake by trying to confront Jamie and Rip about their wrongdoing. The duo ordered him to drive a murdered journalist's car — which, according to Walker's reasoning, would have classified as an illegal activity.
Not too pleased about the turn of events, he told them that it was time for him to start a new life elsewhere.
The news wasn't received particularly well, as Jamie and Rip developed the deep-seated conviction that he was trying to rat them out. Desperate to erase the last traces of the crime, they decided that it was best to rid of Walker for good.
Article continues below advertisement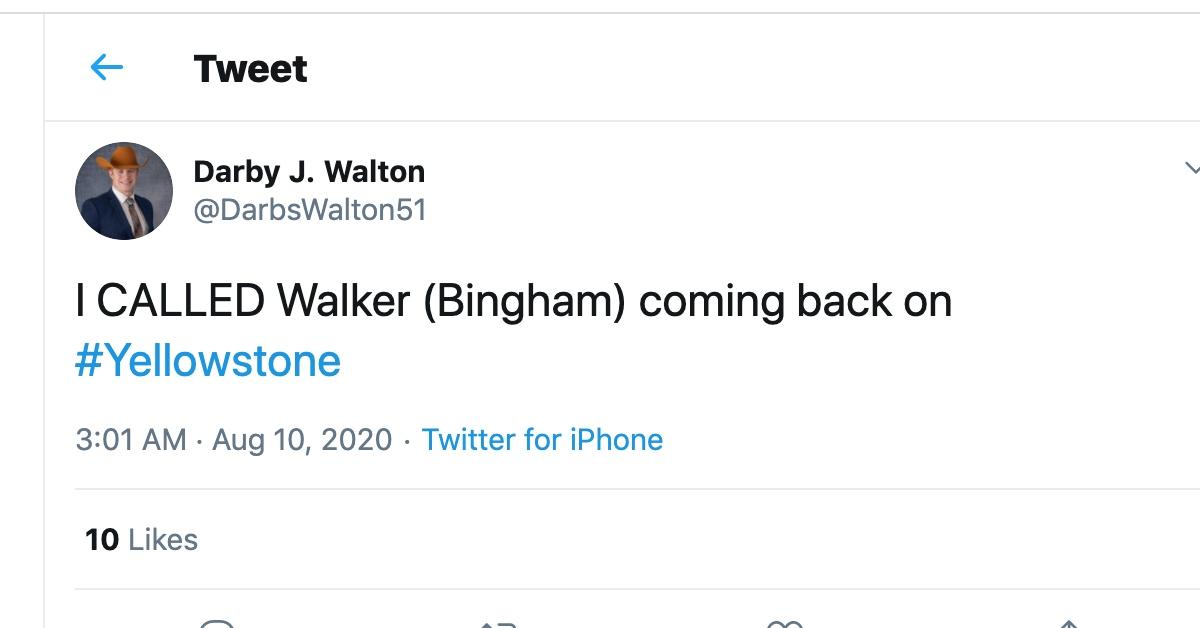 As "Blood the Boy" revealed, the responsibility of "driving Walker away" originally befell on Rip's shoulders. The fairest of the trio, Kayce (Luke Grimes), showed up at the very last minute, telling Rip that he will take care of the task.
Article continues below advertisement
Was it not for his kind offer, Walker would have died. But because it was Kayce who did the driving, he agreed to take Walker to another city on the condition he swore to never tell anybody about what had happened.
Toward the end of the journey, he ventured so far as to promise Walker that they would welcome him back, insisting that he shouldn't feel as though he was in danger.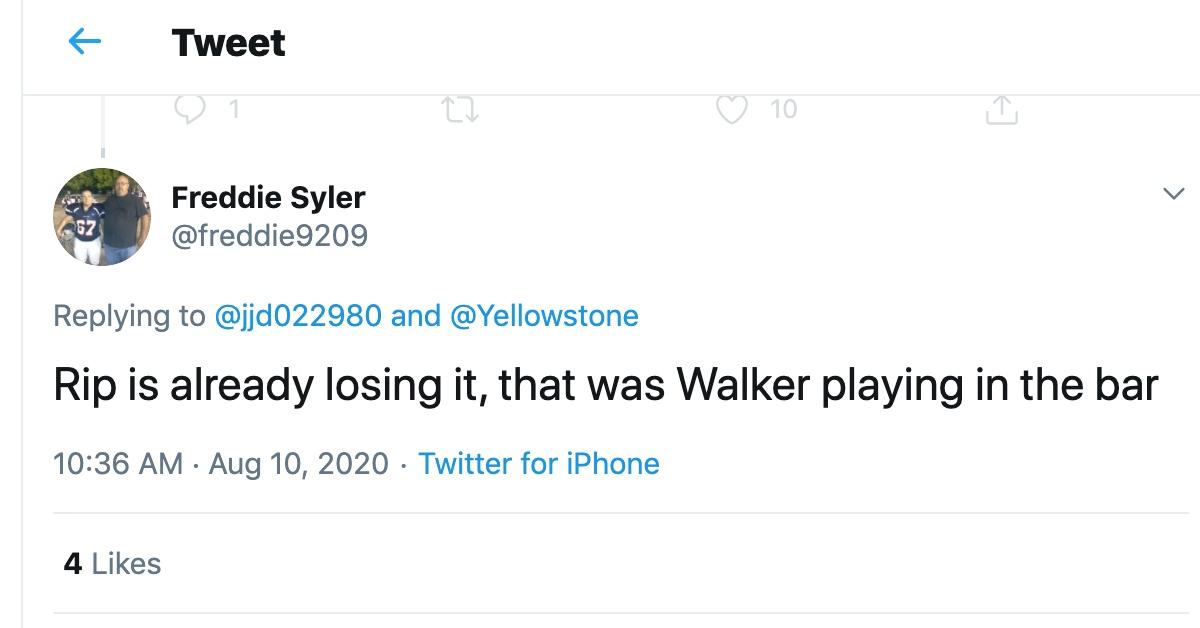 Article continues below advertisement
Walker made his unexpected return in a Season 3 episode, "I Killed a Man Today."
In a crucial scene of the episode, Rip and Lloyd (Forrie J. Smith) bumped into him at a bar far far away from the ranch. As they had to learn, not only did he stay alive after "visiting the train station," but he also embarked on a new career as a musician in the meantime.
Catch new episodes of Yellowstone every Sunday at 9 p.m. ET on Paramount Network.